Freestyle Nationals: Cook, DePeters take aerials titles
Tweet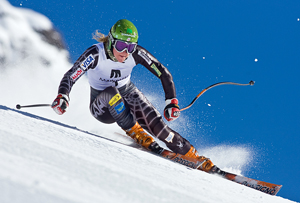 The 2010 Sprint U.S. Freestyle Championships rolled on today (March 27) in sunny Squaw Valley as aerialists Emily Cook and Matt DePeters ended the season on the top of the podium.
The win marked Cook's fourth career national title. The first came in 2008.
"Squaw is so much fun. I'm excited and it's a great end to a really fun season," said Cook who competed in her second Olympic Games this season. "It's always fun being out here at U.S. Championships with all the athletes and the future of our sport. It's great to see so many young guys and girls representing our sport so well."
One such young gun was 17-year-old Ashley Caldwell who finished second in her third national championship. She was also named the FIS rookie of the year and named to the 2010 Olympic Team this season.
"I had a great year and this is another check on my list of awesome great achievements of the year," Caldwell said. "I think this is the ideal U.S. Championships. It's really sunny, it's warm and everyone is having a good time. These are awesome jumps and people were hucking, so it's pretty fun here."
U.S. Ski Team veteran Jana Lindsey rounded out the podium in third for her fourth nationals podium.
It was also the first time on top of the U.S. Champs podium for DePeters.

"This is my first national title and I'm pretty happy. I came out and just wanted to jump my best, and try to set a personal record. I did that and I can't be happier right now," DePeters said. "I always look forward to this event. The sun is out, we get nice soft landings and it's a nice end of the year event for us. One of my favorites."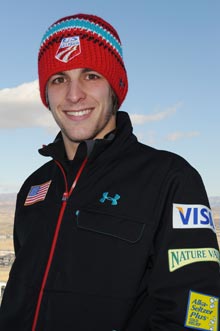 DePeters was followed by Dylan Ferguson in second and Nevin Brown in third.
Just recovered from an unexpected bout with appendicitis, which took him out of the sport for eight weeks, Ferguson was happy to nab the second silver U.S. Champs finish of his career on Saturday.
"I feel good. I'm just coming back from my injury. I haven't jumped in two months, so to be able to put down a really good full, double full, full was all I really wanted," Ferguson said. "Squaw is awesome. I'm enjoying the sun and having a good time here."
Images of Cook and DePeters by Scott Sine/USSA

OFFICIAL RESULTS
2010 Sprint U.S. Freestyle Championships
Squaw Valley, CA – March 27, 2010
Aerials
Men
1. Matt DePeters, Hamburg, NY, 214.87
2. Dylan Ferguson, Amesbury, MA, 193.59
3. Nevin Brown, Streetsboro, OH, 190.87
Women
1. Emily Cook, Belmont, MA, 173.14
2. Ashley Caldwell, Hamilton, VA, 163.57
3. Jana Lindsey, Black Hawk, SD, 145.98
Comments
comments