Freestyle Nationals: Kearney, Discoe claim moguls titles
Tweet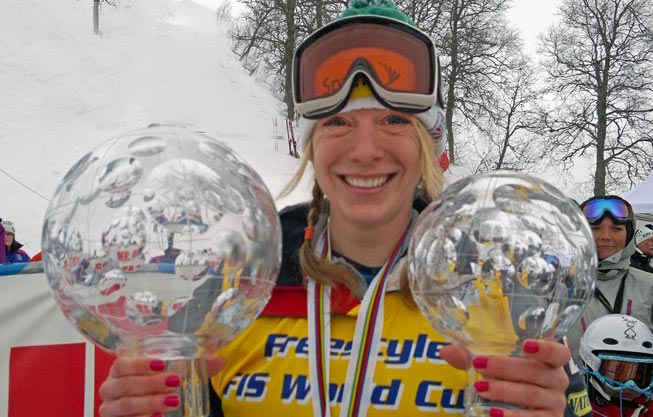 Olympic gold medal winning moguls skier Hannah Kearney claimed her first national title in four years while Joey Discoe won his career first as the Sprint U.S. Freestyle Championships kicked off today (March 26) on a sunny day at Squaw Valley.
Kearney, last year's World Cup overall champion, last won a national championship in 2006 but had been on the podium the last two years. Today's podium was bookended by Eliza Outtrim in second and Heather McPhie in third, both women collected their career first World Cup victories this season. Shelly Robertson just missed the podium in fourth place in the field of 53.
"The podium was three individuals who have won a World Cup so you're really skiing against the best in the world, which makes it that much more difficult," said Kearney a 24-year-old Vermont native, who kept her bag of tricks developing today by performing a mute grab off the bottom air. "That was the first time I've ever thrown a mute in competition or qualifying and a new trick, it's always satisfying when that goes well. I like to try to push myself because I've been stuck in a rut for a few years as far as my tricks go."
Outtrim, who earned her first World Cup podium last week at the World Cup season-closing event in Sierra Nevada, Spain, grabbed another career first today at the U.S. Moguls Team's last major competition of the season.
"I've never been on a U.S. Championship podium before, so that's incredible," said Outtrim. "I really wanted to come off the win from last week, ski well here and follow up on that win."
After sustaining minor injuries while training for the season's final World Cup competition, team veteran Shannon Bahrke did not compete. She will retire after this season.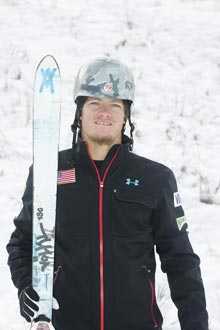 Joey Discoe, 23, a Telluride, Colo. native in his first year on the U.S. ski Team, also collected his career first nationals win. His previous best finish at nationals was a third-place finish last year.
"I'm really excited. It's an amazing feeling and I'm super stoked," Discoe said, who recorded his career high in a World Cup earlier this month in Are, Sweden with an eighth-place result. "My skiing has been coming together for the last three events with a couple World Cups making the finals. I got a top 10 there and just kept the skiing going into here."

Joining Discoe on the podium was fellow Ski Team rookie Jeremy Cota in second (only a tenth of a point behind the winner) and Michael Morse, who won two national titles in singles and dual moguls in 2008, in third.
"It feels great. I skied really well and was happy with the way I skied," said Cota, a Carrabassett Valley Academy native. "I did my harder tricks and landed them, so I was stoked on that. I'm just happy to be on the podium."
Waterville Valley's Reed Snyderman, 20, finished fourth at his third national championships. Olympic bronze medalist Bryon Wilson finished seventh.
the Sprint U.S. Freestyle Championships continue tomorrow with men's and women's skier halfpipe and aerials competitions.
For complete results click here.
Images of Kearney and Discoe by USSA
OFFICIAL RESULTS
2010 Sprint U.S. Freestyle Championships
Squaw Valley, CA – March 26, 2010
Moguls
Men
1. Joey Discoe, Telluride, CO
2. Jeremy Cota, Steamboat Springs, CO
3. Michael Morse, Duxbury, MA
Women
1. Hannah Kearney, Norwich, VT
2. Eliza Outtrim, Steamboat Springs, CO
3. Heather McPhie, Bozeman, MT
Comments
comments