Freestyle: Richards, Bjoernlund grab World Cup wins; Kearney, Wilson podium
Tweet
The World Cup freestyle season kicked off today (Dec. 11) in Suomu, Finland with men's and women's moguls competitions under the lights.
Canada's Kristi Richards took the women's competition, her second career World Cup victory, with a final score of 24.97. Japan's two-time World Champion Aiko Uemura (24.56) took second, followed by last season's World Cup overall title winner, American Hannah Kearney (21.10) with her 22nd career World Cup podium.
"I'm so excited, I can't ask for anything more than to start the season like this," Richards told the Associated Press. "I feel like the last four years of work are coming together at the right time. I just went for it today in the final and didn't hold anything back."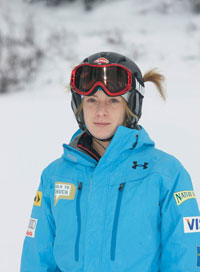 Kearney led after the first leg of competition but slipped during the second run.
"On my second run, I just gave it away," she said, citing a seven-and-a-half opening ceremony break between runs that gave the competition an added twist. "It was just a whole 'nother competition. That made it unique."
"She didn't ski her best tonight, and she still got on the podium, so I think that she's going to be super hungry," said U.S. moguls head coach Scott Rawles of Kearney's effort.
Kearney's teammates Heather McPhie (seventh), Shannon Bahrke (eighth) and Michelle Roark (ninth) also had strong, top-ten showings.
"We've had a long period of practice, it's nice that the World Cup is finally here," Rawles said. "We've had really good training since we got here. We got off to kind of a rough start, because we didn't get our luggage for the first four days we were here, but it's been good."
Canadians Jennifer Heil (fifth) and Chloe Dufour-LaPointe (sixth) also had top-ten performances that will aid to their push to make their Olympic team.

Sweden's Jesper Bjoernlund took the men's victory with a score of 24.41. The result marked the 24-year-old Bjoernlund's first World Cup podium after 43 attempts. American Bryon Wilson grabbed a career best second-place finish, followed by Canadian Alexandre Bilodeau in third. Wilson's previous best finish on the World Cup was a fifth-place result in Are in 2008.
"It's my best result ever," said Wilson, the 2009 U.S. national champion. "I'm pretty excited. I felt pretty good in finals, I just pushed out of the gate, did my double full and then charged the middle section. I knew it was a good run."
"Great stuff for Bryon," Rawles said. "He's had a lot of success at a lot of different levels, but this is the first time he's been on the World Cup podium. We knew it was going to happen and that he had the potential to do it, and it was great to see him put it together tonight."
World Cup competition in Suomu continues tomorrow with another men's and women's moguls competition.
Comments
comments