German Jumpers will earn cash for gold medals
Tweet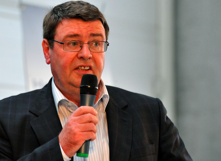 Spanning the Nordic World
By Peter Q Graves
We talked with Ralph Eder, the PR chief for the German ski jumpers, who said this week his team will be training on the jump hills of Klingenthal, had been at Oberstdorf last week, and that his team is looking very strong at the moment.
The German Ski Federation – known at home as the DSV – announced late this week that if a German ski jumper wins a gold he will be paid a bonus of 25,000 Euros for each gold medal. DSV sports director Thomas Pfueller said, that "I hope we can pass out a lot of Olympic bonuses."
From jumping in Germany we took a virtual trip across the border to check in with the Medienbetruer Skispringen of the Austrian eagles….Florian Kotlaba, who was very generous in talking to us and in getting some good quotes from what might be the worlds top jumping team.
First, we asked him about their ace flyer Georg Schlierenzauer. Scheli has had a good summer and he is back. He did start his training a little later this summer because of that late season injury to his knee (at Ramsau am Dachstein) and then he had some final exams at school. But know he is where he wants to be. He is very focused on the season without setting any special highlights, he just says he wants to show his best in every competition.
It is interesting that the Austrian ski jumpers will go to Egypt this coming week for a training camp, and no…they won't be doing any jumping, just physical training and a chance to recharge those batteries under the bright sunshine. They expect to take their first jumps on snow one wek prior to the Kuusamo opener.
Florian also spoke of the talented but sometimes inconsistent jumping of Thomas Morgenstern. "He has changed back to the ski brand he had his greatest victories on. He has steadily improved, but still with some work to do before the start of the winter. He had a very good summer training with Heinz Kuttin when Thomas was home in Karnten."
On Wolfgang Loitzel, who had found the sweet spot on his skis last year, Florian said "Wolfie" had to fight an inflammation in his knee all summer. Loitzel said, "it was no real injury, maybe I am just getting older." Wolfie went on to say, " …this was no big problem for jumping, but it did slow my physical training a little bit. Remember last year my performances in summer were not the best as well, so maybe this is a positive hint for the winter. At my age I will be ready when it counts."
Other news from the Austrian scene tells us that Nordic Combined skier David Zauner has switched from combined to jumping only. "I did it in May", he said, "when Nordic program chief Toni Innauer asked me to change to just ski jumping. Right now I feel it was a very good decision."
The Austrians do love to travel and Bard Elden, a former USST coach, now with the OSV, says that his combiners have recently returned from a camp in sunny Cypress…."It seems new to me to be going south instead of north this time of year, but it was great, with very sweet roads for roller skiing and great facilities for power training…the next camp we have will be on snow."
Magnar Dalen the head XC coach of Finland, said that some of his skiers have had the flu recently but overall they are in good shape. From Val Senales, Italy, last week Norwegian XC coach Vidar Lofshus said that his team has been enjoying great training.
He reported the men's sprint team in good shape with the exception of Johan Kjoelstad who is getting back to training after suffering mono during the summer. He also said the women's team was looking good, and they are working very well together as a group.
Stay with us for nordic news all season long as we span the nordic globe.
DSV Director Thomas Pfueller photo by GEPA
Comments
comments