Germans control nordic combined at Worlds, Demong-Lodwick 7-8
Tweet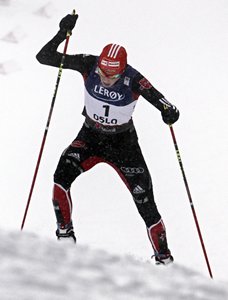 The Germans roared through the normal hill competition of the Nordic Combined at World Championships today capturing three of the top four places with Eric Frenzel earning gold, Tino Edelmann silver and Johannes Rydzek finishing fourth. Breaking up the barrage was Austrian Felix Gottwald, earning his ninth career World title meet medal.
The U.S. squad had impressive placings with Bill Demong in seventh, Todd Lodwick eighth, Johnny Spillane 19th and Bryan Fletcher 22nd. Taylor Fletcher was 26th.
The win by Frenzel was a bit of a surprise. The 22 year old had been a steady top five finisher earlier this World Cup season but his results had tailed off a bit in January.
Not so in Olso as he jumped to an early lead, setting hill record, and took a 19 second margin into the cross country leg.
"I am very happy and would like to thank all coaches and especially the technicians," Krenzel said. "The ten kilometers were very exhausting but in the end it was just super."
German coach Andreas Bauer said he was hugely gratified with the result from a team so young. He said Frenzel's performance was "assessed particularly high because he had to serve as snowplow the entire distance."
Demong won the cross country leg in a thick fog at the Holmenkollen cross country stadium. Spectators could barely see the big screen TV, much less the athletes on course.
Young Bryan Fletcher paced the US on the jumps, finishing 10th. But in the cross country race, Demong was on a mission. He paced himself out of the start. And as the race went on, he began picking off places – much like he did in the normal hill event at Vancouver a year ago. In the end, he moved up 22 spots to lead the USA but was still 28 seconds out of the medals.
"We certainly came here to win medals so that part is disappointing," said Head Coach Dave Jarrett. "We had a good streak going and now it's over and we need to look ahead to the next event."
Place
Oslo
(NOR)
Discipline
Gundersen NH HS106/10.0 K
Date
26.02.2011
Category
World Ski Championships
Race codex
4028
Gender
M
TD Name
Heilig John R. (CAN)
Rank
Bib
FIS Code
Name
Year
Nation
Result
1
1
1050
FRENZEL Eric
1988
GER
25:19.2
2
6
351
EDELMANN Tino
1985
GER
25:31.1
3
15
35
GOTTWALD Felix
1976
AUT
25:37.6
4
9
590
RYDZEK Johannes
1991
GER
25:42.1
5
13
1136
WATABE Akito
1988
JPN
25:44.7
6
24
1149
KOKSLIEN Mikko
1985
NOR
25:48.8
7
29
222
DEMONG Bill
1980
USA
26:05.4
8
16
27
LODWICK Todd
1976
USA
26:06.1
9
2
419
KLEMETSEN Haavard
1979
NOR
26:06.2
10
19
1464
RUNGGALDIER Lukas
1987
ITA
26:06.2
11
12
416
SLAVIK Tomas
1981
CZE
26:08.2
12
22
137
KREINER David
1981
AUT
26:18.0
13
18
214
DENIFL Wilhelm
1980
AUT
26:18.6
14
23
973
MOAN Magnus-H.
1983
NOR
26:21.9
15
3
610
LAMY CHAPPUIS Jason
1986
FRA
26:22.5
16
4
609
LAHEURTE Maxime
1985
FRA
26:24.1
17
35
1029
PITTIN Alessandro
1990
ITA
26:50.5
18
11
1152
RYYNAENEN Janne
1988
FIN
26:51.1
19
34
247
SPILLANE Johnny
1980
USA
26:51.5
20
5
606
BRAUD Francois
1986
FRA
26:52.2
21
30
19
MANNINEN Hannu
1978
FIN
27:03.8
22
10
1067
FLETCHER Bryan
1986
USA
27:09.0
23
28
1003
DVORAK Miroslav
1987
CZE
27:15.3
24
8
1650
SCHMID Jan
1983
NOR
27:27.1
25
32
203
HEER Ronny
1981
SUI
27:33.2
26
39
1439
FLETCHER Taylor
1990
USA
27:34.3
27
7
1434
JELENKO Marjan
1991
SLO
27:37.7
28
27
257
KIRCHEISEN Bjoern
1983
GER
27:38.4
29
20
8
STECHER Mario
1977
AUT
27:39.4
30
17
459
LACROIX Sebastien
1983
FRA
27:46.2
31
46
643
MICHIELLI Giuseppe
1985
ITA
27:48.1
32
48
349
HURSCHLER Seppi
1983
SUI
27:54.1
33
43
768
MINATO Yusuke
1985
JPN
27:56.8
34
45
1486
PIHO Kail
1991
EST
28:11.6
35
47
205
KOBAYASHI Norihito
1982
JPN
28:24.1
36
31
715
ORANIC Mitja
1986
SLO
28:29.6
37
14
1418
BERLOT Gasper
1990
SLO
28:44.0
38
42
1168
KARJALAINEN Joni
1987
FIN
28:58.9
39
33
694
VODSEDALEK Ales
1985
CZE
29:08.8
40
26
1689
NABEEV Niyaz
1989
RUS
29:15.7
41
51
164
SAVILL Wesley
1989
CAN
29:16.2
42
25
1462
CIESLAR Adam
1992
POL
29:23.2
43
41
960
MASLENNIKOV Sergej
1982
RUS
29:29.5
44
38
1488
TIIRMAA Karl-August
1989
EST
29:42.8
45
37
216
TAKAHASHI Daito
1980
JPN
29:48.0
46
44
1482
VAEHAESOEYRINKI Eetu
1990
FIN
29:54.9
47
53
1562
COSTA Samuel
1992
ITA
30:09.0
48
36
1461
SLOWIOK Pawel
1992
POL
30:26.9
49
55
722
TRACHUK Volodymyr
1985
UKR
30:28.0
50
50
1479
PANIN Ivan
1987
RUS
30:49.0
51
49
1228
LEETOJA Aldo
1988
EST
30:56.6
52
54
1147
POCHWALA Tomasz
1983
POL
31:22.3
53
56
100017
YAHIN Ernest
1991
RUS
31:55.7
54
52
1436
KAMENIK Joze
1991
SLO
32:31.8
55
57
1540
PARKHOMCHUK Andriy
1988
UKR
32:42.1
Disqualified
6
100052
MURAVITSKI Aliaksei
1992
BLR
Did not start
40
215
CHURAVY Pavel
1977
CZE
21
1485
NURMSALU Kaarel
1991
EST
Did not finish
58
100305
LAMBERT James
1965
GBR
Comments
comments