Gottwald wins, U.S. puts 3 in top 8
Tweet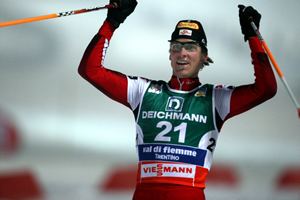 The Americans crammed three men into the top eight of a World Cup Nordic Combined meet in Val di Fiemme, Italy, Saturday (Jan. 9) in a race won by Austria's Felix Gottwald.
Johnny Spillane powered to fourth, Todd Lodwick got sixth and Bill Demong eighth underscoring the strength of the U.S. squad of former World Champions.
Gottwald is making a comeback after retiring in 2007. Today's win was his first since January of 2007. It was the fourth straight time Gottwald has made it to a World Cup podium this season and he moved into second place on the Cup standings list behind early season sensation Jason Lamy Chappius of France. Chappius finished 10th at Val di Fiemme.
Norwegian Magnus Hovdal Moan won the cross country leg and wound up second on the day with Eric Frenzel of Germany third. Gottwald was relentless on the cross country track, finishing second to Moan and making up for a 21st placing in the jumping leg of the competition. Moan had been 37th in the jumping. After the race he thanked Moan for providing the fast pace he knew he needed.
"I am very happy with my competition jump today," said Gottwald. "It put me in a good position and I could start to run relaxed. Then, I was happy that Magnus Moan did arrive from behind and that he held the pace high."
Pacing has become more important with recent jump scoring changes making the sport more strategic than in the past. The U.S. skiers played critical roles. From the start of the cross country leg Lamy Chappius took the lead. Demong worked on closing the gap and took the lead of the first chase group. Two kilometers in, Spillane made a move, picking up 15 seconds over the next kilometer and took the lead of the second chase group.
As Demongs group caught the leaders – about midway through the 10k race – Spillane and Lodwick hooked in with Gottwald's chase group, with Demong taking the lead. He held that lead through seven kilometers then gave way to Lodwick.
At 8k the bulk of the field had merged with Moan taking over the lead and Gottwald grabbing his tails.
"When it gets down to a train of 15 people and everyone's stepping on poles instead of skiing, it's a different race," said head coach Dave Jarrett. "We need to get better at staking our claim in the pack and not getting knocked around."
At the finish the two leaders were simply overpowering. "Magnus and Felix are sking at a different level than the rest of the field right now," said Jarrett.
The new wind adjustment scoring system will not be employed at this season's Olympic Games.
Alex Miller placed 45th and Taylor Fletcher 56th for the U.S.
Gottwald image by GEPA
Place
Val
di Fiemme (ITA)
Discipline
Gundersen HS134/10.0 Km
Date
09.01.2010
Category
World Cup
Race codex
4111
Gender
M
TD Name
Kumpost Roman (CZE)
Rank
Bib
FIS Code
Name
Year
Nation
Result
1
21
35
GOTTWALD Felix
1976
AUT
24:44.5
2
37
973
MOAN Magnus-H.
1983
NOR
24:45.3
3
9
1050
FRENZEL Eric
1988
GER
24:46.5
4
16
247
SPILLANE Johnny
1980
USA
24:52.8
5
18
257
KIRCHEISEN Bjoern
1983
GER
24:58.1
6
12
27
LODWICK Todd
1976
USA
24:58.5
7
11
215
CHURAVY Pavel
1977
CZE
24:58.6
8
4
222
DEMONG Bill
1980
USA
24:58.9
9
23
1136
WATABE Akito
1988
JPN
24:58.9
10
2
610
LAMY CHAPPUIS Jason
1986
FRA
25:00.0
11
8
1156
KOIVURANTA Anssi
1988
FIN
25:06.6
12
1
727
KATO Taihei
1984
JPN
25:06.6
13
22
205
KOBAYASHI Norihito
1982
JPN
25:09.7
14
7
351
EDELMANN Tino
1985
GER
25:11.5
15
36
8
STECHER Mario
1977
AUT
25:12.9
16
3
216
TAKAHASHI Daito
1980
JPN
25:13.7
17
6
606
BRAUD Francois
1986
FRA
25:16.1
18
13
111
BIELER Christoph
1977
AUT
25:20.4
19
29
137
KREINER David
1981
AUT
25:37.4
20
34
1149
KOKSLIEN Mikko
1985
NOR
25:47.3
21
44
1660
WENDEL Ole-Christian
1992
NOR
25:47.7
22
15
590
RYDZEK Johannes
1991
GER
25:54.8
23
42
1029
PITTIN Alessandro
1990
ITA
26:01.8
24
25
1650
SCHMID Jan
1983
NOR
26:02.2
25
45
1192
DRUML Tomaz
1988
AUT
26:02.2
26
19
294
GUENTER Andreas
1988
GER
26:02.6
27
10
217
HETTICH Georg
1978
GER
26:04.2
28
20
252
GRUBER Bernhard
1982
AUT
26:13.5
29
51
680
TANDE Petter L.
1985
NOR
26:24.0
30
52
467
RIESSLE Fabian
1990
GER
26:24.4
31
54
349
HURSCHLER Seppi
1983
SUI
26:25.3
32
27
198
TALLUS Jaakko
1981
FIN
26:36.2
33
43
416
SLAVIK Tomas
1981
CZE
26:38.5
34
26
459
LACROIX Sebastien
1983
FRA
26:40.9
35
5
214
DENIFL Wilhelm
1980
AUT
26:47.8
36
33
74
ACKERMANN Ronny
1977
GER
26:49.5
37
38
1164
FELISAZ Jonathan
1985
FRA
27:15.3
38
35
203
HEER Ronny
1981
SUI
27:19.5
39
49
1204
MARTIN Nicolas
1989
FRA
27:30.5
40
48
623
HUG Tim
1987
SUI
27:32.2
41
55
647
MUNARI Daniele
1983
ITA
27:40.7
42
57
592
KLAPFER Lukas
1985
AUT
27:50.5
43
50
768
MINATO Yusuke
1985
JPN
27:54.0
44
56
1464
RUNGGALDIER Lukas
1987
ITA
27:55.0
45
39
1068
MILLER Alexander
1985
USA
27:59.2
46
47
637
BRESADOLA Davide
1988
ITA
28:09.6
47
46
694
VODSEDALEK Ales
1985
CZE
28:15.2
48
24
1444
SCHMID Tommy
1988
SUI
28:17.4
49
58
249
MYSLICKI Jason
1977
CAN
28:24.8
50
63
722
TRACHUK Volodymyr
1985
UKR
28:35.7
51
30
1485
NURMSALU Kaarel
1991
EST
28:36.9
52
40
1418
BERLOT Gasper
1990
SLO
28:37.5
53
41
357
SOBOLEV Ivan
1983
BLR
28:38.4
54
31
1228
LEETOJA Aldo
1988
EST
28:49.1
55
14
1473
ASIKAINEN Lauri
1989
FIN
28:50.2
56
59
1439
FLETCHER Taylor
1990
USA
28:50.6
57
60
715
ORANIC Mitja
1986
SLO
28:54.5
58
61
164
SAVILL Wesley
1989
CAN
29:33.8
59
64
1540
PARKHOMCHUK Andriy
1988
UKR
30:05.2
60
32
1689
NABEEV Niyaz
1989
RUS
30:15.3
Did not start
62
1796
JOHANSEN Truls Soenstehagen
1991
NOR
47
1003
DVORAK Miroslav
1987
CZE
28
960
MASLENNIKOV Sergej
1982
RUS
Did not finish
53
643
MICHIELLI Giuseppe
1985
ITA
17
1152
RYYNAENEN Janne
1988
FIN
Comments
comments