Hattestad wins, Newell seventh in Kuusamo Sprint
Tweet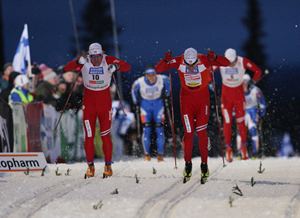 Half of the finals of the opening sprint of the cross country World Cup season in Kuusamo, Finland Saturday (Nov. 28) was made up of Norwegians with Ola Vigen Hattestad and Oystein Pettersen claiming first and second and John Kristian Dahl fourth. Russian Nikita Kriukov collected third.
The news for the day from the U.S. point of view was the seventh place finish of Andy Newell, one disappointing slot away from making the six-man finals.
"It was an OK start to the season for sure," said Newell. "I'm disappointed not to be in the final, because that's always the goal, but I am in good shape. I think this fives a lot of confidence going into the sprints. It's probably one of my better classic sprint results in the last year, so it definitely feels like we're in the right spot."
According to coach Chris Grover a lane change at the top of the final hill may have cost Newell his shot at the finals. "He was in the lead for most of his semi-final until the top of the last hill. … He and three guys came up and Newell had to make a lane change in order to get around and got on a track that was too slick, lost a few kicks and he lost a few places at that very crucial point."
Grover said he was pleased with Newell's performance, said he finished strong and appeared to be in very good condition. "I think he's coming into the season aerobically stronger than he has been in a few years," the coach said.
Poland's Justyna Kowalczyk got the women's win ahead of Petra Majdic of Slovenia and Alena Prochazkova of Slovakia. Finn Aino-Kaisa Saarinen rounded out the top four. Americans did not fare well with Kikkan Randall leading the squad in 36th. Canadian Sara Renner was 42nd. Neither made it past the qualifier.
"It was frustrating for Kikkan and for Torin (Koos) who were both two seconds from qualifying. They both skied pretty well, they're both in food shape, but there were a couple of small mistakes," the coach said.
With longer races on the docket for tomorrow (men run 15k and women 10k classic events) Newell was anxious to see what the summer's training has produced. "The past four years I've really been focused on sprinting," Newell said. "This summer was more training for distance and I don't know what to expect. I'm probably going to starting bib one because I probably have the worst points out of anyone starting tomorrow."
Photo: Ola Vigen Hattestad, at right, edges teammate Oyestein Pettersen (bib 10) for Kuusamo win. – GEPA
MEN
Place
Kuusamo
(FIN)
Discipline
SP 1.4 km C Final
Date
28.11.2009
Category
World Cup
Race codex
2485
Gender
M
Valid for FIS Points
NO – Waiting reports
TD Name
Aalberg John (USA)
Rank
Bib
FIS Code
Name
Year
Nation
Time
FIS Points
1
9
3420077
HATTESTAD Ola Vigen
1982
NOR
2
10
3420089
PETTERSEN Oeystein
1983
NOR
3
7
3480436
KRIUKOV Nikita
1985
RUS
4
6
3420002
DAHL John Kristian
1981
NOR
5
21
3180146
LASSILA Kalle
1985
FIN
6
1
3500259
JOENSSON Emil
1985
SWE
7
16
3530005
NEWELL Andrew
1983
USA
8
13
3420131
KJOELSTAD Johan
1983
NOR
9
4
3420036
ROENNING Eldar
1982
NOR
10
8
3480739
PANZHINSKIY Alexander
1989
RUS
11
2
1370707
LIND Bjoern
1978
SWE
12
3
3480280
MORILOV Nikolay
1986
RUS
13
12
3390033
EINASTE Kein
1985
EST
14
17
3180114
STRANDVALL Matias
1985
FIN
15
26
3420376
GLOEERSEN Anders
1986
NOR
16
18
1235877
VON ALLMEN Peter
1978
SUI
17
22
3480322
PARFENOV Andrey
1987
RUS
18
24
3500170
BRYNTESSON Robin
1985
SWE
19
25
1268566
EIGENMANN Christoph
1979
SUI
20
30
3390008
SAAREPUU Anti
1983
EST
21
15
1344711
JAUHOJAERVI Sami
1981
FIN
22
20
1276617
ONDA Yuichi
1980
JPN
23
27
3180136
TOLVANEN Olli-Pekka
1985
FIN
24
28
3500005
BYSTROEM Fredrik
1982
SWE
25
29
1221327
TEICHMANN Axel
1979
GER
26
5
3500407
MODIN Jesper
1988
SWE
27
11
3420573
BAKKEN Timo Andre
1989
NOR
28
14
3180228
PAAKKONEN Lasse
1986
FIN
29
19
3500330
PETERSON Teodor
1988
SWE
30
23
3390003
KUMMEL Peeter
1982
EST
31
31
3180085
VAEAENAENEN Jesse
1984
FIN
32
32
3480021
PETUKHOV Alexey
1983
RUS
33
33
3180221
JYLHAE Martti
1987
FIN
34
34
3420012
NAESS Boerre
1982
NOR
35
35
3120031
SUN Qinghai
1988
CHN
36
36
3190070
MIRANDA Cyril
1985
FRA
37
37
1298054
PASINI Fabio
1980
ITA
38
38
3670000
CHEBOTKO Nikolay
1982
KAZ
39
39
1362947
PERL Curdin
1984
SUI
40
40
3390050
SIMONLATSER Timo
1986
EST
41
41
3150070
RAZYM Ales
1986
CZE
42
42
3480437
RYSIN Igor
1986
RUS
43
43
3300241
KASHIWABARA Nobuhito
1988
JPN
44
44
3180250
PENTSINEN Anssi
1986
FIN
45
45
3670006
CHEREPANOV Sergey
1986
KAZ
46
46
3190025
DARRAGON Roddy
1983
FRA
47
47
3700049
MLYNAR Peter
1988
SVK
48
48
1365954
KOOS Torin
1980
USA
49
49
3510207
KINDSCHI Joeri
1986
SUI
50
50
3670005
KOSCHEVOY Yevgeniy
1984
KAZ
51
51
3390001
JALLAI Erkki
1981
EST
52
52
3180175
HAEKAEMIES Antti
1986
FIN
53
53
3510067
LECCARDI Valerio
1984
SUI
54
54
1093869
KREZELOK Janusz
1974
POL
55
55
3100110
HARVEY Alex
1988
CAN
56
56
3290004
SCOLA Fulvio
1982
ITA
57
57
1116470
FAFALIS Lefteris
1976
GRE
58
58
3180054
NOUSIAINEN Ville
1983
FIN
59
59
1285347
FREEMAN Kris
1980
USA
60
60
3100006
KERSHAW Devon
1982
CAN
61
61
3200014
WENZL Josef
1984
GER
62
62
1345875
GAILLARD Jean Marc
1980
FRA
63
63
3180227
COLLIANDER Niklas
1985
FIN
64
64
3200229
TSCHARNKE Tim
1989
GER
65
65
1310470
KRECZMER Maciej
1981
POL
66
66
3180420
SJOLUND Oskar
1990
FIN
67
67
1376430
JOUTSEN Jari
1978
FIN
68
68
1067485
ZORZI Cristian
1972
ITA
69
69
3180436
MIKKONEN Juho
1990
FIN
70
70
1175058
KOUKAL Martin
1978
CZE
71
71
1344905
KURTTILA Keijo
1975
FIN
72
72
3660013
LASUTKIN Alexander
1983
BLR
73
73
1344808
KITTILAE Kusti
1981
FIN
74
74
3670007
POLTARANIN Alexey
1987
KAZ
75
75
3150035
KOZISEK Dusan
1983
CZE
76
76
3100034
NISHIKAWA Graham
1983
CAN
77
77
3290008
GULLO Giovanni
1983
ITA
78
78
3690000
PUTSKO Olexandr
1981
UKR
79
79
3780010
STROLIA Mantas
1986
LTU
80
80
1125588
DOLIDOVICH Sergei
1973
BLR
81
81
1249069
MURRAY Paul
1977
AUS
82
82
3100190
BABIKOV Ivan
1980
CAN
83
83
3780015
VAICIULIS Modestas
1989
LTU
84
84
3430056
MICHALEK Mariusz
1987
POL
85
85
1277393
LEYBYUK Roman
1977
UKR
86
86
3660029
KARNEYENKA Leanid
1987
BLR
87
87
3690014
BILOSYUK Ivan
1984
UKR
88
88
3040028
VAN DER PLOEG Mark
1985
AUS
89
89
3120046
XU Wenlong
1987
CHN
90
90
3090024
TZINZOV Veselin
1986
BUL
91
91
3090025
BURGOV Ivan
1986
BUL
WOMEN
Place
Kuusamo
(FIN)
Discipline
SP 1.2 km C Final
Date
28.11.2009
Category
World Cup
Race codex
2483
Gender
L
Valid for FIS Points
NO – Waiting reports
TD Name
Aalberg John (USA)



Rank
Bib
FIS Code
Name
Year
Nation
Time
FIS Points
1
5
3435001
KOWALCZYK Justyna
1983
POL
2
3
1276714
MAJDIC Petra
1979
SLO
3
11
3705003
PROCHAZKOVA Alena
1984
SVK
4
1
1255665
SAARINEN Aino- Kaisa
1979
FIN
5
10
3485221
SHAPOVALOVA Evgenia
1986
RUS
6
18
3425365
FALLA Maiken Caspersen
1990
NOR
7
4
3505405
FALK Hanna
1989
SWE
8
14
1293107
BOEHLER Stefanie
1981
GER
9
2
1237817
OLSSON Anna
1976
SWE
10
15
3485461
TURYSHEVA Elena
1986
RUS
11
19
3425275
BRUN-LIE Celine
1988
NOR
12
20
3565005
VISNAR Katja
1984
SLO
13
7
1250524
GENUIN Magda
1979
ITA
14
8
1283116
ANDERSSON Lina
1981
SWE
15
12
3505090
INGEMARSDOTTER Ida
1985
SWE
16
25
3425157
BJELLAANES Karianne
1986
NOR
17
9
3055066
SMUTNA Katerina
1983
AUT
18
13
3425177
GJEITNES Kari Vikhagen
1985
NOR
19
24
3185005
PERAELAE Kirsi
1982
FIN
20
26
3425349
KRISTOFFERSEN Marthe
1989
NOR
21
6
1166037
KUITUNEN Virpi
1976
FIN
22
21
1169432
NATSUMI Madoka
1978
JPN
23
22
3485340
CHUIKOVA Ekaterina
1986
RUS
24
27
1256732
SACHENBACHER -STEHLE Evi
1980
GER
25
28
3505013
JOHANSSON NORGREN Britta
1983
SWE
26
16
1138877
FOLLIS Arianna
1977
ITA
27
17
3565002
FABJAN Vesna
1985
SLO
28
23
3185004
SARASOJA Riikka
1982
FIN
29
29
3395038
UDRAS Kaija
1986
EST
30
30
3425410
OESTBERG Ingvild Flugstad
1990
NOR
31
31
1255471
MURANEN Pirjo
1981
FIN
32
32
3395005
SIRGE Kaili
1983
EST
33
33
1247226
ZELLER Katrin
1979
GER
34
34
3185137
KYLLOENEN Anne
1987
FIN
35
35
1367021
SIDKO Alena
1979
RUS
36
36
1365857
RANDALL Kikkan
1982
USA
37
37
3185088
AEHTAEVAE Ann-Mary
1973
FIN
38
38
3395048
OJASTE Triin
1990
EST
39
39
3485167
NARYSHKINA Natalja
1984
RUS
40
40
3485032
KOROSTELEVA Natalia
1981
RUS
41
41
1373617
FESSEL Nicole
1983
GER
42
42
1128886
RENNER Sara
1976
CAN
43
43
3185003
MALVALEHTO Mona-Lisa
1983
FIN
44
44
1181848
JATSKAJA Oxana
1978
KAZ
45
45
3195080
LOCATELLI Manon
1989
FRA
46
46
3195056
CUINET Aurore
1985
FRA
47
47
3515038
TRACHSEL Doris
1984
SUI
48
48
3205075
HERRMANN Denise
1988
GER
49
49
3105013
CRAWFORD Chandra
1983
CAN
50
50
1335690
STRANDBERG Kristina
1975
SWE
51
51
3105019
JONES Perianne
1985
CAN
52
52
1312216
BONER Seraina
1982
SUI
53
53
3485046
MIKHAILOVA Olga
1981
RUS
54
54
3185023
MAEKINEN Anne
1982
FIN
55
55
3665000
LOPATINA Viktoria
1981
BLR
56
56
3665028
DUBAREZAVA Nastassia
1985
BLR
57
57
3695000
MALETS LISOGOR Marina
1983
UKR
58
58
3435014
JASKOWIEC Sylwia
1986
POL
59
59
1319976
KOLOMINA Elena
1981
KAZ
60
60
3435018
MAREK Kornelia
1985
POL
61
61
1174670
RAJDLOVA Kamila
1978
CZE
62
62
3535261
STEPHEN Elizabeth
1987
USA
63
63
3155041
NYVLTOVA Eva
1986
CZE
64
64
3665001
VASILJONOK Olga
1980
BLR
65
65
1105509
JOHANSEN Katarina
1976
SVK
66
66
3185148
PIRTTINIEMI Satu
1986
FIN
67
67
3125023
MAN Dandan
1989
CHN
68
68
3695022
TSESELSKA Kateryna
1989
UKR
69
69
3125044
E Yingcui
1990
CHN
70
70
3185228
SANDVIK Josefin
1990
FIN
71
71
3185311
GRUNDVALL Maria
1991
FIN
72
72
3185113
SOUDUNSAARI Sanna
1985
FIN
73
73
1194555
NESTERENKO Lada
1976
UKR
74
74
1365178
BOTTOMLEY Esther
1983
AUS
75
75
3185089
HAKALA Maija
1984
FIN
76
76
3185310
JOENSUU Laura
1990
FIN
77
77
3785000
TERENTJEVA Irina
1984
LTU
78
78
3095004
MALCHEVA Teodora
1983
BUL
79
79
3535270
ARRITOLA Morgan
1986
USA
Comments
comments