Heil, Begg-Smith win back-to-back moguls World Cups in Calgary
Tweet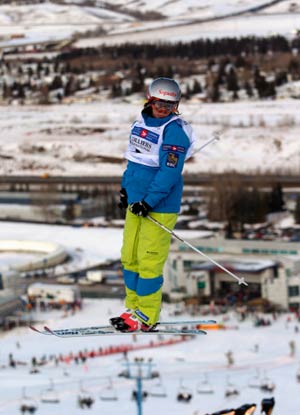 The World Cup's moguls skiers had their second competition in two nights tonight (Jan. 9) under the lights in Calgary, Canada. For the second time in as many nights, the podiums were topped by Olympic gold medalists Jennifer Heil of Canada and Dale Begg-Smith, a former Canadian skier who now represents Australia.
Japan's Aiko Uemura took second place tonight ahead of the Czech Republic's Nikola Sudova in third. Sudova (second yesterday) also climbed on her second podium in as many days. The victory was Heil's 23rd career World Cup win.
Heather McPhie again lead the American women with her second fourth-place finish two days. Teammates Shelly Robertson (5th) and Shannon Bahrke (6th) also grabbed their second top-ten results in as many days as the fight to make the USA 2010 Olympic Team heats up. The final team will be named at the end of January.
Last season's overall World Cup moguls champion, American Hannah Kearney continued her slump (11th yesterday) with a 36th-place finish tonight. Her Olympic berth is secured as she won the Olympic Trials Dec. 23.
Heil now leads in the World Cup overall standings, 82 points ahead of teammate Kristi Richards (28th today) in second. Sudova is only one point back in third overall.
"I just had to lay it on the line. For me, I just wanted to push my speed and my aggressiveness, and I accomplished that," said Heil.
Begg-Smith, who had knee reconstructive surgery only a year ago, was back on top for the second consecutive night ahead of last season's overall moguls champion, Canadian Alexandre Bilodeau. Russian Alexandr Smyshlyaev also repeated his results of yesterday with another third-place finish.
World Champion Patrick Deneen bounced back from his 50th-place finish of a day ago to lead the American men in ninth. Deneen has already secured his spot on the Olympic team by winning the Olympic trials in late December. Teammates Sho Kashima (11th) and Michael Morse (18th) also grabbed their second top-20 finishes in two days.
Begg-Smith now leads in the overall World Cup standings, 14 points ahead of Swede Jesper Bjoernlund in second. Bilodeau is 90 points back in third. American Bryon Wilson (16th today) stands in fourth, 120 points behind the leader.
Freestyle World Cup action continues in Calgary tomorrow (Jan. 10) with men's and women's aerials competitions.
Image: Jennifer Heil wins again in Calgary. (Freestyle Canada)

Women's Results


Men's Results

Comments
comments