Heil, Colas take single moguls World titles, Kearney silver
Tweet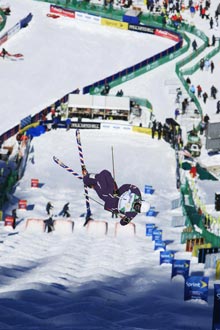 On one of the coldest days of the year in Deer Valley, Utah, moguls skiers Jennifer Heil of Canada and Guilbaut Colas of France secured World Championship titles today (Feb. 2). It was both skiers' first single moguls Worlds victory.
Temperatures were in the low single digits though skies were cloudless as competition at the 2011 FIS Freestyle Skiing World Championships kicked off with men's and women's single moguls competitions.
First up were the women. An Olympic rematch materialized as American Olympic gold medalist Hannah Kearney qualified second behind Heil (Olympic silver medalist). Kearney collected a higher turn score and the fastest time down the 246-meter course but it came down to the airs as Heil, the last woman down the 2002 Olympic course, topped Kearney 4.80 to 4.19. Heil's total score came to 24.35 ahead of Kearney's 24.31. It was Heil's fifth trip to a Worlds podium. She has two gold medals in dual moguls and two silvers in single moguls.
"This is my favorite course in the world," said Heil who has pulled in eight World Cup podiums here and will retire at the end of the season. "I was standing at the top of the course and heard Hannah's score and I new I needed to lay down a great one."
Heil's win makes her the first mogul skier to win the 'grand slam' of freestyle titles, including: Olympic Champion; World Champion Single Moguls; World Champion Dual Moguls; World Cup Mogul Champion; World Cup Overall Freestyle Champion; and, FIS Rookie of the Year.
Kearney earned her third Worlds medal. She took gold in Ruka, Finland in 2005 and bronze in Inawashiro, Japan in 2009.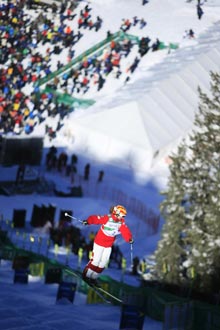 "I missed my grab on my bottom air and therefor the trick was incomplete and the score reflected that," said Kearney, who leads the World Cup standings with six consecutive singles World Cup wins."But, you can look at the bright side. It's still a silver medal with a mistake, that leaves room for improvement next week, keeps things exciting. A dual between the two of us might have some more meaning."
Canadian Kristi Richards, World Champion in 2007, rounded out the podium in third with 23.71 points.
Four American women represented the host country in the finals as Eliza Outtrim finished fifth and Heather McPhie (World Cup winner here last season) followed in sixth.
Colas, who is the current overall World Cup leader with three wins this season, took the men's contest with a score of 26.26 over Canadians Olympic gold medalist Alexandre Bilodeau in second and 18-year-old Mikael Kingsbury in third.
"I'm so happy, I can't believe I can be on the podium. Being third in World Championships, it's unbelievable," said Kingsbury. "I have dreamed of this since I was like 12 years old, so it's pretty big. Next World Championships, the goal will be to win it."
The win marked Colas' second career World Championships medal. He won a silver medal in dual moguls in 2007.
American Jeremy Cota led the home team in fourth, missing the podium by .83 points.
"I was happy with the way I skied," said Cota. "I'm excited about the
way my skiing is coming. I have spent a lot of time working on my
technical skiing."
Defending Worlds gold medalist, American Patrick Deneen finished sixth with a score of 24.14. Olympic bronze medalist Bryon Wilson did not qualify for finals.
World Championships competition continues tomorrow with men's and women's slopestyle finals. The moguls skiers will be back in action with duals competitions on Saturday night.
Images by Marcus Caston
Women's Results
Rank
Bib
FIS Code
Name
Year
Nation
Result
Level
Points
1
2
2275744
HEIL Jennifer
1983
CAN
24.35
1000.00
2
1
2328513
KEARNEY Hannah
1986
USA
24.31
800.00
3
4
2304360
RICHARDS Kristi
1981
CAN
23.71
600.00
4
8
2481681
STOLYAROVA Ekaterina
1988
RUS
23.60
500.00
5
7
2329386
OUTTRIM Eliza
1985
USA
23.17
450.00
6
6
2364117
MCPHIE Heather
1984
USA
22.65
400.00
7
10
2485019
RAKHIMOVA Regina
1985
RUS
22.40
360.00
8
9
2267596
SUDOVA Nikola
1982
CZE
21.13
320.00
9
12
2485027
PERTAKHIYA Marika
1992
RUS
20.70
290.00
10
3
2329677
ROBICHAUD Audrey
1988
CAN
20.34
260.00
11
23
2526184
VACULIKOVA Tereza
1992
CZE
20.22
240.00
12
21
2484830
MURATA Arisa
1990
JPN
19.68
220.00
13
30
2485299
SCHRIWER Martina
1988
SWE
19.64
200.00
14
22
2419989
KAFFKA Marina
1987
GER
19.01
180.00
15
13
2526325
GUNCHENKO Anastassia
1991
RUS
18.58
160.00
16
14
2360722
SCANZIO Deborah
1986
ITA
11.01
150.00
17
34
2484416
COX Britteny
1994
AUS
16.14
140.00
18
19
2485203
KLOSER Heidi
1992
USA
13.68
130.00
19
31
2527003
SEO Jee-Won
1994
KOR
13.56
120.00
20
33
2485108
HOSHINO Junko
1989
JPN
13.14
110.00
21
28
2527012
GOBBI Samanta
1991
SUI
7.39
100.00
22
11
2484720
DUFOUR-LAPOINTE Chloe
1991
CAN
3.7
90.00
23
26
2373041
SANTA-OLALLA Reyes
1984
SPA
3.3
80.00
24
27
2529059
YANG Xue
1995
CHN
2.16
70.00
25
35
2529060
SHAO Junhan
1996
CHN
2.12
0.00
26
32
2485294
KOYANDER Ellie
1991
GBR
1.4
0.00
Did not finish
2440553
PARKS Nicole
1992
AUS
Men's Results

Rank
Bib
FIS Code
Name
Year
Nation
Result
Level
Points
1
1
2337049
COLAS Guilbaut
1983
FRA
26.26
1000.00
2
3
2426100
BILODEAU Alexandre
1987
CAN
25.66
800.00
3
2
2484937
KINGSBURY Mikael
1992
CAN
25.57
600.00
4
5
2484727
COTA Jeremy
1988
USA
24.74
500.00
5
6
2482457
SMYSHLYAEV Alexandr
1987
RUS
24.21
450.00
6
4
2382838
DENEEN Patrick
1987
USA
24.14
400.00
7
9
2484677
ROCHON Cedric
1990
CAN
23.72
360.00
8
34
2526132
MIETTUNEN Ville
1992
FIN
23.43
320.00
9
10
2375563
DIGRAVIO David
1986
USA
23.37
290.00
10
7
2183982
ROUSSEAU Pierre-Alexandre
1979
CAN
23.14
260.00
11
11
2406797
BJOERNLUND Jesper
1985
SWE
22.70
240.00
12
17
2484682
KIRAMO Arttu
1990
FIN
22.61
220.00
13
15
2471011
DISCOE Joseph
1987
USA
22.56
200.00
14
25
2526312
ANDERSEN Tevje-Lie
1991
NOR
20.35
180.00
15
32
2406506
SPETT Per
1985
SWE
7.53
160.00
16
30
2527360
PENTTALA Jussi
1993
FIN
150.00
17
28
2484758
SLATTEN Vinjar
1990
NOR
20.95
140.00
18
13
2397776
NISHI Nobuyuki
1985
JPN
20.90
130.00
19
18
2482554
VOLKOV Sergey
1987
RUS
20.76
120.00
20
31
2318134
HALL Sam
1988
AUS
20.62
110.00
21
12
2484861
ENDO Sho
1990
JPN
20.54
100.00
22
26
2407379
VACULIK Lukas
1986
CZE
19.44
90.00
23
29
2407185
MATIZ Giacomo
1986
ITA
19.43
80.00
24
27
2526113
GRAHAM David
1991
AUS
19.04
70.00
25
35
2340929
NOVAK Vaclav
1987
CZE
16.29
60.00
26
38
2369743
LAFRANCHI Pablo
1986
SUI
16.20
50.00
27
24
2485300
GUMMESSON Adam
1989
SWE
13.98
45.00
28
42
2525925
THORKILSEN Gustav-Muus
1981
DAN
13.76
40.00
29
33
2527731
YOON Gi-Chan
1994
KOR
8.31
36.00
30
44
2527908
KIM Ji-Hyon
1995
KOR
8.30
32.00
31
41
2526980
STEPHENSON Bradley
1988
RSA
5.84
0.00
32
37
2354320
LAHTELA Juuso
1985
FIN
2.53
0.00
33
40
2529062
SUN Renze
1994
CHN
2.42
0.00
Did not start
2485295
LONGLEY Andrew
1990
GBR
Did not finish
2471302
WILSON Bryon
1988
USA
Comments
comments