Holmlund, Schmid win again in World Cup ski cross
Tweet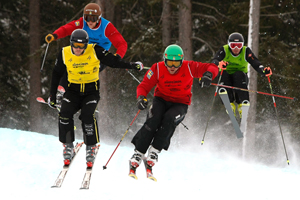 The World Cup ski cross season is yet young (only two races in), but Swede Anna Holmlund and Switzerland's Michael Schmid already have two wins to their names. After yesterday's season opener the duo won again today (Dec. 22) in Innichen, Italy.
For the second day in a row, the red-hot Schmid won each of his heats to best Norway's Audun Groenvold in second and Switzerland's Conradign Netzter in third. Another Swiss, Richard Spalinger finished fourth.
Canadian Stanley Hayer led the North American men today in 11th place after being eliminated in the quarterfinals. Teammate David Duncan, who also dropped out of contention in the quarterfinals, finished 14th.
Americans Daron Rahlves (21st) and Casey Puckett (18th) were both eliminated in the first round of competition today. Puckett finished fourth in yesterday's race.
Holmlund again beat six-time World Cup champ, French Ophelie David, who finished second. Swiss Sanna Luedi finished third for her second career World Cup podium. This week's wins were Holmlund's first career Cup victories.
Canada's Julia Murry and Ashley McIvor (second yesterday) had great days. Murray made it all the way to the finals to finish fourth, while McIvor hung on till the Semis only to crashed out but maintained a fifth-place finish.
With two days of top World Cup results, McIvor officially claimed a spot on the Canadian team for the Vancouver Games.
"It's nice knowing that I have an Olympic spot," McIvor told the Canadian Post (CP). "I officially secured that today. I'm just trying to look forward to it, make the most of it and have some fun with it as opposed to getting stressed out about all the pressure."
American Caitlin Ciccone was again eliminated in the first round and finished 27th.
Canadian coach Eric Archer was unimpressed with Innichen's first attempt at a World Cup ski cross course. "It had zero banked turns, all flat, very hard snow with just minimal features in between," he told the CP. "Not a lot of time in the air, just a lot of time gliding and making good turns." — Eric Williams
Click here to see a photo gallery of today's race.
Images by Gepa
To see the full brackets of today's races click the attachments below.

Men's Results
Women's Results
Comments
comments