Introducing On the Fly with Freestyle Aerialist, Emily Cook
Tweet
In Ski Racing's latest blog, On the Fly, Freestyle aerialist Emily Cook will provide an inside look into the intense training and competition life of U.S. Freestyle Ski Team athletes as she travels the globe with her teammates.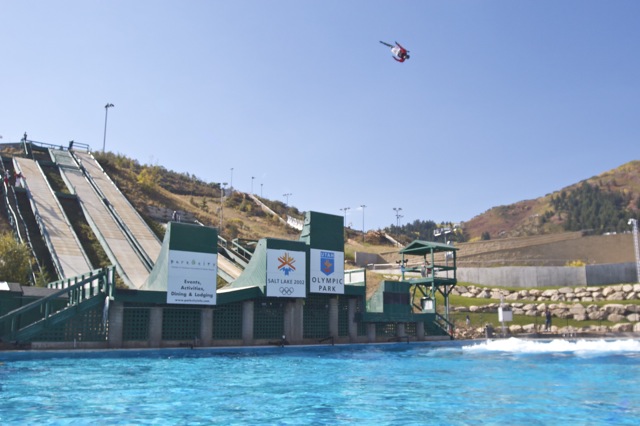 Just a week ago, each of the 144 steps to the top of the water ramps at the Utah Olympic Park were blanketed in brittle frost. Snow and hail fell from an ominous sky into the 48-degree pool and wind blew sideways, threatening to push us off the ramps. Despite a long, dynamic warm up, layers of fleece and a drysuit, my legs felt cold and a little heavy. There is a natural inclination to get out of frigid water during weather like this, but knowledge that the summer is nearing its end served as motivation to take advantage of the unique training environment provided by summer water ramping.

Early mornings such as this at the Utah Olympic Park, during private U.S. Ski Team sessions, are quiet and focused as athletes prepare for the day ahead. Mogul and aerial coaches work together, sharing secrets and techniques that will propel their athletes to the top of their game, reviewing video to find exactly what is missing that will make the difference.
Like diving or gymnastics, a clean bodyline, dynamic twisting mechanics and flawless landings are essential to performing well. Jumping into a pool allows us the opportunity to work on new tricks and make big changes while reducing the risk of injury. After a long and productive summer we have all made dramatic improvements to style, technique, and overall form, which will surely transfer into high scores this coming winter.

Our ongoing study of biomechanics and training time on the trampoline and in the bungee harness have allowed us to implement techniques that help us to improve twist speed and timing, which is an essential skill when increasing degree of difficulty. Improved performance in areas such as take-off and landing enhances the overall look of a jump and can also make transferring new tricks from water to the 37-degree snow landing hill an easier progression. After each jump, we meticulously review video with our coaches and make subtle changes to things like arm placement and head position in order to work towards precision and successful jumps.

When I was young, judges' scores and results were the least of my concerns. The idea of doing flips on skis into a pool was heaven, and I fell in love with the sport of aerials the second I took my first jump. During our first aerials camp, at ages 10 and 12, Olympic Silver Medalist, Jeret "Speedy" Peterson, World Champion, Ryan St.Onge and I raced to the top of the stairs together to get as many jumps as possible in a day. I begged my dad to let me spend the entire summer in Lake Placid, New York training at the pool so I could perform my first flips on snow. Now, when the weather turns bad, or days get tough, I often think back to the old days in Lake Placid and remember the reason I began the sport in the first place, the love of flying, flipping and twisting in the air.

Years later, I still find the feeling of flying above the pool in Park City irresistible. However, I now also appreciate the advantages that water ramping provides for training. A softer water landing has saved me more than once as I made subtle changes that caused me to land awkwardly, sideways or upside-down; a possibly detrimental move on snow, but a manageable move into the pool. After a bad landing on snow, I often stumble to the lodge, but with rough water landings, I am able to continue training and improve skills by making big changes in a safe environment.
According to the calendar summer is now officially over, but in the mind of an aerialist the season ends when the water ramps close. Thankfully, last week Mother Nature reconsidered and blessed us with an unusual October of sunshine and warmth. My teammates and I appreciated this bonus as we move into our last week of preparation, starting on Oct. 5 at the Utah Olympic Park.
The weather in Park City is expected to turn windy and cold again, but there is still work to be done, so we'll continue to make the trek to the top of the stairs before moving into our fall dry land training program in the gym and on the trampolines. The mogul team will soon be returning from Switzerland where they have had the opportunity to try out their new skills in top-to-bottom mogul runs, and the aerials team will eagerly await more snow here in Utah while we hammer out workouts in the Center of Excellence and train acrobatic skills on the trampoline, diving boards and in the tumbling gym.
There are many new things happening in the freestyle world these days, so please tuned for more fall updates as we prepare for a successful season around the globe for World Cup and at home for World Championships in Deer Valley.

Emily Cook is a veteran athlete on the U.S. Freestyle Ski team. As an aerialist she has posted numerous World Cup podiums, is a two-time Olympian and a four-time U.S. National Champion. Throughout the season, Emily will provide an inside look at the training and competition adventures of an athlete on the U.S. Ski team. Follow Emily and her teammates from the Center Of Excellence gym to China, Russia and at home for the Freestyle World Championships in Deer Valley, Utah. Please feel free to comment with questions, suggestions or various rants.

Comments
comments