IOC adds Ski and Snowboard Slopestyle to Olympic schedule; Alpine Nations Team Event Rejected
Tweet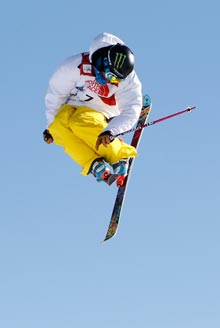 International Olympic Committee (IOC) president Jacques Rogge today (July 4) announced that ski and snowboard slopestyle events as well as snowboarding parallel slalom have been added to the Olympic schedule for the 2014 Sochi Winter Games.
The decision to add the events follows announcements made earlier this spring that ski halfpipe and women's ski jumping had earned spots on the Sochi program. The committee, gathered in Durban, South Africa ahead of naming the host of the 2018 Winter Games, also decided against including the alpine skiing nations team event in the 2014 Games.
"FIS is delighted about the IOC's decision to include both Freestyle Ski and Snowboard slopestyle events to the Sochi 2014 program following the addition of the ladies' ski jumping and freestyle ski halfpipe," said FIS President Gian Franco Kasper. "This is an important statement about the relevance of the Olympic Winter Games for the youth given the appeal of slopestyle to younger audiences."
"It is nevertheless disappointing that the alpine nations team event will have to wait until 2018 for its debut, since it has proven to be a true highlight at our FIS World Championships and we are convinced it will be well received at the Youth Olympic Games in Innsbruck," continued Kasper.
The inclusion of the three new snow events tips the scales toward the FIS, which now governs 50 percent of all Winter Olympic events.
Ski slopestyle made its FIS World Championships debut in February at Park City, Utah as American Alex Schlopy and Australian Anna Segal became the first ever slopestyle World Champions.
"The IOC's decision to add slopestyle to the Olympics recognizes the millions of youth who are already participating in the sport in terrain parks around the world," said U.S. Ski and Snowboard Association President Bill Marolt. "It will have a very positive impact on the sport including our U.S. Snowboarding and U.S. Freeskiing programs. It's gratifying to see the modernism shown by the IOC in bringing in so many new events to better showcase the excitement of skiing and snowboarding as action sports to the world."
The ski and snowboard slopestyle events, fan favorites for years at X Games and Dew Tour events, features athletes making their way through and a course comprised of a variety of obstacles including rails, jumps and other terrain park features — scoring points for amplitude, originality and quality of tricks.

"I couldn't be more excited about the IOC's decision," said halfpipe skier and Olympic hopeful Tom Wallisch. "I've always dreamt of skiing for the USA at the Olympics, and now we finally have the opportunity. This is a huge moment for our sport."
Image by Gepa
Comments
comments