Iraschko takes women's ski jump title
Tweet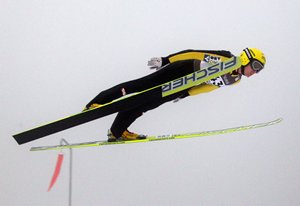 Austria's Daniela Iraschko claimed the women's ski jumping World Championship today (Feb. 25) with a resounding 12.8 point margin over silver medalist Elena Runggaldier of Italy. The bronze went to Coline Mattel of France.
The U.S. got stung early when Lindsey Van ran into difficulty in her first jump and failed to qualify for the finals. Jessica Jerome led the U.S. jumpers in 14th, Sarah Hendrickson was 16th, Alissa Johnson 20th and Abby Hughes posted 24th. Canada's lone scorer was Taylor Henrich in 18th.
The blond and pink haired Iraschko has been dominant all year in Continental Cup jumping amassing a record of ten wins and five second place finishes in her 16 starts since the beginning of December. But her availability to jump at Oslo at the World Championships had been in question after a knee injury sustained in Zakopane just weeks ago. She waited until the final day of jump training before taking to the hill and got the best score of the day from a lower start.
The men held the qualifying portion of their medal competition on the 106 hill. Japan's Daiki Ito holds a narrow lead over Robert Kranjec of Slovenia with the medals being decided in tomorrow's competition.
Place
Oslo
(NOR)
Discipline
HS106
Date
25.02.2011
Category
World Ski Championships
Race codex
3085
Gender
L
TD Name
Kuusinen Eero (FIN)
| | | | | | | | | |
| --- | --- | --- | --- | --- | --- | --- | --- | --- |
| Rank | Bib | FIS Code | Name | Year | Nation | Jump 1 | Jump 2 | Points |
| 1 | 43 | 4130 | IRASCHKO Daniela | 1983 | AUT | 97.0 | 97.0 | 231.7 |
| 2 | 32 | 1921 | RUNGGALDIER Elena | 1990 | ITA | 97.5 | 93.5 | 218.9 |
| 3 | 42 | 5498 | MATTEL Coline | 1995 | FRA | 92.0 | 97.0 | 211.5 |
| 4 | 41 | 1913 | LOGAR Eva | 1991 | SLO | 91.0 | 88.5 | 197.9 |
| 5 | 34 | 4929 | VTIC Maja | 1988 | SLO | 88.5 | 97.0 | 196.0 |
| 6 | 33 | 6198 | TAKANASHI Sara | 1996 | JPN | 92.0 | 93.0 | 195.0 |
| 7 | 21 | 4538 | WATASE Ayumi | 1984 | JPN | 89.0 | 93.0 | 192.8 |
| 8 | 24 | 5388 | INSAM Evelyn | 1994 | ITA | 94.5 | 87.5 | 188.1 |
| 9 | 40 | 1953 | FAISST Melanie | 1990 | GER | 88.0 | 92.0 | 185.1 |
| 10 | 26 | 4893 | JAHR Line | 1984 | NOR | 89.5 | 84.5 | 181.3 |
| 11 | 12 | 5930 | LUNDBY Maren | 1994 | NOR | 89.5 | 85.5 | 180.5 |
| 12 | 15 | 4537 | KASAI Yoshiko | 1980 | JPN | 86.5 | 89.0 | 179.7 |
| 13 | 27 | 1912 | DEMETZ Lisa | 1989 | ITA | 92.5 | 83.0 | 177.9 |
| 14 | 39 | 4632 | JEROME Jessica | 1987 | USA | 84.0 | 90.0 | 177.8 |
| 15 | 22 | 5754 | ITO Yuki | 1994 | JPN | 89.0 | 85.0 | 177.1 |
| 16 | 25 | 5999 | HENDRICKSON Sarah | 1994 | USA | 90.5 | 84.0 | 177.0 |
| 17 | 18 | 5793 | KYKKAENEN Julia | 1994 | FIN | 91.5 | 82.0 | 176.4 |
| 18 | 13 | 6090 | HENRICH Taylor | 1995 | CAN | 84.5 | 92.0 | 175.9 |
| 19 | 36 | 4767 | GRAESSLER Ulrike | 1987 | GER | 94.0 | 79.5 | 171.4 |
| 20 | 19 | 4883 | JOHNSON Alissa | 1987 | USA | 91.0 | 81.0 | 169.0 |
| 21 | 31 | 5855 | ROGELJ Spela | 1994 | SLO | 89.5 | 85.0 | 167.1 |
| 22 | 28 | 4890 | SAGEN Anette | 1985 | NOR | 88.0 | 80.5 | 165.9 |
| 23 | 20 | 5015 | VUIK Wendy | 1988 | NED | 87.0 | 80.0 | 158.9 |
| 24 | 23 | 2682 | HUGHES Abby | 1989 | USA | 86.5 | 83.0 | 156.5 |
| 25 | 16 | 5387 | WINDMUELLER Sabrina | 1987 | SUI | 83.5 | 81.5 | 155.1 |
| 26 | 11 | 5428 | ENGER Gyda | 1993 | NOR | 78.5 | 84.5 | 152.1 |
| 27 | 10 | 1917 | D AGOSTINA Roberta | 1991 | ITA | 84.0 | 82.5 | 151.5 |
| 28 | 17 | 5483 | DOLEZELOVA Michaela | 1994 | CZE | 84.5 | 72.5 | 141.8 |
| 29 | 14 | 1914 | PUSTKOVA Vladena | 1992 | CZE | 80.5 | 78.5 | 141.4 |
| 30 | 29 | 1916 | TEPES Anja | 1991 | SLO | 83.0 | 73.5 | 135.5 |
| 31 | 37 | 1952 | SEYFARTH Juliane | 1990 | GER | 80.5 | | 71.2 |
| 32 | 38 | 1909 | SEIFRIEDSBERGER Jacqueline | 1991 | AUT | 78.0 | | 71.1 |
| 33 | 6 | 6013 | LEMARE Lea | 1996 | FRA | 75.5 | | 67.3 |
| 34 | 35 | 4637 | VAN Lindsey | 1984 | USA | 75.0 | | 61.4 |
| 35 | 30 | 1911 | HAEFELE Anna | 1989 | GER | 75.0 | | 58.8 |
| 36 | 9 | 5707 | MIKOVA Lucie | 1994 | CZE | 72.0 | | 55.6 |
| 37 | 8 | 6043 | TAKTAEVA Irina | 1991 | RUS | 71.5 | | 50.4 |
| 38 | 1 | 5763 | ZOTOVA Maria | 1984 | RUS | 69.5 | | 46.6 |
| 39 | 3 | 6599 | MA Tong | 1994 | CHN | 68.5 | | 43.4 |
| 40 | 5 | 6598 | LI Xueyao | 1995 | CHN | 67.5 | | 37.6 |
| 41 | 7 | 6265 | VESCHEKOVA Anastasiya | 1995 | RUS | 64.5 | | 33.7 |
| 42 | 2 | 6602 | JI Cheng | 1993 | CHN | 57.5 | | 22.7 |
| 43 | 4 | 6231 | CUI Linlin | 1993 | CHN | 52.0 | | 3.0 |
Comments
comments