Jake Fiala retires from ski cross
Tweet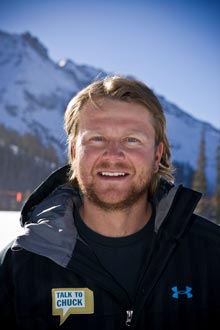 PARK CITY, UT (July 1) – Former U.S. alpine speed skier, Jake Fiala (Frisco, CO), who made the switch to ski cross in 2008, announced his retirement with the U.S. Freestyle Ski Team at the completion of the 2010 season.
"Alpine was a majority of my life and that was the highlight," said Fiala. "Ski cross was sort of a way to keep going, a way to continue skiing."
Fiala, born in Prague, immigrated to the U.S. in 1978 with his parents and grew up in New Mexico. Finding his first true love skiing, at an early age, his father sent him to live with family in Colorado to focus on racing. His father's efforts paid off. Fiala made his World Cup debut in 1998 in the Aspen World Cup Super G, before making the transition to freestyle 10 years later. As an alpine racer, he relished in success competing in three World Championships and the 2002 Olympic Winter Games in Salt Lake City.
"The Olympics at home was kind of the pinnacle of my memories. This was my home highlight and the cap of my career," said Fiala. "My dad and a bunch of friends just knew that I traveled all the time to ski, but didn't know what it was about, and they got to finally watch."
After three years away from the World Cup stage, Jake made his comeback debut in January 2008 in the Les Contamines, France ski cross World Cup placing ninth, making his mark on the circuit. He added one more top-10 finish and several top-30 finishes to his resume during the 2009 season.
"It just sort of fell into my lap. There was a ski cross here and I didn't make the World Championships team that year. I just tried it and liked it," explained Fiala. "It happened to boom there for a little while. It was pretty exciting and there were a lot of guys doing it."
Now after competitive skiing, Fiala is focused on creating a life of normalcy. He and fellow ex-ski racer, Casey Snyder, own a tree company in Summit County, CO. The company started as a part time job to stay in shape and manifested into a full time career when ski racing slowed down. Fiala is also a recent newlywed, married in August 2009.
"I'm trying to start a more normal life, because the U.S. Ski Team [life] is definitely not normal," joked Fiala.
Photo: Peter Foley/U.S. Ski Team
Comments
comments