Johaug leads Norwegian 1-2 finish in 30k championship
Tweet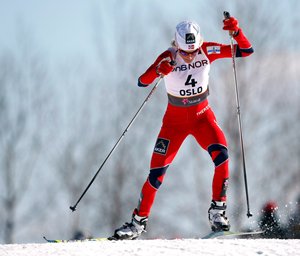 Spectators lined the course and filled the stadium, 100,000 strong. Therese Johaug and her Norwegian teammates did not let them down.
Johaug claimed the last women's competition of the 2011 World Nordic Championships at Holmenkollwn stadium, the 30k mass start, in Oslo Saturday (March 5), powering up for the last kilometers as fans urged her on. She ran away for an impressive 44 second win beating quadruple gold medalist and teammate Marit Bjoergen. Pole Justyna Kowalczyk earned bronze.
From the beginning of the race Johaug, Bjoergen and teammate Kristin Stoermer Steira took charge, taking turns in the lead and keeping the pace high. Five kilometers in Steira forced the pace even higher with Johaug, Bjoergen, Charlotte Kalla and Kowalczyk the only skiers able to keep pace, Anna Haag struggling to stay in contact. Steira faded at the 10k mark, and Kalla couldn't keep up when the others continued the charge. Just before the half way point Johaug launched a full-on attack and pulled away from the pack on an uphill. Remarkably, she continued to build on the gap. In the final kilometers she built the lead to 30 seconds and entered the stadium for what amounted to a victory lap and waved a Norwegian flag to an appreciative audience.
"I don't have words to describe this," said the gold medal winner. "I'm still processing what happened. During the last round, when I had reached Ila by Frognerseteren I realized what was happening. It was incredible."
"It has been an incredible championships and this is a fine end to it," said Bjoergen. "We knew all four Norwegians had good chances in this race and could heklp each other. Therese's performance was really strong. … She has all my respect."
The US team showed well with Elizabeth Stephen in 16th, Kikkan Randall 18th, Morgan Arritola 21st and Holly Brooks 25th.
Place
Oslo
(NOR)
Discipline
30 km F Mst
Date
05.03.2011
Category
World Ski Championships
Race codex
2126
Gender
L
Valid for FIS Points
NO – Waiting reports
TD Name
Pekk Tiit (EST)
Rank
Bib
FIS Code
Name
Year
Nation
Time
FIS Points
1
4
3425301
JOHAUG Therese
1988
NOR
1:23:45.1
0.00
2
2
1303777
BJOERGEN Marit
1980
NOR
1:24:29.1
12.26
3
1
3435001
KOWALCZYK Justyna
1983
POL
1:25:19.1
26.19
4
5
3505217
KALLA Charlotte
1987
SWE
1:25:50.6
34.96
5
15
3425003
STEIRA Kristin Stoermer
1981
NOR
1:26:05.9
39.23
6
13
1305426
SKOFTERUD Vibeke W
1980
NOR
1:26:21.5
43.57
7
17
1373617
FESSEL Nicole
1983
GER
1:26:49.0
51.23
8
3
1222200
LONGA Marianna
1979
ITA
1:26:54.9
52.88
9
31
1101920
CONFORTOLA WYATT Antonella
1975
ITA
1:26:55.3
52.99
10
9
3505183
HAAG Anna
1986
SWE
1:26:56.5
53.32
11
10
3185256
LAHTEENMAKI Krista
1990
FIN
1:27:42.1
66.03
12
12
1247226
ZELLER Katrin
1979
GER
1:27:45.8
67.06
13
23
1256732
SACHENBACHER -STEHLE Evi
1980
GER
1:28:17.9
76.00
14
14
1142563
SHEVCHENKO Valentina
1975
UKR
1:28:43.8
83.22
15
8
1255374
ROPONEN Riitta-Liisa
1978
FIN
1:29:52.6
102.39
16
37
3535261
STEPHEN Elizabeth
1987
USA
1:30:07.3
106.48
17
25
3485013
NOVIKOVA Valentina
1984
RUS
1:30:18.9
109.71
18
21
1365857
RANDALL Kikkan
1982
USA
1:30:57.3
120.41
19
43
3515004
BUCHER Silvana
1984
SUI
1:30:59.9
121.14
20
32
3155008
JANECKOVA Ivana
1984
CZE
1:31:01.4
121.55
21
42
3535270
ARRITOLA Morgan
1986
USA
1:31:09.8
123.89
22
29
3565014
JEZERSEK Barbara
1986
SLO
1:31:33.7
130.55
23
7
1255665
SAARINEN Aino- Kaisa
1979
FIN
1:31:39.4
132.14
24
50
1194555
NESTERENKO Lada
1976
UKR
1:31:39.5
132.17
25
33
3535142
BROOKS Holly
1982
USA
1:31:42.5
133.00
26
11
3485195
TCHEKALEVA Yulia
1984
RUS
1:31:47.8
134.48
27
46
3305134
KOBAYASHI Yuki
1987
JPN
1:32:04.7
139.19
28
48
3565000
COSSETTINI Mirjam
1983
SLO
1:32:10.5
140.81
29
34
3155041
NYVLTOVA Eva
1986
CZE
1:32:11.3
141.03
30
36
3505069
LINDBORG Sara
1983
SWE
1:32:17.4
142.73
31
22
3505013
JOHANSSON NORGREN Britta
1983
SWE
1:32:32.7
146.99
32
26
3485342
DOTSENKO Anastasia
1986
RUS
1:32:36.1
147.94
33
18
3185004
SARASOJA Riikka
1982
FIN
1:32:46.1
150.72
34
30
1319976
KOLOMINA Elena
1981
KAZ
1:33:08.2
156.88
35
19
3195059
BARTHELEMY Laure
1988
FRA
1:33:29.6
162.84
36
28
1182042
MALAKHOVA-SHISHKINA Svetlana
1977
KAZ
1:34:21.5
177.30
37
51
1181848
YATSKAYA Oxana
1978
KAZ
1:34:30.7
179.87
38
45
3495008
ORGUE Laura
1986
SPA
1:34:45.4
183.96
39
27
3205075
HERRMANN Denise
1988
GER
1:35:10.6
190.98
40
47
3695016
ANTSYBOR Maryna
1987
UKR
1:35:16.8
192.71
41
40
1289227
SANNIKOVA Alena
1980
BLR
1:35:32.3
197.03
42
49
3105013
CRAWFORD Chandra
1983
CAN
1:35:51.2
202.29
43
41
3435031
MACIUSZEK Paulina
1985
POL
1:36:09.8
207.47
44
39
1341316
GOSLING Brooke
1980
CAN
1:36:56.6
220.51
45
44
1345390
VINA Emilie
1982
FRA
1:37:02.2
222.07
46
54
3675018
MATROSSOVA Marina
1990
KAZ
1:37:23.3
227.95
47
53
3435004
SZYMANCZAK Agnieszka
1984
POL
1:37:28.6
229.43
48
38
3195126
BOURGEOIS Celia
1983
FRA
1:39:32.4
263.92
49
56
3175001
BERTHELSEN Niviaq Chemnitz
1989
DAN
1:47:09.9
391.38
50
55
3225005
MUSGRAVE Rosamund
1986
GBR
1:48:05.3
406.81
51
57
3085003
PICIN Mirlene
1980
BRA
1:55:11.7
525.61
Did not start
24
3485046
MIKHAILOVA Olga
1981
RUS
16
1274580
ISHIDA Masako
1980
JPN
6
1138877
FOLLIS Arianna
1977
ITA
Did not finish
52
1316193
JAKIMCHUK Vita
1980
UKR
35
3195056
JEAN Aurore
1985
FRA
20
3295015
RUPIL Silvia
1985
ITA
Comments
comments