PARK CITY, UT (March 26) – Two-time Olympian Kaylin Richardson, winner of four U.S. Alpine Championships, is retiring after seven seasons of racing at the elite level with the U.S. Ski Team.
She capped her career in style by kicking out of the start for her final two runs at the 2010 Visa U.S. Alpine Championships wearing a red and purple circa 1980s one-piece ski suit. Her parents Steve and Linda made the trip from Minnesota to Lake Placid, NY just to see their daughter's final race.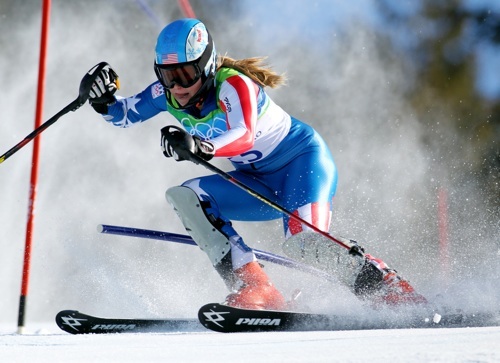 "Ski racing for me has always been about having fun," Richardson beamed in the Whiteface Mountain finish area following her last run. "My family is here and I'm not just talking about my Mom and Dad. I've spent some of the best years of my life traveling around the world with these amazing athletes. It's going to be sad, but I'm ready for the next step."
After following her brothers Chris and Tom into skiing at age five, Richardson began racing at nine under her first coach Niel Atkinson with Team Gilboa out of Hyland Hills. By 1999 she had scored medals at the J3 Junior Olympics and added more hardware at the J1 and J2 levels the next season before landing a spot on the U.S. Development Team in 2001. She was 15.
"I've known her since she was six or seven and even though she made it to the highest level, she always had a clear picture of who she was as a person," said Atkinson, who started the Team Gilboa program. "She traveled the world, but whenever she was home, she was always the first one on the hill to ski with the team she grew up with and that wasn't because she needed the extra training. She's always been an incredible ambassador to grassroots programs like ours and I can't ever see that changing."
Later she won three consecutive NorAm slalom titles, a U.S. slalom and combined title, plus two downhill titles. She also went to the 2006 and 2010 Olympics, 2007 World Championships and scored World Cup points in slalom, super G and super combined including a career best slalom eighth in 2007 at Kranjska Gora, Slovenia.
"She started lighting it up in 2007," said former U.S. Ski Team technician Aaron Haffey, who shared a special bond with Richardson after she scored World Cup points in 11 races that season. "We called it the Kaylin and Haffey show. Since she was doing both tech and speed events, but didn't have a factory serviceman, we basically started bouncing around Europe in a little van together."
After a short break from the tour in 2008, Richardson returned to the Team in 2009 with her sights set on Vancouver. But she did more than just return to the U.S. Ski Team, she returned to a program that missed her electricity.
"It was awesome being on the team with her," said Hailey Duke. "I feel like I wasn't around her enough. She has that up-beat 'smile and go for it' attitude that you sometimes need. She raced here in a one-piece 80′s old school suit and beat me in an 80′s old school suit. That says it right there. It's been a pleasure to be a part of her career and for her to be a part of mine."
"She was always more than just a ski racer," added Haffey. "Skiing is a part of her, but it's just one part. She is a spark for everyone's life. If you've had just one conversation with Kaylin, you remember her the rest of your life."
In her final season, Richardson produced some incredible finishes, including skiing from 70th start position in the season opening slalom to 23rd. She then went on to score points at the Val d'Isere, France super combined and make her second Olympic Team.
"Going to the Olympics this year was the big goal and I was able to reach it," said Richardson, "It's a huge honor and I definitely have a lot of pride in that. I could go into the desert and start up a conversation with someone that might not be able to even fathom what ski racing is, but if I were to mention that I made the Olympics, it's something everyone can understand; it transcends cultural differences. I feel very special knowing that I've been a part of a phenomenon that unites us so globally."
Richardson plans to take her communication skills into the next step of her career by pursuing a career in broadcast journalism and perhaps land at the 2014 Olympic Winter Games in Sochi, Russia as a part of a new team.
"I've always loved conversation, whether it's a relaxed talk over coffee or doing a TV interview," she said. "A dream goal for me would be to do something with broadcast in Sochi. I'll always love skiing and I don't think I'll ever be that far removed from it – I could definitely see myself continuing to participate and promote this sport through broadcasting.
"I remember the day when I first understood what racing was and I will also remember the day when I decided I was ready for the next step in my life. I'm ready, and I'm excited about it," she said. "I may be done with competing at the World Cup level, but I will never stop being an advocate of the sport and I will never hang my skis up for good. Skiing is just too much fun."
Kaylin is embodying that passion this weekend as a pacesetter at the Nature Valley NASTAR National Championships in Winter Park, CO sharing her love of ski racing with contagious enthusiasm and an easy smile.
Photo: (GEPA) Kaylin Richardson skis to 17th place in the Olympic super-combined race in Whistler.