Kearney, Bilodeau take back-to-back moguls wins in Are
Tweet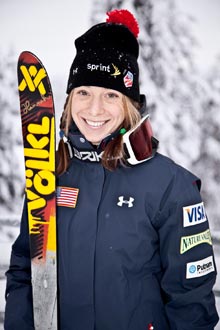 Olympic gold medalists American Hannah Kearney and Canadian Alexandre Bilodeau won their second World Cup moguls competitions in as many days today (March 12) as they battled through the penultimate dual moguls event of the season.
Kearney, who had already sealed the World Cup title, charged through four rounds of competition before beating Canadian World Cup rookie Justine Duford-Lapointe in the final. Fellow Canadian Jennifer Heil took the bronze medal after holding off Russia's Regina Rakhimova in the small final. It was Kearney's eighth World Cup victory of the season.
"It wasn't always perfect, but I'm proud of my performance," said Kearney of her championship season. "It feels really good."
Kearney is the first American to win the World Cup overall since Jeremy Bloom topped the standings in 2005.
Behind Kearney's victory, the U.S. women had an exceptional day as they put all five starters in the top 15. Heather McPhie and Eliza Outrim landed in the top ten in fifth and sixth, respectively. Kayla Snyderman (13th) and Heidi Kloser (15th) also followed up their strong result of yesterday.
After moving past Snyderman, Kearney knocked out Outtrim in the quarterfinals. The semifinals proved the toughest for Kearney. Her run was not perfect, but with a score of 18-17, Kearney advanced to the finals. It was in the finals where Kearney skied her best run of the day, topping Justine Dufour-LaPointe of Canada with a score of 23-12.
"Her [Kearney] performance today was very impressive," said Head Coach Scott Rawles. "After having clinched the World Cup title [moguls] yesterday, you might think there would be a bit of a let down, but she really got it done at the end."
"This whole weekend was really nice,""said Keaney. "It takes a lot of energy to win two events in a row.
On the men's side, Bilodeau, yesterday's singles winner, beat overall leader, Frenchman Guilbaut Coals in the final. It was Bilodeau's fourth win of the season, he stands 62 points behind Colas (741-679) with one dual moguls competition remaining on this season's schedule.
The win marked Bilodeau's 28th World Cup podium and was a repeat of his 2009 domination on the same course.
"The skiing was so fast today," said Bilodeau of the icy and challenging course. "At that kind of speed any small mistake will push you off the edge. But I come from Quebec and I like a firm course with big moguls, so it was good for me. Plus, absorption is one of my strengths and it helps me maintain my speed in control."
American Patrick Deneen won the small final to finish third and capture his third podium of the season. Teammates Sho Kashima and David DiGravio also cracked the top 15 in 11th and 14th, respectively.
After not finishing the course in qualifying for Friday's individual moguls event, Deneen advanced in fifth for Saturday's duals World Cup before going on to win the consolation round for third.
"He [Deneen] was pretty disappointed after yesterday," said Rawles. "He came back and did a really good job today."
The World Cup moguls season will close next week with another dual moguls competition in Myrkdalen-Voss, Norway.
Photo: Harald Marbler/U.S. Ski Team
Women's Results

Rank
Bib
FIS Code
Name
Year
Nation
Result
Level
Points
1
1
2328513
KEARNEY Hannah
1986
USA
1000.00
2
5
2485348
DUFOUR-LAPOINTE Justine
1994
CAN
800.00
3
2
2275744
HEIL Jennifer
1983
CAN
600.00
4
11
2485019
RAKHIMOVA Regina
1985
RUS
500.00
5
6
2364117
MCPHIE Heather
1984
USA
450.00
6
10
2329386
OUTTRIM Eliza
1985
USA
400.00
7
22
2526184
VACULIKOVA Tereza
1992
CZE
360.00
8
28
2525906
SEO Jung-Hwa
1990
KOR
320.00
9
7
2484720
DUFOUR-LAPOINTE Chloe
1991
CAN
290.00
10
3
2329677
ROBICHAUD Audrey
1988
CAN
260.00
11
13
2485027
PERTAKHIYA Marika
1992
RUS
240.00
12
9
2481681
STOLYAROVA Ekaterina
1988
RUS
220.00
13
20
2472175
SNYDERMAN Kayla
1988
USA
200.00
14
8
2267596
SUDOVA Nikola
1982
CZE
180.00
15
15
2485203
KLOSER Heidi
1992
USA
160.00
16
16
2379346
HENITIUK Chelsea
1987
CAN
150.00
17
25
2413490
BOULANGEAT Alizee
1988
FRA
140.00
18
14
2526325
GUNCHENKO Anastassia
1991
RUS
130.00
19
12
2360722
SCANZIO Deborah
1986
ITA
120.00
20
27
2526763
AMUNDSEN Emilie Klingen
1994
NOR
110.00
21
26
2526991
HNYKOVA Kristyna
1994
CZE
100.00
22
23
2419989
KAFFKA Marina
1987
GER
90.00
23
31
2527797
IVANOVA Svetlana
1995
RUS
80.00
24
29
2528133
WESSEL Hedvig
1995
NOR
70.00
25
34
2526982
NILSSON Evelina
1991
SWE
60.00
26
30
2526767
NESSE Cecilie
1992
NOR
50.00
27
35
2485294
KOYANDER Ellie
1991
GBR
45.00
28
32
2526316
NILSSON Julia
1990
SWE
40.00
29
37
2527587
ERIKSSON Johanna
1992
SWE
0.00
30
4
2304360
RICHARDS Kristi
1981
CAN
0.00
31
36
2525878
CARLQVIST Veronica
1990
SWE
0.00
Did not start
2526308
SOERENSEN Amalie
1992
NOR
Men's Results

Rank
Bib
FIS Code
Name
Year
Nation
Result
Level
Points
1
3
2426100
BILODEAU Alexandre
1987
CAN
1000.00
2
1
2337049
COLAS Guilbaut
1983
FRA
800.00
3
5
2382838
DENEEN Patrick
1987
USA
600.00
4
2
2484937
KINGSBURY Mikael
1992
CAN
500.00
5
22
2484735
POULIOT CAVANAGH Simon
1990
CAN
450.00
6
46
2526132
MIETTUNEN Ville
1992
FIN
400.00
7
9
2406797
BJOERNLUND Jesper
1985
SWE
360.00
8
42
2407670
BENNA Anthony
1987
FRA
320.00
9
8
2484677
ROCHON Cedric
1990
CAN
290.00
10
32
2484881
BEDOUET Albert
1990
FRA
260.00
11
18
2417855
KASHIMA Sho
1986
USA
240.00
12
16
2484952
GAGNON Marc-Antoine
1991
CAN
220.00
13
15
2484106
HICKS Eddie
1988
CAN
200.00
14
10
2375563
DIGRAVIO David
1986
USA
180.00
15
7
2482457
SMYSHLYAEV Alexandr
1987
RUS
160.00
16
24
2406506
SPETT Per
1985
SWE
150.00
17
6
2183982
ROUSSEAU Pierre-Alexandre
1979
CAN
140.00
18
23
2485300
GUMMESSON Adam
1989
SWE
130.00
19
34
2484758
SLATTEN Vinjar
1990
NOR
120.00
20
47
2528116
LAURITZ Jens
1993
SWE
110.00
21
19
2482554
VOLKOV Sergey
1987
RUS
100.00
22
38
2528118
SATERBERG Fredrik
1994
SWE
90.00
23
31
2407185
MATIZ Giacomo
1986
ITA
80.00
24
36
2407379
VACULIK Lukas
1986
CZE
70.00
25
28
2526313
FRETHEIM Ole
1992
NOR
60.00
26
20
2526312
ANDERSEN Tevje-Lie
1991
NOR
50.00
27
27
2484879
THEOCHARIS Sacha
1990
FRA
45.00
28
4
2484727
COTA Jeremy
1988
USA
40.00
29
35
2485265
PANTHER Jay
1984
USA
36.00
30
44
2526489
WILLMAN Kim
1990
SWE
32.00
31
17
2484682
KIRAMO Arttu
1990
FIN
28.00
32
41
2527360
PENTTALA Jussi
1993
FIN
26.00
33
37
2369743
LAFRANCHI Pablo
1986
SUI
24.00
34
33
2484301
CHO Woo-Hyun
1991
KOR
22.00
35
30
2354320
LAHTELA Juuso
1985
FIN
20.00
36
13
2471011
DISCOE Joseph
1987
USA
19.70
37
45
2485005
SHIMBUEV Sergei
1992
RUS
19.40
38
50
2485233
MIKHAYLOV Maksim
1992
RUS
19.10
39
48
2297279
ROBERTS Nathan
1982
USA
18.80
40
39
2528189
PETROV Evgeniy
1992
RUS
0.00
41
26
2527521
SYCHEV Danila
1992
RUS
0.00
42
40
2526124
SEO Myung-joon
1992
KOR
0.00
43
43
2528206
PETTERSSON Kristoffer
1994
SWE
0.00
Did not finish
2528117
FJALLSTROM Ludvig
1993
SWE
2526686
SVENSSON Ricky
1992
SWE
2528115
OLOFSSON Alexander
1993
SWE
Comments
comments