Kearney, Deneen take U.S. singles moguls national crowns
Tweet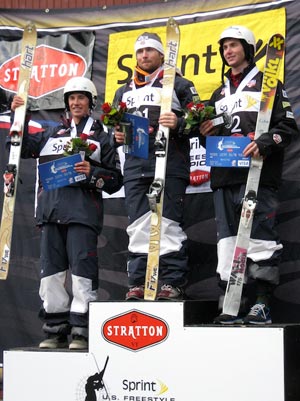 Recently crowned World Cup freestyle overall champion Hannah Kearney and her U.S. Ski Team teammate Patrick Deneen secured the 2011 U.S. National single moguls titles today (March 25) in Stratton Mt., Vermont.
Kearney, the reigning Olympic champion in the discipline, defended her 2010 title with a 26.62-point run ahead of K.C. Oakley in second with 24.93 points and Heather McPhie in third with 24.87 points. Eliza Outrim just missed the podium in fourth place with 24.26 points
"The national titles mean a lot. During the week you are tired, 'yeah it's been a long World Cup season, oh this is just Nationals,' but when you're up there on the hill it's emotional, especially when you ski well and I knew I was gong to have to ski well to win the title," said Kearney, a Vermont native.
"It's a luxury [to be in Vermont] to bring my globes back because I feel like they belong a little bit to Vermont," said Kearney. "It was a nice turnout today, I saw some friends so winning in Vermont is better than winning anywhere else."
Deneen, 2009 World Champion, grabbed his first national title with a 26.31-point score head of Jeremy Cota (25.53 points) with the silver medal and Ryan Deyer (24.92 points) in third.
"It feels great, the first [national title] ever and I can add that to my resume," said Deneen.
"I always love coming back to nationals and seeing all the regional coaches and athletes I used to ski with and seeing all the up-and-comers out there just shredding," said Deneen. "It makes you realize that you gotta push hard because these guys are coming at you quick."
The 2011 U.S. Freestyle Nationals continue tomorrow with men's and women's halfpipe competition. The moguls skiers will close the show Sunday, March 27 with a dual moguls contest.

OFFICIAL RESULTS
Sprint U.S. Freestyle Championships
Stratton Mountain, VT – March 25, 2011
Moguls
Men
1. Patrick Deneen, Cle Elum, WA, 26.31
2. Jeremy Cota, Carrabassett Valley, ME, 25.53
3. Ryan Dyer, Steamboat Springs, CO, 24.92
-
4. Joe Discoe, Telluride, CO, 24.88
5. Bradley Wilson, Park City, UT, 24.79
6. Michael Degrandis, Steamboat Springs, CO, 24.53
7. Zak Watkins, Telluride, CO, 24.15
8. Branden Goldenberg, Winter Park, CO, 24.07
9. David DiGravio, Farmington, ME, 23.76
10. Wade Parkinson, Ridgway, CO, 23.38
11. Sho Kashima, South Lake Tahoe, CA, 23.08
12. Scott Nelson, Darien, CT, 22.41
13. Jay Panther, Park City, UT, 22.15
14. Nicholas Keating, Waterbury, VT, 19.82
15. Brandon Cronin, Winter Park, CO, 13.36
16. Cody Tempel, Missoula, MT, 8.46
Women
1. Hannah Kearney, Norwich, VT, 26.62
2. K C Oakley, Park City, UT, 24.93
3. Heather McPhie, Bozeman, MT, 24.87
-
4. Eliza Outtrim, Steamboat Springs, CO, 24.26
5. Heidi Kloser, Vail, CO, 22.90
6. Nessa Dziemian, Hampstead, NH, 22.87
7. Alison DiGravio, Farmington, ME, 22.72
8. Alyssa Lawson, Boulder, CO, 22.67
9. Brittany Loweree, Point Lookout, NY, 22.64
10. Ali Kariotis, Novato, CA, 22.41
11. Whitney Henceroth, Dillon, CO, 22.24
12. Elizabeth Smith, Putnam Station, NY, 22.04
13. Lindsay Mustard, Mount Kisco, NY, 21.64
14. Alexa Stein, White Plains, NY, 21.40
15. Lane Stoltzner, Park Ridge, IL, 20.46
16. Keaton McCargo, Telluride, CO, 9.21
Comments
comments