Kearney, Deneen win moguls Olympic spots
Tweet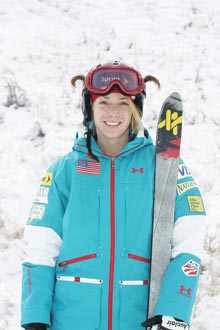 U.S. moguls skiers Hannah Kearney and Patrick Deneen won guaranteed spots on the 2010 U.S. Olympic team today (Dec. 23) at the Olympic Trials in Steamboat. Colo.
Kearney, last season's World Cup overall moguls title winner, also won the 2005 Olympic Trials to earn her trip to Torino where she finished 22nd.
"This is the only golden ticket, and to have it means the world to me," Kearney told the Associated Press. "It's going to make the rest of the year unstressful, and to go into the Olympics less stressed will give me an advantage."
This will be the first time to the Olympic Games for world champion Deneen, who owns four World Cup third-place finishes.
"It was a rough go earlier in the season, so it's nice to lay down the run and get rewarded for it by the judges," said Deneen, who fishised 22nd and 25th in the first two World Cup competitions of the season.
U.S. Ski Team rookie Jeremy Cota had a great run than gave him the lead until the final skier, Deneen, spoiled what would have been a huge upset.
"That's freestyle skiing for you, a lot of close calls. I skied as well as I could and I am definitely happy with that," Cota said. It's a little heartbreaking, but I'll get over it. I was happy to be there. I skied really well and I was obviously in there somewhere and I'm happy with that."
The rest of the 2010 U.S. Olympic Freestyle Ski Team will be named in late January, when athletes will be selected based on their World Cup results
"I'm four years more mature, I've got four years more skiing under my belt," said Kearney, a favorite heading into the Vancouver Games less than two months away. "And I'm going to the Olympics to win a gold medal this time, not just to experience it."
The Olympic trials for the aerials skiers will be held tomorrow (Dec. 24) when one woman and one man will earn early tickets to Vancouver.
Image: Hannah Kearney/Tom Kelly USSA
OFFICIAL RESULTS
2010 Olympic Trials
Steamboat Springs, CO – Dec. 23, 2009
Moguls
Men
1. Patrick Deneen, Cle Elum, WA, 26.68
2. Jeremy Cota, Cle Elum, WA, 26.11
3. Holt Haga, Boise, ID, 26.06
4. Shane Cordeau, Sun Valley, ID, 25.92
5. Sho Kashima, South Lake Tahoe, CA, 25.90
6. Jimmy Discoe, Ridgway, CO, 25.81
7. Dave DiGravio, Farmington, ME, 25.53
8. Michael Morse, Duxbury, MA, 25.39
9. David Babic, Washington, VT, 24.88
10. Joe Discoe, Ridgway, CO, 24.86
Women
1. Hannah Kearney, Norwich, VT, 26.30
2. Emiko Torito, Denver, 25.96
3. Shannon Bahrke, Tahoe City, CA, 25.37
4. Michelle Roark, Denver, 25.34
5. Shelley Robertson, Reno, NV, 24.58
6. Heather McPhie, Park City, UT, 24.09
7. Eliza Outtrim, Steamboat Springs, CO, 23.56
8. Heidi Kloser, Vail, CO, 23.28
9. Laurel Shanley, Squaw Valley, CA, 23.15
10. Mikaela Matthews, Frisco, CO, 13.11
Comments
comments