Kearney, Kingsbury grab moguls World Cup wins in China
Tweet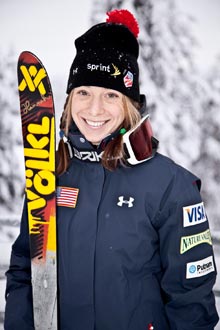 For the first time ever, a World Cup moguls competition was held in China today (Dec. 21) as North America skiers showed them how it was done, grabbing five of six podium spots at Beida Lake.
On the women's side, Olympic gold medalist Hannah Kearney of the U.S. collected her second World Cup win of the young season with a score of 25.34 ahead of Canadian Jennifer Heil in second with 25.26 points. Fellow Canadians Kristi Richards and Audrey Robichaud followed in third and fourth, respectively.
Today's result marked the third consecutive podium finish for Kearney, who has placed first, second and now another first in the opening three stops of the World Cup. Kearney remains firmly in control of the overall leader's yellow jersey.
"I qualified first after some shaky training," said Kearney. "But I am proud to be the first victor in China."
American women Heather McPhie and Heidi Kloser joined Kearney in the top 10 with fifth and 10th place results. Eliza Outtrim finished 14th to total four American women in the top 15.
"I was really happy that I qualified fourth," said McPhie. "I kind of had a slow start to this season. Coming into finals I had trained a couple of D-spins the day before, so I threw one in the finals. I was really happy to be pushing myself and skiing fast. I'm getting the hunger back to compete."
Canadian men Mikeal Kingsbury (16) and Pierre-Alexandre Rousseau bookended the men's podium in first and third while Guilbaut Colas of France filled the gap in second. The win was Kingsbury's first career World Cup victory after he claimed his first Cup podium two weeks ago with a second place finish in Ruka, Finland.
"Before my [final] run, I was listening to the scores from the other competitors and I knew I was in a position to win if I just put down the run I did in training," said Kingsbury. "I did a clean run with a back full and a cork 720. I wasn't the fastest guy, but I didn't make any mistakes."
Olympic bronze medalist Bryon Wilson led three U.S. men into the top 10 with a sixth place performance. Jeremy Cota finished seventh, while Sho Kashima and Joe Discoe ended the day in ninth and 10th, respectively.
The U.S. Team not only had to adapt once they were in China, but also had to adjust after more than 50 hours of travel time to get to Beida Lake. Delays kept the Team in Amsterdam overnight before having to spend nearly eight hours on the tarmac before takeoff.
The moguls World Cup season breaks for the holidays with competition resuming Jan. 7 in St. Johann, Austria.

Women's Results

| | | | | | | | | |
| --- | --- | --- | --- | --- | --- | --- | --- | --- |
| Rank | Bib | FIS Code | Name | Year | Nation | Result | Level | Points |
| 1 | 1 | 2328513 | KEARNEY Hannah | 1986 | USA | 25.34 | | 1000.00 |
| 2 | 3 | 2275744 | HEIL Jennifer | 1983 | CAN | 25.26 | | 800.00 |
| 3 | 5 | 2304360 | RICHARDS Kristi | 1981 | CAN | 23.83 | | 600.00 |
| 4 | 8 | 2329677 | ROBICHAUD Audrey | 1988 | CAN | 23.62 | | 500.00 |
| 5 | 13 | 2364117 | MCPHIE Heather | 1984 | USA | 23.09 | | 450.00 |
| 6 | 15 | 2267596 | SUDOVA Nikola | 1982 | CZE | 21.86 | | 400.00 |
| 7 | 12 | 2397097 | ITO Miki | 1987 | JPN | 21.69 | | 360.00 |
| 8 | 17 | 2379346 | HENITIUK Chelsea | 1987 | CAN | 21.47 | | 320.00 |
| 9 | 23 | 2034796 | SATOYA Tae | 1976 | JPN | 21.23 | | 290.00 |
| 10 | 18 | 2485203 | KLOSER Heidi | 1992 | USA | 21.11 | | 260.00 |
| 11 | 20 | 2484830 | MURATA Arisa | 1990 | JPN | 20.47 | | 240.00 |
| 12 | 9 | 2360722 | SCANZIO Deborah | 1986 | ITA | 14.12 | | 220.00 |
| 13 | 16 | 2476152 | DUFOUR-LAPOINTE Maxime | 1989 | CAN | 20.10 | | 200.00 |
| 14 | 10 | 2329386 | OUTTRIM Eliza | 1985 | USA | 19.91 | | 180.00 |
| 15 | 27 | 2527561 | LI Nan | 1992 | CHN | 18.00 | | 160.00 |
| 16 | 25 | 2419989 | KAFFKA Marina | 1987 | GER | 17.27 | | 150.00 |
| 17 | 31 | 2527560 | NING Qin | 1992 | CHN | 17.24 | | 140.00 |
| 18 | 30 | 2528046 | ZHANG Tingting | 1991 | CHN | 14.66 | | 130.00 |
| 19 | 26 | 2339668 | FOERSTER Katharina | 1988 | GER | 13.87 | | 120.00 |
| 20 | 29 | 2528803 | GAO Dongxue | 1992 | CHN | 13.54 | | 0.00 |
| 21 | 28 | 2485108 | HOSHINO Junko | 1989 | JPN | 9.73 | | 0.00 |
Men's Results

Rank
Bib
FIS Code
Name
Year
Nation
Result
Level
Points
1
3
2484937
KINGSBURY Mikael
1992
CAN
25.60
1000.00
2
2
2337049
COLAS Guilbaut
1983
FRA
24.14
800.00
3
11
2183982
ROUSSEAU Pierre-Alexandre
1979
CAN
24.05
600.00
4
26
2484861
ENDO Sho
1990
JPN
23.88
500.00
5
10
2397776
NISHI Nobuyuki
1985
JPN
23.88
450.00
6
8
2471302
WILSON Bryon
1988
USA
23.60
400.00
7
12
2484727
COTA Jeremy
1988
USA
23.39
360.00
8
19
2484106
HICKS Eddie
1988
CAN
23.31
320.00
9
33
2417855
KASHIMA Sho
1986
USA
23.26
290.00
10
21
2471011
DISCOE Joseph
1987
USA
21.77
260.00
11
29
2375563
DIGRAVIO David
1986
USA
16.25
240.00
12
1
2382838
DENEEN Patrick
1987
USA
220.00
13
22
2471108
DISCOE Jimmy
1989
USA
21.18
200.00
14
23
2070783
TSUKITA Yugo
1976
JPN
20.31
180.00
15
6
2484677
ROCHON Cedric
1990
CAN
18.4
160.00
16
31
2528801
ZHAO Yang
1992
CHN
15.33
150.00
17
5
2426100
BILODEAU Alexandre
1987
CAN
13.89
140.00
18
28
2527638
WANG Yusen
1989
CHN
12.88
130.00
19
30
2528799
CHEN Kang
1993
CHN
12.62
0.00
20
27
2385166
UENO Osamu
1983
JPN
10.42
0.00
Did not start
2527368
BAYARZUL Chagnaa
1971
MGL
Comments
comments