Kearney, Randall top Ski Team Awards
Tweet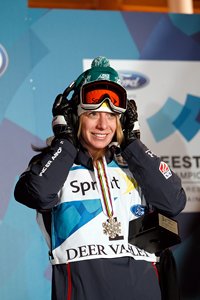 Ski Racing Skier of the Year Hannah Kearney and cross country star Kikkan Randall headlined the list of honorees as the U.S. Ski and Snowboard Association announced its annual awards.
Longtime nordic combined official Joe Lamb was selected to receive the Julius Blegen Award, the USSA's highest honor for volunteerism, for his three decades of service to the sport. The awards were presented Friday evening at the annual USSA Congress in Park City.
Kearney was honored with the Beck International Award as the top USSA athlete for the season. The Vermont native came off her Olympic title season to dominate her sport, winning both the overall and moguls titles in the season-long International Ski Federation World Cup. Along the way she won a sport record nine World Cups, including all seven individual moguls competitions. She also won two medals at the FIS Freestyle World Ski Championships at Deer Valley Resort.
"These awards mean a lot to me," said Kearney. "The support of the USSA, including the volunteers and staff, have allowed me to have a great career and the most successful season of my life this past year."
Randall was recognized with the Buddy Werner Award for leadership and sportsmanship. She finished third in the World Cup cross country sprint standings, an American women's record, winning two events. She was recognized for her leadership in helping pioneer Fast and Female, an on-snow program to motivate young girls to cross country ski and live an active lifestyle. She was also involved with other athletes in raising support for Japanese relief efforts.
"I've been incredibly fortunate to be supported by so many amazing people," said Randall. "I, in turn, am passionate about helping young girls discover the benefits of healthy, active lifestyles so that they can feel empowered and confident to chase their dreams."
"Hannah Kearney's passion to prepare to win allowed her to dominate her sport this season," said USSA Executive Vice President, Athletics Luke Bodensteiner. "Kikkan Randall is a great role model and a leader in her sport. She is inspiring an entire generation of young girls by blazing new trails on and off the cross country tracks."
Lamb, a 1972 Olympian and Lake Placid native, has had a major impact on his sport of nordic combined. His vision for building the sport in America and his international leadership played a key role in the success of the U.S. Nordic Combined Ski Team over the past decade where the USA won 10 World Championship and Olympic medals.
Lamb grew up as an athlete in the spirit of sport that pervades the Adirondack village of Lake Placid. He went on to a long career in coaching and has been an advocate of youth sport for decades. With a vision for the future, he helped bring Norwegian athletes and coaches to Lake Placid to inspire local athletes, like future Olympic champion Billy Demong. In 1991 he was named to the International Ski Federation Nordic Combined Committee, serving for 15 years including a term as vice chairman. His work in the FIS not only helped the USA but was a key component in the modernization of the sport. He is a past recipient of the USSA's Bud and Mary Little Award for his work within the FIS.
"Joe Lamb typifies the spirit of Olympism that fuels the passion in our volunteers," said USSA President and CEO Bill Marolt. "His contribution over decades has made a really tangible difference in nordic combined as a sport and had a direct impact on the medals won by U.S. athletes in the last ten years."
The Aspen Valley Ski and Snowboard Club was named USSA Club of the Year. U.S. Snowboarding Halpipe Coach Rick Bower was named USSA International Coach of the Year while Axis Freeride Head Coach Chris "Hatch" Haslock was named USSA Development Coach of the Year. Jeff Lange earned the top honor as a USSA official with the Westhaven Award.
The Aspen Valley Ski and Snowboard Club, under the leadership of Mark Cole, manages programs across a wide range of sports. The club was cited for its strong athletic success this past year in alpine and adaptive, and for hosting major events from grassroots Marriott Junior Championships to Audi FIS World Cup.
Haslock was cited for his efforts in creating a strong freeskiing program with Axis Freeride in Park City and playing a key role in the addition of skiing slopestyle to the FIS Freestyle World Ski Championships. Bower, a former World Champion halfpipe rider, played a key role in a strong year for U.S. Snowboarding halfpipe riders, notably Olympic champion Kelly Clark winning an amazing nine major events.
Lange was honored for his more than two decades of service as an International Ski Federation technical delegate.
The awards were presented at the annual USSA Congress at the Park City Marriott
Diamond Award
2011 Julius Blegen Award – Joe Lamb
Gold Awards
2011 USSA Development Coach of the Year Award – Chris Haslock
2011 USSA Coach of the Year Award – Rick Bower
2011 USSA Club of the Year Award – Aspen Valley Ski and Snowboard Club
2011 Beck International Award – Hannah Kearney
2011 Westhaven Award – Jeff Lange
Silver Awards
2011 Paul Bacon Award (event organization) – Steamboat Springs Winter Sports Club, Erik Skinner
2011 John J. Clair Jr. Award (service to USSA) – Bob Dart
2011 Bud and Mary Little Award (service to FIS/USOC) – Ted Sutton
2011 Buddy Werner Award (athlete sportsmanship) – Kikkan Randall
2011 Russell Wilder Award (service to youth) – NASTAR
2011 USSA J. Leland Sosman Award – Dr. William I. Sterett
2011 West Family Award (USSA certified official) – Chris Seemann
2011 Adaptive Athlete of the Year Award – Danelle Umstead
2011 Alpine Athlete of the Year Award – Lindsey Vonn
2011 Cross Country Athlete of the Year Award – Kikkan Randall
2011 Freestyle Athlete of the Year Award – Hannah Kearney
2011 Nordic Combined Athlete of the Year Award – Bryan Fletcher
2011 Ski Jumping Athlete of the Year Award – Peter Frenette
2011 Snowboarding Athlete of the Year Award – Kelly Clark
2011 Adaptive International Coach of the Year Award – Erik Leirfallom
2011 Adaptive Domestic Coach of the Year Award – Mau Thompson
2011 Alpine International Coach of the Year Award – Sasha Rearick
2011 Alpine Domestic Coach of the Year Award – Pat Vallahan
2011 Cross Country International Coach of the Year Award – Erik Flora
2011 Cross Country Domestic Coach of the Year Award – Jason Cook
2011 Freestyle International Coach of the Year Award – Garth Hager
2011 Freestyle Domestic Coach of the Year Award – Chris Haslock
2011 Ski Jumping/Nordic Combined International Coach of the Year Award – Clint Jones
2011 Ski Jumping/Nordic Combined Domestic Coach of the Year Award – David McCahill
2011 Snowboarding International Coach of the Year Award – Rick Bower
2011 Snowboarding Domestic Coach of the Year Award – Jim Smith
2011 Adaptive Club of the Year Award – Aspen Valley Ski and Snowboard Club
2011 Alpine Club of the Year Award – Aspen Valley Ski and Snowboard Club
2011 Cross Country Club of the Year Award – Alaska Pacific University Nordic Ski Center
2011 Freestyle Club of the Year Award – Steamboat Springs Winter Sports Club
2011 Jumping/Nordic Combined Club of the Year Award – Sallsbury Winter Sports Club
2011 Snowboarding Club of the Year Award – Stratton Mountain School
Sport Awards
Burckett-Dodge Award – Chuck Hughes
Anna Mclntyre Citation – Phoebe Mills
Al Merrill Award – Rick Kapala
Finlandia Award – Kikkan Randall
Comments
comments