Kikkan Randall sprints to World Cup win at Liberec
Tweet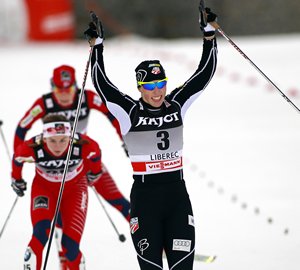 It was her second career World Cup win, the first since 2007, but Kikkan Randall appeared at the Liberec, Czech Republic sprint final to be getting better with age. At 27 Randall has a few seasons left, particularly if she keeps this kind of speed up.
"Kikkan skied smart and relaxed and was smiling and waving for the YV cameras when being introduced at the start," said U.S. coach Chris Grover. "She seems just unstoppable now."
With the win she now leads the sprint standings having placed second at Dusseldorf, third in Davos and fifth at Toblach.
The course was salted throughout the race to combat rain – heavy at times – that fell. The best conditions of the day were during finals.
Randall out sprinted Sweden's Hanna Falk and Norwegian Celine Brun-Lie to the finish of the Liberec race. Norway's favorite for the event, Marit Bjorgen crashed out in the semi-finals and World Cup overall leader Justyna Kowalczyk of Poland skipped the event while recovering from the brutal Tour de Ski.
Grover said Randall's experienced played a role as her familiarity with the Liberec course helped her avoid being "pinched" at critical turns on the course.
The men's win went to Ola Vigen Hattestad of Norway with a comfortable margin ahead of Italian Federico Pelligrino and Czech Dusan Kozjesk.
Andy Newell led the U.S. men in the race in 13th place.
Gepa photo
Place
Liberec
(CZE)
Discipline
SP F Final
Date
15.01.2011
Category
World Cup
Race codex
2297
Gender
L
Valid for FIS Points
NO – Waiting reports
TD Name
Prykaeri Jussi (FIN)
Rank
Bib
FIS Code
Name
Year
Nation
Time
FIS Points
1
3
1365857
RANDALL Kikkan
1982
USA
2
2
3505405
FALK Hanna
1989
SWE
3
25
3425275
BRUN-LIE Celine
1988
NOR
4
13
1276714
MAJDIC Petra
1979
SLO
5
5
3425365
FALLA Maiken Caspersen
1990
NOR
6
15
3195059
BARTHELEMY Laure
1988
FRA
7
1
1303777
BJOERGEN Marit
1980
NOR
8
14
3505481
BRODIN Hanna
1990
SWE
9
6
3505445
OEBERG Jennie
1989
SWE
10
17
3425404
EIDE Mari
1989
NOR
11
9
1222200
LONGA Marianna
1979
ITA
12
10
3565005
VISNAR Katja
1984
SLO
13
7
1255471
MURANEN Pirjo
1981
FIN
14
12
3105040
GAIAZOVA Daria
1983
CAN
15
18
1138877
FOLLIS Arianna
1977
ITA
16
20
1250524
GENUIN Magda
1979
ITA
17
8
3205224
KOLB Hanna
1991
GER
18
11
3425177
GJEITNES Kari Vikhagen
1985
NOR
19
22
3485013
NOVIKOVA Valentina
1984
RUS
20
24
3155041
NYVLTOVA Eva
1986
CZE
21
4
3515087
VAN DER GRAAFF Laurien
1987
SUI
22
16
3565002
FABJAN Vesna
1985
SLO
23
28
3185258
LAUKKANEN Mari
1987
FIN
24
29
3515004
BUCHER Silvana
1984
SUI
25
30
3185168
NISKANEN Kerttu
1988
FIN
26
19
3105013
CRAWFORD Chandra
1983
CAN
27
21
3185137
KYLLOENEN Anne
1987
FIN
28
23
3425221
GROENVOLL Maria Nysted
1985
NOR
29
26
3155111
GROHOVA Karolina
1990
CZE
30
27
3505231
ERIKSSON Mia
1987
SWE
31
31
3195080
LOCATELLI Manon
1989
FRA
32
32
3185005
PERAELAE Kirsi
1982
FIN
33
33
1365178
BOTTOMLEY Esther
1983
AUS
34
34
1345390
VINA Emilie
1982
FRA
35
35
3295000
BROCARD Elisa
1984
ITA
36
36
1283116
ANDERSSON Lina
1981
SWE
37
37
3485167
NARYSHKINA Natalja
1984
RUS
38
38
3505260
PAJALA Magdalena
1988
SWE
39
39
3295167
VUERICH Gaia
1991
ITA
40
40
3205075
HERRMANN Denise
1988
GER
41
41
3565034
CEBASEK Alenka
1989
SLO
42
42
3195003
WEIBEL Caroline
1983
FRA
43
43
3485832
KASHINA Alina
1987
RUS
44
44
3395010
PORMEISTER Piret
1985
EST
45
45
3095004
MALCHEVA Teodora
1983
BUL
46
46
3155257
PESINOVA Jitka
1977
CZE
47
47
3785008
KREIVENAITE Lina
1988
LTU
48
48
3435040
GALEWICZ Martyna
1989
POL
Did not start
1002
3485030
SCHUCHKINA Olga
1980
RUS
1001
3485032
KOROSTELEVA Natalia
1981
RUS
Place
Liberec
(CZE)
Discipline
SP F Final
Date
15.01.2011
Category
World Cup
Race codex
2299
Gender
M
Valid for FIS Points
NO – Waiting reports
TD Name
Prykaeri Jussi (FIN)
Rank
Bib
FIS Code
Name
Year
Nation
Time
FIS Points
1
10
3420077
HATTESTAD Ola Vigen
1982
NOR
2
6
3290326
PELLEGRINO Federico
1990
ITA
3
7
3150035
KOZISEK Dusan
1983
CZE
4
16
1223267
PASINI Renato
1977
ITA
5
5
3180114
STRANDVALL Matias
1985
FIN
6
3
3500407
MODIN Jesper
1988
SWE
7
2
3420131
KJOELSTAD Johan
1983
NOR
8
29
3390050
SIMONLATSER Timo
1986
EST
9
13
3500664
HALFVARSSON Calle
1989
SWE
10
20
3200014
WENZL Josef
1984
GER
11
4
1319200
LARSSON Mats
1980
SWE
12
19
3500330
PETERSON Teodor
1988
SWE
13
11
3530005
NEWELL Andrew
1983
USA
14
17
3290004
SCOLA Fulvio
1982
ITA
15
28
3200210
EISENLAUER Sebastian
1990
GER
16
1
3500170
BRYNTESSON Robin
1985
SWE
17
15
3200096
HEUN Daniel
1986
GER
18
22
3420798
NORTHUG Tomas
1990
NOR
19
23
3390008
SAAREPUU Anti
1983
EST
20
24
1268566
EIGENMANN Christoph
1979
SUI
21
12
3420961
KROGH Finn Haagen
1990
NOR
22
14
3420002
DAHL John Kristian
1981
NOR
23
18
3510207
KINDSCHI Joeri
1986
SUI
24
21
3290007
HOFER David
1983
ITA
25
25
3050043
WURM Harald
1984
AUT
26
8
3420365
BRANDSDAL Eirik
1986
NOR
27
9
3480021
PETUKHOV Alexey
1983
RUS
28
26
3050088
BADER Markus
1988
AUT
29
27
3430103
STAREGA Maciej
1990
POL
30
30
1298054
PASINI Fabio
1980
ITA
31
32
3190162
GUEDON Pierre
1989
FRA
31
31
3480322
PARFENOV Andrey
1987
RUS
33
33
3510067
LECCARDI Valerio
1984
SUI
34
34
3180221
JYLHAE Martti
1987
FIN
35
35
3190070
MIRANDA Cyril
1985
FRA
36
36
3200057
WUENSCH Oliver
1986
GER
37
37
3180250
PENTSINEN Anssi
1986
FIN
38
38
3180228
PAAKKONEN Lasse
1986
FIN
39
39
1363820
FURRER Philip
1983
SUI
40
40
1175058
KOUKAL Martin
1978
CZE
41
41
3480739
PANZHINSKIY Alexander
1989
RUS
42
42
3100097
VALJAS Len
1988
CAN
43
43
3390003
KUMMEL Peeter
1982
EST
44
44
3390056
KOLLO Andres
1988
EST
45
45
3420909
GOLBERG Paal
1990
NOR
46
46
3390033
EINASTE Kein
1985
EST
47
47
3050034
STOCKINGER Martin
1984
AUT
48
48
1310470
KRECZMER Maciej
1981
POL
49
49
3780015
VAICIULIS Modestas
1989
LTU
50
50
3150070
RAZYM Ales
1986
CZE
51
51
3190142
GAILLARD Cyril
1986
FRA
52
52
3480500
BOLOTOV Nikolay
1986
RUS
53
53
3190025
DARRAGON Roddy
1983
FRA
54
54
3150450
MAKA Daniel
1992
CZE
55
55
3510206
TAMBORNINO Eligius
1986
SUI
56
56
3780005
NOVOSELSKI Aleksei
1985
LTU
57
57
3500318
JOHANSSON Patrik
1987
SWE
58
58
3180146
LASSILA Kalle
1985
FIN
59
59
3560062
KLAVZAR Bostjan
1990
SLO
60
60
3040080
WATSON Callum
1989
AUS
61
61
3430136
GAZUREK Sebastian
1990
POL
62
62
1281952
TAGSCHERER Zoltan
1976
HUN
63
63
3180227
COLLIANDER Niklas
1985
FIN
64
64
3040028
VAN DER PLOEG Mark
1985
AUS
Did not start
1003
3480287
DEVJATIAROV Mickail Jun.
1985
RUS
1002
3480436
KRIUKOV Nikita
1985
RUS
1001
3420089
PETTERSEN Oeystein
1983
NOR
Comments
comments