Kircheisen wins nordic combined World Cup, Lodwick fifth
Tweet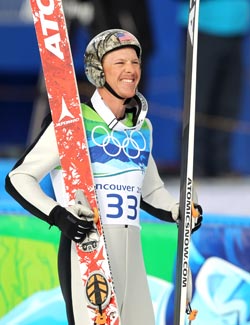 Six-time World Championship medalist, German Bjoern Kircheisen won his 14th career nordic combined World Cup today (Dec. 20) in Ramsau, Austria. Today was the third and final day of nordic combined World Cup competition in Ramsau.
"I had a really good material and tried to ski always in the first part of the pack. Yesterday, I saw Gottwald's attempt failing and decided therefore to attack a little bit later," said Lamy Chappuis. "We have a strong team, with Tino Edelmann, Eric Frenzel, me and others, we'll have fun."
Norwegian Mangus Moan (38th in the jump and first in the cross country race) finished second, followed by Austrian Felix Gottwald (23rd in the jump and fourth in the cross country race) in third. Last season's overall World Cup winner Finn Anssi Koivuranta was just off the podium today in fourth.
American Todd Lodwick had a solid fifth-place performance in his third competition back on the World Cup. He finished 17th in the jump then held strong through the cross country race to finish tenth there. Teammates Johnny Spillane and Bill Demong finished 13th and 14th, respectively. Spillane had the strongest American leg with a fifth-place finish in the cross country race.
"I was really pleased with the way I tactically raced today," said Lodwick. "It was important to stay up front and not get tangled up in the mix with 40 some guys racing together. I started with BIll and stayed with him because he's been racing fast and I wanted to find where we played out on the first lap. We ended up right in there. Then I heard Johnny right up there with us, too."
France's Jason Lamy Chappuis, who won the first two events here, got off to a great start with the best jump but slipped to a 22nd in the cross country race and landed eighth overall.
The cross country race was fierce battle as the top 12 skiers were within 4.4 seconds after the first 2.5k lap. Norway's Petter Tande took the lead at the 3.3k mark and held through the midway pass through the stadium. Moan took the lead in the final lap as the top ten racers finished within 33 seconds.
"At the moment, I'm the strongest Nordic Combined cross-country racer, and this is a great feeling," said Moan. "Today, however, Bjoern was the fastest man, congratulations."
Canadians Jason Myslicki and Wesley Savill finished 49th and 51st, respectively.
Lamy Chappuis maintains his lead in the overall standings 113 points ahead of teammate Tino Edlemann who finished sixth today.
Image: Todd Lodwick comes in for a landing in Ramsau. (Gepa)
Comments
comments