Kofler gets Four Hills win
Tweet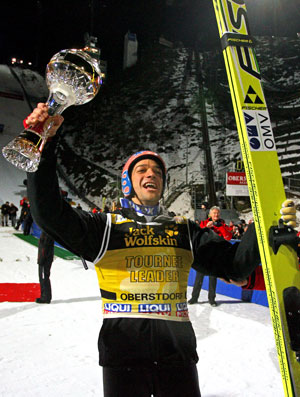 Under rain, sleet and inconsistent wind, the first Four Hills Tournee got underway last night in Oberstdorf, Germany. Despite the weather, a huge crowd saw Austrian flyer Andreas Kofler take the first of four competitions in the 58th running of this prestigous event. Kofler landed two jumps of 125 and 134 meters for his first win in the last four seasons.
Kofler, felt stiff competition right up until the end from the returning jumping king, Finland's Janne Aahonen, who jumped to 116.5 and a brilliant second jump of 137 meters. Ahonen is a five-time Four Hills overall winner.
Defending Olympic champion, Thomas Morgenstern(AUT) landed a 124.5 and a 126.5 meter jumps, good for third place.
The next event will be on New Year's day in Garmisch.
By: Peter Q. Graves
Comments
comments