Lodwick claims U.S. Nordic Combined title
Tweet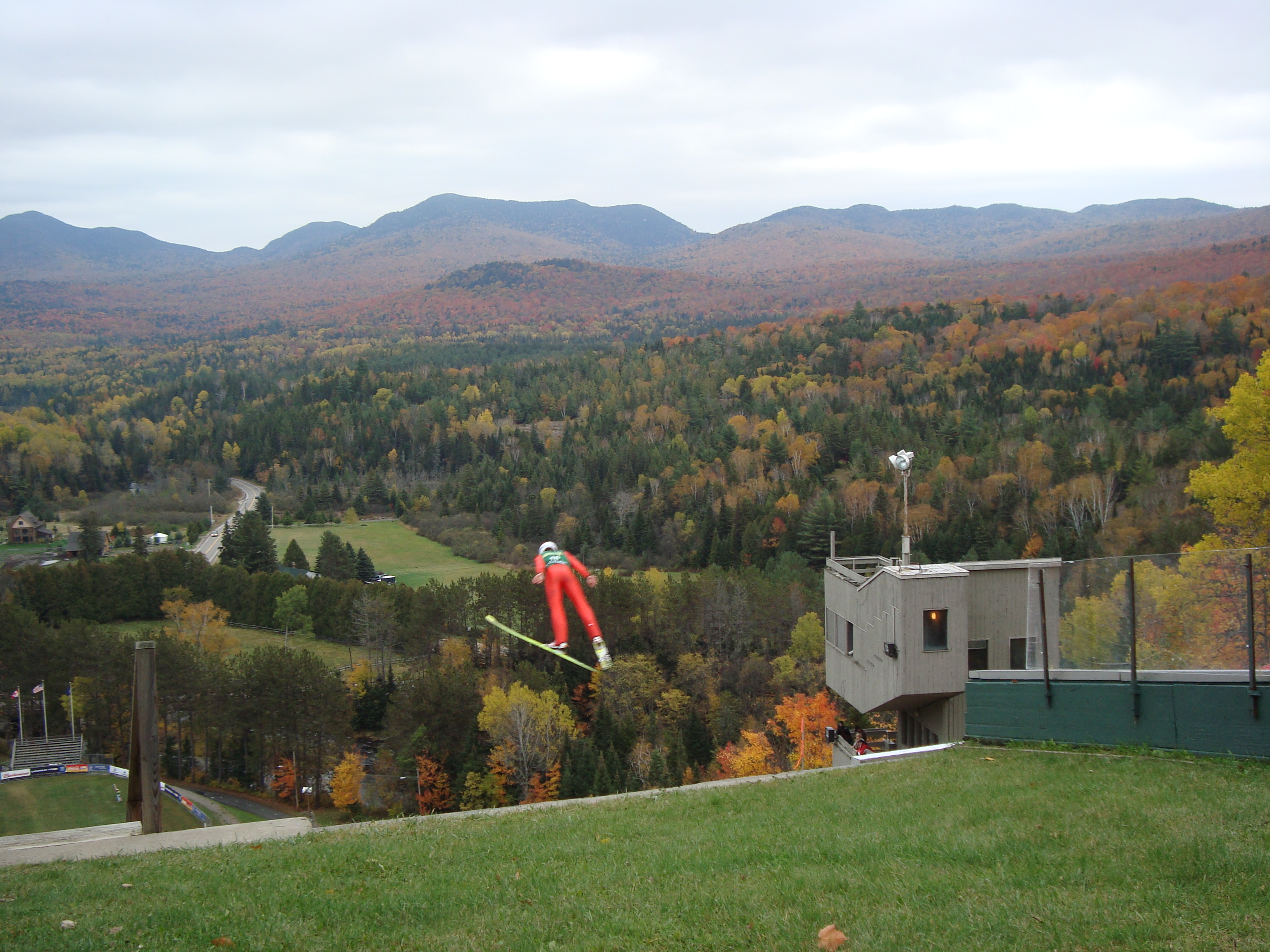 By Peter Graves
LAKE PLACID, NY—This is a place that overflows with Olympic memories and achievements. From home town boy, Jack Shea's speed skating medals in 1932, to Eric Heiden and The Miracle on Ice in 1980, Lake Placid has brought out the best in so many, over the years.
Saturday, Oct. 10, in a light drizzle with the temperatures hovering in the low 40's, the U.S. Ski Jumping and Nordic Combined Championships were held for the second straight year here on the watered plastic jumps at Intervale and the adjacent paved roller ski trails.
A year ago many Nordic fans scoffed at the notion of having a national championships during the off season but most were silenced last year when the event went off so well.
Coming up with his first ever national championship title in men's ski jumping was Nick Alexander. The Project X jumper was very pleased with this big win. "It's my first win in about a year and a half, so it felt pretty solid to pull it off. I knew I could do it. I just needed to stay confident." Alexander was not pleased by his first leap but had a big second jump that iced the win for him.
Alexander's first coach, Jon Farnham said, he was bit young by the ski bug.
"His friend Dave Wallace brought him over to our ski jumps in Lebanon (NH) and encouraged him to sign up for alpine skiing and at the end of the season he took part in the annual "Mud Meet" (a fun event to celebrate the end of the season's jumping meets) he took to it right away. He was probably about 8-years old. It wasn't instantly apparent he was going to be a huge ski jumping star, but he was an energetic, happy kid who wanted to ski", Farnham said.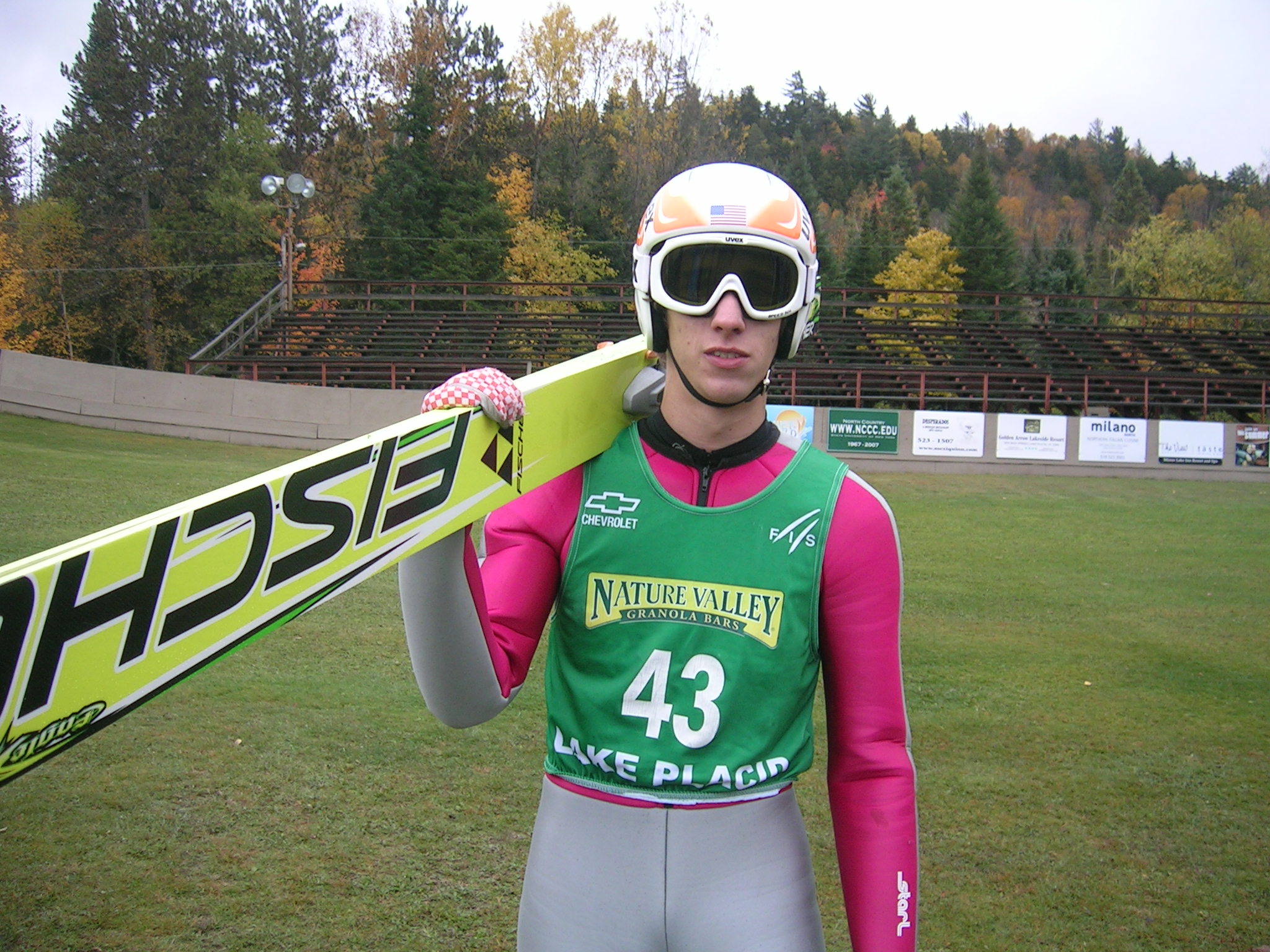 Alexander admits it's still fun. "Everything has been steadily building this year, this is a blast. I try and make it fun, that's the point," he added. Alexander also spends some months at a time with Austrian ski jumping friends training in the town of Bad Ischl. "Every time he comes back from Austria, he's a little better, " Farnham added.
Second place in jumping went to Chris Lamb with total points of 238. In third was John Lyons with 220.5 points.
In women's special jumping Jessica Jerome skied to her 7th national crown with 230.0 points overall. 15 year-old Sara Hendrickson was awarded the silver medal with 205.5 points while Abby Hughes was third with 203.5 points. 2009 U.S. Champion and current World Champion, Lindsey Van was in fourth.
"I am excited about today", Jerome said, "this past week I have had good jumps and I have been able to improve on a couple of key things, so I am glad I could pull it together." Jerome told reporters she "was laying low this summer and not competing internationally."
In dramatic Nordic Combined action, Todd Lodwick continues his steady comeback with a solid jump and a strong cross-country leg to win. It marked his 20th National title. U.S. Ski Team member Brett Camerotta was second and Bryan Fletcher a solid third. Norwegian Sturla Sandoy was fourth.
To make things equal, all the roller skis were supplied by Maplus. Three top ranked members of the U.S. Nordic Combined team, Billy Demong, Eric Camerota and Johnny Spilliane did not compete, all sidelined by injuries.
Lodwick said this 20th title means a great deal. "This ranks right up there with one of my most memorable titles. I think I am almost twice the age I was when I won my first one. It's nice to be in shape and it's nice to know I can still compete at a top level." Wind and the constant drizzle during much of the jumping event presented jumpers with some challenges. Lodwick later said, " Today was one of the hardest days of jumping that you could possibly see, but I am happy to have done it."
As for second place finisher Brett Camerota, he commented that he had been jumping well in Lake Placid recently. "There was always a tail wind (today) over the knoll of the jump, which is bad for jumping but there was a head wind at the bottom. I stayed with it and had the second longest jump ". His second place was his best U.S. Championship to date.
Dave Jarrett, Head Coach for the US Nordic Combined squad said it was a good day for everyone. "This just shows our depth with new guys stepping up with the injuries to Billy, Johnny and Eric (Camerota). I am psyched for everyone and wish the three injured guys a speedy recovery."
The action continues as part of Lake Placid's annual Flaming Leaves Festival, Sunday, when they will host a USSA Super Tour jumping competition.
Practice jump photo by Hank McKee
Photo of Nick Alexander by Peter Graves

OFFICIAL RESULTS
2010 U.S. NORDIC COMBINED CHAMPIONSHIPS
Lake Placid, NY – Oct. 10, 2009
1. Todd Lodwick, USA
2. Brett Camerota, USA
3. Bryan Fletcher, USA
4. Sturla Sandoy, NOR
5. Taylor Fletcher, USA
6. Alex Glueck, USA
7. Nick Henderson, USA
8. Alex Miller, USA
9. Carl VanLoan, USA
10 Willy Graves, USA
OFFICIAL RESULTS
2010 U.S. SKI JUMPING CHAMPIONSHIPS
Lake Placid,
NY – Oct. 10, 2009
Men
1. Nick Alexander, USA 251.0
2. Chris Lamb, USA 238.0
3. John Lyons, USA 220.5
4. Mike Glasder, USA 207.5
5. Nick Fairall, USA 205.0
6. Pete Frenette, USA 201.0
7. Todd Lodwick, USA 198.0
8. Alex Miller, USA 195.5
9. Andrew Bliss, USA 194.5
10. Brett Camerota, USA 191.0
Women
1. Jessica Jerome, USA 230.0
2. Sarah Hendrickson, USA 205.5
3. Abby Hughes, USA 203.5
4. Lindsay Van, USA 191.0
5. Alissa Johnson, USA 188.5
Comments
comments