Lodwick Opens with COC Win
Tweet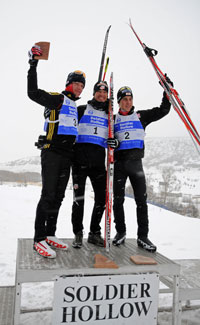 Nordic combined skier Todd Lodwick opened up this season like he closed it last spring, on top and in control.
Saturday, Lodwick, one of the nation's top nordic combined athletes ever, set the pace with strong jumping and cross-country skiing skills to the the opening Continential Cup of the season in the USA, on the 2002 Olympic facilities in Park City, Utah.
While the rest of the world's elite enjoyed a rare weekend off with the race in Harrachov cancelled and moved to Engleberg, SUI, Lodwick demonstrated his larger-than-life presence in the sport.
Many of the field were top World Cup skiers. Austrian Tomaz Druml finished second, while third went to Steffen Tepel of Germany.
Lodwick led after the one-jump and used his power to hammer thru heavy snow, to win the 10km cross country race. Lodwick's margin of victory was 44.4 seconds over the Austrian.
US Ski Team assistant coach Greg Poirier said Lodwick's win came as no surprise. "but his level of skiing shows that he'll be a tough competitors on the World Cup."
Lodwick said, "I have just one goal in mind–the Olympic Games."
The USA's Alex Miller finished a personal best of fourth, off the podium by just 10 seconds. Competition concludes today with another event.
By: Peter Graves
Image: (U.S. Ski Team/Tom Kelly)

Comments
comments