Marit Bjoergen takes third gold of World Champs
Tweet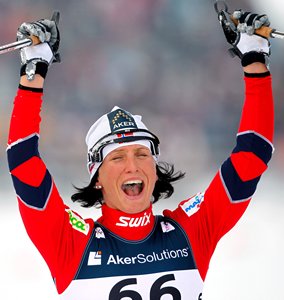 Marit Bjoergen won her third gold medal of the World Championships today (Feb. 28) by coming from behind to take the 10k classic.
At seven kilometers Pole Justyna Kowalczyk maintained a lead gained during the first lap, but the Tour d Ski 2011 winner could not keep up the blistering pace and what had been an 8 second lead at the 7k mark shrunk to 2 with two klics left.
Boergen powered in to the stadium with Marianna Longa of Italy and stopped her clock at 27:39.3. Kowalczyk, the final skier on course, pushed strongly to the end but was 4.1seconds behind for the silver medal. Finland's Aino Kaisa Saarinen won silver. Norway's Therese Johaug was fourth with five, six and eight going to Finns: Krista Lahteenamaki, Pirjo Muranen and Kerttu Niskanen respectively.
Holly Brooks led the U.S. team in 27th with Sadie Bjornsen 29th and Kikkan Randall 32nd. Ida Sargent finished 51st. Canada had Daira Gaiazova in 37th, Perianne Jones 39th, Chandra Crawford 52nd and Brooke Gosling 56th.
The gold medal is Bjoergen's seventh at Worlds, and third at Oslo. It was the five career World title meet medal for Kowalczyk and the second silver – both behind Bjoergen – at Oslo. It was the sixth championship medal for Saarinen and first at Oslo.
Place
Oslo
(NOR)
Discipline
10 km C
Date
28.02.2011
Category
World Ski Championships
Race codex
2120
Gender
L
Valid for FIS Points
NO – Waiting reports
TD Name
Pekk Tiit (EST)
Rank
Bib
FIS Code
Name
Year
Nation
Time
FIS Points
1
66
1303777
BJOERGEN Marit
1980
NOR
27:39.3
0.00
2
67
3435001
KOWALCZYK Justyna
1983
POL
27:43.4
1.98
3
62
1255665
SAARINEN Aino- Kaisa
1979
FIN
27:49.0
4.68
4
64
3425301
JOHAUG Therese
1988
NOR
28:03.0
11.43
5
59
3185256
LAHTEENMAKI Krista
1990
FIN
28:03.2
11.52
6
42
1255471
MURANEN Pirjo
1981
FIN
28:06.1
12.92
7
65
1222200
LONGA Marianna
1979
ITA
28:08.2
13.93
8
46
3185168
NISKANEN Kerttu
1988
FIN
28:29.0
23.96
9
55
1305426
SKOFTERUD Vibeke W
1980
NOR
28:40.2
29.36
10
53
3425003
STEIRA Kristin Stoermer
1981
NOR
28:42.9
30.66
11
63
3505217
KALLA Charlotte
1987
SWE
28:46.7
32.50
12
57
3485195
TCHEKALEVA Yulia
1984
RUS
28:51.8
34.95
13
58
1276714
MAJDIC Petra
1979
SLO
28:55.7
36.83
14
60
3505183
HAAG Anna
1986
SWE
29:00.1
38.96
15
40
3055066
SMUTNA Katerina
1983
AUT
29:08.8
43.15
16
54
1142563
SHEVCHENKO Valentina
1975
UKR
29:09.4
43.44
17
52
1274580
ISHIDA Masako
1980
JPN
29:12.9
45.13
18
61
1255374
ROPONEN Riitta-Liisa
1978
FIN
29:22.9
49.95
19
45
3485042
IKSANOVA Alija
1984
RUS
29:27.7
52.26
20
39
1319976
KOLOMINA Elena
1981
KAZ
29:31.6
54.14
21
47
3485013
NOVIKOVA Valentina
1984
RUS
29:36.8
56.65
22
56
1247226
ZELLER Katrin
1979
GER
29:36.9
56.70
23
50
3195059
BARTHELEMY Laure
1988
FRA
29:46.1
61.13
24
43
1182042
MALAKHOVA-SHISHKINA Svetlana
1977
KAZ
29:49.3
62.68
25
35
3505069
LINDBORG Sara
1983
SWE
29:52.1
64.03
26
36
3485283
NIKOLAEVA Svetlana
1987
RUS
29:52.3
64.12
27
37
3535142
BROOKS Holly
1982
USA
29:54.2
65.04
28
48
3505090
INGEMARSDOTTER Ida
1985
SWE
30:02.1
68.85
29
26
3535320
BJORNSEN Sadie
1989
USA
30:06.8
71.11
30
33
1289227
SANNIKOVA Alena
1980
BLR
30:14.4
74.78
31
27
3675007
ROCHSHINA Tatyana
1987
KAZ
30:20.1
77.53
32
49
1365857
RANDALL Kikkan
1982
USA
30:21.2
78.06
33
29
3515038
TRACHSEL Doris
1984
SUI
30:24.8
79.79
34
38
3295088
DE MARTIN TOPRANIN Virginia
1987
ITA
30:31.8
83.17
35
41
3695011
GRYGORENKO Kateryna
1985
UKR
30:36.5
85.43
36
16
1194555
NESTERENKO Lada
1976
UKR
30:38.6
86.45
37
31
3105040
GAIAZOVA Daria
1983
CAN
30:38.8
86.54
38
28
3495008
ORGUE Laura
1986
SPA
30:44.5
89.29
39
25
3105019
JONES Perianne
1985
CAN
30:44.6
89.34
40
12
3695015
ZAVIEDIEIEVA Zoya
1985
UKR
30:45.4
89.72
41
22
3565002
FABJAN Vesna
1985
SLO
30:46.1
90.06
42
30
3205225
ANGER Lucia
1991
GER
30:46.3
90.16
43
44
3205075
HERRMANN Denise
1988
GER
30:47.4
90.69
44
13
3565035
ERZEN Anja
1992
SLO
30:57.4
95.51
45
19
3395035
ROHTLA Laura
1985
EST
31:02.5
97.97
46
20
3565034
CEBASEK Alenka
1989
SLO
31:03.8
98.60
47
32
3435031
MACIUSZEK Paulina
1985
POL
31:12.3
102.69
48
23
3395048
OJASTE Triin
1990
EST
31:14.2
103.61
49
14
1181848
YATSKAYA Oxana
1978
KAZ
31:14.6
103.80
50
21
1354799
GYORGY Monika
1982
ROU
31:15.0
104.00
51
15
3535124
SARGENT Ida
1988
USA
31:19.3
106.07
52
17
3105013
CRAWFORD Chandra
1983
CAN
31:22.7
107.71
53
24
3305165
KASHIWABARA Michiko
1991
JPN
31:33.5
112.92
54
18
3435098
MARCISZ Ewelina
1991
POL
31:48.5
120.15
55
11
3435004
SZYMANCZAK Agnieszka
1984
POL
31:54.9
123.23
56
34
1341316
GOSLING Brooke
1980
CAN
32:27.7
139.05
57
10
3095004
MALCHEVA Teodora
1983
BUL
33:40.0
173.90
58
7
3785012
ARDISAUSKAITE Ingrida
1993
LTU
33:42.7
175.21
59
6
3385016
MALEC Vedrana
1990
CRO
34:04.2
185.57
60
9
3225005
MUSGRAVE Rosamund
1986
GBR
34:17.3
191.89
61
3
3385017
BROZNIC Nina
1991
CRO
34:42.7
204.13
62
5
3085002
MOURAO Jaqueline
1975
BRA
35:07.1
215.90
63
8
3175001
BERTHELSEN Niviaq Chemnitz
1989
DAN
35:37.4
230.51
64
2
3745004
VAROSYAN Syuzanna
1987
ARM
36:49.9
265.46
65
1
3085003
PICIN Mirlene
1980
BRA
36:51.6
266.28
66
4
3225004
YOUNG Sarah
1989
GBR
36:59.4
270.04
Did not start
51
3705003
PROCHAZKOVA Alena
1984
SVK
Comments
comments