Matt takes Grindelwald ski cross as Teller-Del Bosco tangle
Tweet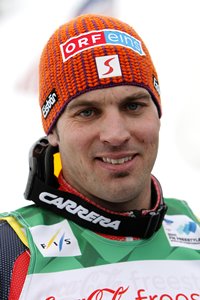 Andreas Matt confirmed his placing on top of the World Cup freestyle rankings with a convincing come from behind ski cross win in Grindelwald, Switzerland Thursday (March 3).
Though it was just his second win of the season Matt has been remarkably consistent this season making the final foursome in seven of his eight 10 ski cross World Cups this season. At Grindelwald he took advantage when Canadian Christopher DelBosco and American John Teller took each other out in finals and left Matt to best Finn Jouni Pellinen for the win. Del Bosco got third with Teller left the fourth place finish.
Marte Hoeie Gjefsen of Norway got the women's win over Ophelia David with Heidi Zacher third. The fastest qualifier she jumped into an early lead and held off her celebrated chasers.
Place
Grindelwald
(SUI)
Discipline
Ski Cross
Date
03.03.2011
Category
World Cup
Race codex
8206
Gender
M
TD Name
Malsiner Markus (ITA)
Rank
Bib
FIS Code
Name
Year
Nation
Result
Level
Points
1
1
2451417
MATT Andreas
1982
AUT
1000.00
2
5
2527361
PELLINEN Jouni
1983
FIN
800.00
3
3
2526820
DELBOSCO Christopher
1982
CAN
600.00
4
14
2527399
TELLER John
1983
USA
500.00
5
12
2484379
GASSER Philip
1983
SUI
450.00
6
24
2526137
FORSLUND Michael
1986
SWE
400.00
7
7
2447828
BARR Davey
1977
CAN
360.00
8
31
2527709
BJOERNNES Magnus
1993
NOR
320.00
9
6
2526897
DUNCAN David
1982
CAN
290.00
10
8
2386524
KRAUS Tomas
1974
CZE
260.00
11
10
2527284
ZORICIC Nick
1983
CAN
240.00
12
11
2527030
WOELFL Mathias
1984
GER
220.00
13
13
2484604
KOLLER Patrick
1983
AUT
200.00
14
15
2527032
FLISAR Filip
1987
SLO
180.00
15
20
2448410
NETZER Conradign
1980
SUI
160.00
16
32
2527144
KNELLER Scott
1989
AUS
150.00
17
2
2484520
BENNETT Brian
1980
CAN
140.00
18
4
2526789
STICKL Simon
1987
GER
130.00
19
9
2528136
DURAN Patrick
1985
USA
120.00
20
16
2527296
BOHNACKER Daniel
1990
GER
110.00
21
17
2391471
MANI Alois
1983
SUI
100.00
22
18
2525886
KOROTKOV Egor
1986
RUS
90.00
23
19
2527055
DANDEVILLE Lucas
1991
FRA
80.00
24
21
2526576
DUMAX BAUDRON Yann
1988
FRA
70.00
25
22
2527624
GASSER Patrick
1985
SUI
60.00
26
23
2526998
WAHRSTOETTER Christoph
1989
AUT
50.00
27
25
2412714
SAFAR Zdenek
1978
CZE
45.00
28
26
2384681
WALDNER Klaus
1980
AUT
40.00
29
27
2392635
STEFFEN Andreas
1975
SUI
36.00
30
28
2412617
SPALINGER Richard
1975
SUI
32.00
31
29
2529330
MITHASSEL Christian
1987
NOR
28.00
32
30
2526879
STENGG Florian
1989
AUT
26.00
33
2450835
MIAILLIER Sylvain
1986
FRA
24.00
34
2528672
DEVOUASSOUX Jonas
1989
FRA
22.00
35
2526877
BOVOLENTA Arnaud
1988
FRA
20.00
36
2527042
ECKERT Paul
1990
GER
19.70
37
2527297
EIGLER Florian
1990
GER
19.40
38
2528200
FISCHER Thomas
1986
GER
19.10
39
2526556
KOPRIVA Jakub
1989
CZE
18.80
40
2526949
ADORJAN Matej
1987
SLO
18.50
41
2528515
MIDOL Bastien
1990
FRA
18.20
42
2526291
NIEDERER Armin
1987
SUI
17.90
43
2390695
EICHER Manuel
1983
SUI
17.60
44
2527952
WHELAN Peter Edwin
1989
GBR
17.30
45
2526971
RICIOLI Trevor
1985
USA
17.00
46
2391277
KUSY Daniel
1984
SUI
16.70
47
2526344
AMACKER Kevin
1990
SUI
16.40
48
2528709
CASTELLAZ Diego
1985
ITA
16.10
49
2527848
KORNILOV Georgy
1990
RUS
0.00
50
2528292
FORTNEY Ethan
1990
USA
0.00
51
2529018
MARTINI Alex
1986
ITA
0.00
52
2527037
PASTORE Federico
1977
ARG
0.00
53
2528199
BARTALSKY Tomas
1990
SVK
0.00
Did not start
2485174
ORLOWSKI Marcin
1985
POL
2527591
VIDAL Ulises
1991
SPA
Did not finish
2529200
CROSSAN Brant
1992
USA
Place
Grindelwald
(SUI)
Discipline
Ski Cross
Date
03.03.2011
Category
World Cup
Race codex
8205
Gender
L
TD Name
Malsiner Markus (ITA)
Rank
Bib
FIS Code
Name
Year
Nation
Result
Level
Points
1
1
2527513
HOEIE GJEFSEN Marte
1989
NOR
1000.00
2
6
2394866
DAVID Ophelie
1976
FRA
800.00
3
5
2527434
ZACHER Heidi
1988
GER
600.00
4
3
2526373
SMITH Fanny
1992
SUI
500.00
5
2
2526849
WOERNER Anna
1989
GER
450.00
6
10
2526015
OFNER Katrin
1990
AUT
400.00
7
12
2527841
KUCEROVA Nikol
1989
CZE
360.00
8
9
2526527
JENSEN Julie Brendengen
1990
NOR
320.00
9
4
2527570
LIMBACHER Andrea
1989
AUT
290.00
10
7
2527273
SERWA Kelsey
1989
CAN
260.00
11
8
2527287
POLESCHUK Danielle
1986
CAN
240.00
12
11
2526530
RIEMEN Karolina
1988
POL
220.00
13
13
2323372
CREMA Katya
1988
AUS
200.00
14
14
2484649
SARSFIELD Emily
1983
GBR
180.00
15
16
2526363
MUELLER Katrin
1989
SUI
160.00
16
15
2485085
OWENS Jenny
1978
AUS
150.00
17
2525884
LIVINSKAYA Yulia
1990
RUS
140.00
18
2527689
THOMPSON Marielle
1992
CAN
130.00
19
2528143
WEILHARTER Sabrina
1991
GER
120.00
20
2404469
SERAIN Emilie
1984
SUI
110.00
21
2525991
GALLAND Helena
1986
FRA
100.00
22
2527829
MILLET GOUCHOE Jessica
1990
FRA
90.00
23
2526014
MANHARD Christina
1990
GER
80.00
24
2444045
FARIC Sasa
1984
SLO
70.00
25
2528293
BLAIR Catriona
1992
CAN
60.00
26
2448604
MURK Seraina
1971
SUI
0.00
27
2415721
BOULANGEAT Meryll
1986
FRA
0.00
Did not start
2404663
STEFFEN Franziska
1981
SUI
Did not finish
2527563
HOLMLUND Anna
1987
SWE
2526328
KENNEDY Sami
1988
AUS
Comments
comments