McKee's McThoughts: Pondering our sport
Tweet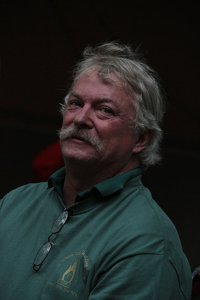 Hey Gulf Coast – you keep your hurricanes, we'll keep our blizzards and we'll both be happier, okay?
Football has started and there has been snow falling in the Alps. The clothesline poll shows a pair of shorts surrounded by long sleeve shirts and plenty of socks. Colored leaves are falling. It won't be long.
Have you seen this video of high end kayaking? I wonder how it would look had these athletes been forced to use longer craft with straight sides? Just sayin'.
Been an unusually busy off-season what with kids urinating on planes and the FIS stifling innovation by stripping away 15 to 20 years of ski design technologically. Makes me ponder the collective thinking ability of an organization already regarded as an antique oddity in the world of sport.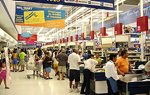 There has been very little reaction over the former issue (and a scary desire to completely ignore and sweep it under the rug). This is worthy our pondering. Sorry Mr. Veitze but you – and some really stupid airport bartender – messed up big time. Your shot at glory may still exist, but those who will elevate you to glory may not carry the weight you'd like. Kind of like gaining shelf space in WalMart (upper image) instead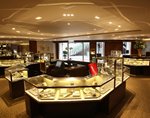 of Tiffany's (lower image). Good luck young sir. As for the bartender – expletive deleted.
The reaction has been a bit stronger regarding the latter issue. Doesn't it really come down to the definition of what a ski is? It seems from here to not be as wrong a decision as it did at first blush. Take away any parameters on what a ski (or snow) actually is and courses could be ice and racers could be on blades. Think vertical short track skating with turns in both directions. This concept amuses me. Imagine – briefly – the political infighting between the FIS and skating's even bigger, older and equally cumbersome ISU for control of what could be a lucrative sport. In terms of safety, however, I'd expect a 45-race World Cup season to be a matter of survival.
Sport in survival mode works pretty well for the NFL. Anyone who plays fantasy football knows what type of injury rate happens in that league.
The NFL has created an abundance of legislation aimed at making the league safer for athletes: outlawing helmet-to-helmet hits, blocking below the knees, or crack-back blocks, and lord help a defensive player who touches a quarterback. Doesn't seem like any of that has damaged popularity. But then the NFL has always embraced television and no one can say the same for ski racing.
Now, I'm not saying I agree with taking the arc out of skiing. Far from it. Like many I've spent too many years trying (with limited success) to eliminate sliding turns. Which is a point made in this profanity laced, rather tactless (but nonetheless funny) bit of video put up by opponents of the ski changes.
But let's at least admit there are some – including skiing's first couple Benjamin Raich and Marlies Schild – who are endorsing the changes.
So there we have it, controversy and childish mistakes. Just like the big leagues. Maybe we're not so far from being a powerhouse sport after all.
One last visual McThought: It doesn't take any more than a foolish teen and a stupid bartender for our sport to grab headlines, but take a look at this bit of time lapse of a typical morning at Portillo created by the uber talented Tommy Ford and count the people. Then, consider what it takes to put a quality team of ski racers on the hill. Now that. my friends, is something worth pondering.
Safe speed -
Comments
comments