McKee's McThoughts: "Stop!"
Tweet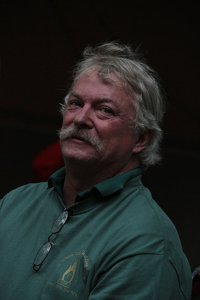 "Stop!"
I wanted to just scream it.
I visualized a movie scene as I saw the word mark the page.
The movie was the lightly regarded Vanishing Point, basically a car chase movie of 1971 featuring a Dodge Challenger, some fabulous driving and an esoteric message. Good movie if you like that kind of thing.
Among the oddities of the plot was a black, blind radio jockey who picks up on the car chase via the usual array of police scanners inherent in 1970′s newsrooms and begins sending out messages to the Challenger driver, helping him out of a couple of police traps. But when the jockey senses the rules of the game have changed (here it comes) he shouts: "Stop!"
Kowalski, the movie's hero and the Charger's driver, disregards the message and winds up driving full speed into a pair of D9 bulldozers, erupting into a ball of fire.
Lindsey, don't disregard the message. The price is too high.
I know, I know, there is plenty of advice out there with better medical credentials. But if you won't consider what an old journalist has to say, how about an old World Cup skier. Remember Cary Mullen?
Most people don't, because after three concussion he had to finally admit he was done.
He didn't even get to go out in a ball of fire.
"My third concussion I was going 10 km an hour with a helmet on and I got knocked out, can't recall 10 minutes, and it took me two years to become symptom free. I could have had that crash and thought nothing of it prior to any (previous) concussions but my vulnerability had increased substantially, not just a little, substantially."
He was 27 when he sustained his first concussion in 1997. He was gone before the 2000 season began. See, the second concussion is more difficult to recover from, and the third even more so.
I would wager no ski competitor put as much time and effort into the study of concussions as Mullen. His story is not pretty, though he's working on the happy ending thing. The thing is, he had no idea, no concept of what a concussion entailed. He wised up, late perhaps, but he did wise up.
"My ski career was cut short because I was too tough and too daring. That sounds like a counter statement for a racer of the daredevil sport of ski racing.
"If I had it to do over again what would I do? I would have been more patient."
Okay, that's it in a nutshell. Mullen's research said to spend at least as much time in "recovery mode," after all symptoms have gone as you did with symptoms. Concussion, he says, "is a kind word for brain bruise." Determining the severity of that bruise can only be diagnosed through time.
Don't give us that "time is short" crap. At 26, Mrs. Vonn, you got eight maybe ten years left. You are 23 wins short of being the best there ever was. Over the last four seasons you've averaged 6.75 wins. Math says you don't need all eight years. But you do need your health and you do need the confidence to let those Heads rip without worrying about your own head.
Lecture over. Don't stop reading. Listen to Mr. Mullen:
"A bruised brain cares little for an A type personality. It is actually counter productive when it comes to healing a concussion. You need to chill. Not easy to do when you're a doer. I went and met with neurologists, did cat scans, did cranial massage, acupuncture, you name it I tried it. Sitting and waiting out an injury is counter intuitive to the go-getter personality of a world class ski racer. We are wired to ask "How can I do this faster?"; "How can I get healthy faster?"; "How can I get back racing sooner?"
"Physio therapy does not work on a bruised brain. Pushing through the pain makes it get worse. And going back too soon can be extremely dangerous and can end your career. It happened to me."
Granted Mullen wound up with a severe case. Because he came back too soon from his first concussion, sustained – by the way – in a spectacular crash at the season-opening World Cup downhill at Beaver Creek in 1997. The symptoms from that crash – double-vision and headaches – subsided in August 1998. He crashed again in November of '98. He now believes had he been armed with knowledge since gained, he should not have returned in '98, that he should have taken two years off.
"One of the biggest challenges is that the injured person should not be who it is left up to. You are 'deciding' if you are okay to take risks again. And you are "deciding" with your brain. Your brain is injured. Your brain is impaired. It can't be left up to you. Even the road to recovery shouldn't be left up to the injured individual but it often is. I messed up because I went back too soon. I was symptom free but that was still too soon. I was still in the vulnerable stage."
Mullen's final crash was more like tipping over. Hardly the way an athlete wants to go out. Kowalski went out in a ball of fire. Spectacular and a decent movie. There's a line of thought that his soul was born anew out of that fireball. I wouldn't risk it.
Safe speed. All of you.
"Cary has fully recovered from his concussions and is a successful resort developer with a beautiful condominium project on the beach in Puerto Escondido Mexico called Vivo Resorts. Vivo means "Alive". He's happy every day to be alive."
Comments
comments