McKee's McThoughts – Tears and Joy at the Games
Tweet
By Hank McKee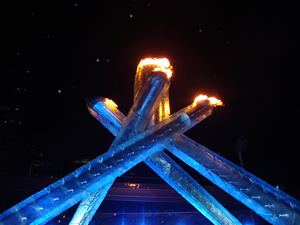 There are a lot of differences between Olympic ski racing and World Cup. As Patrick Lang said toward the end of the Games, " … and back to 'serious' ski racing on the World Cup tour!"
The XXI Winter Olympics looked pretty serious from my viewpoint, but I understand the sentiment. If forced to capsulate the Olympics into one word, I'd choose emotion. It is never in short supply at the Games. It can be real easy to spot.
Television watchers saw a lot of tears. Don't know about everybody else, but I felt a little uncomfortable being in the middle of the Vonn family embrace when Lindsey dissolved into tears after winning the downhill in her husband's arms. Thomas repeated,
"you did it." There are some places cameras shouldn't go.
After spending a life-time preparing for the moment, when it arrives and culminates, the release of emotion can be immense. It has, basically, been building for decades with each little event along the way piling a little more in the safety deposit box for the day it finally happens. Even when you know it's coming, it's overwhelming.
Having had her moment extended by a re-run and then ending poorly, Julia Mancuso in a crying jag should not be a surprise. Nor should the vision of Susanne Riesch sobbing into the snow as her sister skied to gold.
These emotions are just not worn on the sleeve. They are thrown to the world, scattered on the winds and come from very, very deep in the soul. It is a sudden and uncontrollable expodus. It is powerful.
Bode Miller recognized the need to harness this power and use it to his advantage. Always big on strategy, it should come as no surprise he managed to do this. He had been talking about it since rejoining the U.S. Ski Team back in the Fall, in his own vocabulary.
His legacy is now as it should be and 2006 will rarely be mentioned in conjunction with his name. This is correct. Just hope he finds enough motivation to continue ski racing so we can continue to marvel.
Lindsey, of course, has also put a truckload of cement on the foundation of her legacy. At 25 she should be too young to have a legacy, but there it is all wrapped up in medals and awards and World Cup titles and prize cows and swimsuit shoots. She is the quintessential role model, and that extends beyond younger athletes.
"She is ski-candy," a woman told me at the Games. "She is what every woman, young or old, wants to be: strong and powerful and beautiful, too."
Julia Mancuso, you are unbelievable. Where have you been keeping this performance and how do you tap it on command? We are honored to have witnessed it and, of course, now we want more.
And Andrew Weibrecht how do you explain this bronze medal? You hail from a mountain they call "Ice-face," yet attack a slushy course like all those Canadian Whistler-based skiers wanted to. And now, perhaps this sentence will be the last time any media person refers to that wonderful run at Beaver Creek back in November of 2007. Whistler's super G run; that was fabulous. That it held up for a medal makes it all the better. Nice grouping on that podium.
But for my money (not that there's much of it) best U.S. alpine run of the Games came from 23 year old Will Brandenburg in the slalom run of the combined. It was also Bode's best run of the Games, the one that really made his face light up in the finish, a run he called "perfect."
Brandenburg's was faster. And, oh by the way, Ted Ligety's was the fastest of the day, a one-two-three finish for American men in a slalom run. Been a long time since we've seen that outside of a National Championship. Did it count for medals, not really, though it did help Bode to the gold medal he deserved. But does it count, oh yes, it does.
We earned an extra large quota for these Vancouver Games and we used them. From this view, we used them well. Tough to argue against eight medals and a chance for 20 year olds to getting a feeling for riding those emotional waves they are likely to encounter again.
Speaking of surfing the wave, the world has already written about the performance of the men's Nordic Combined team: four medals in a sport we had not sniffed an Olympic podium of before. This was one (three events actually) that could be seen coming but to watch the momentum turn into a Casey Jones freight train over running whatever was in its path was very, very special. Take another bow Billy and Johnny and Todd and Brett, and thanks from our hearts for taking the time to remember Paul Robbins. You are men among men. And gentlemen as well.
Freestyle mogulists opened the Games with a big bang and opened some eyes very wide when America saw what it is now possible to do on skis. "How have I missed this flippy-thing on skis sport before?" a young friend wrote. She and others like her might just tune in next time they see a listing for freestyle skiing, or hear Hannah Kearney or Shannon Bahrke will be in town. By the way that "Hurricane" was beautifully executed Mr. Peterson. Grishin got you, but only by throwing the jump of his life.
There were several hundred great sports stories in Vancouver. Importantly the city rediscovered it likes itself. Thousands came to the streets every night mostly to celebrate each other. The scene downtown was magic. And so was the competition.
We go back to "the serious racing" now, with the women already testing courses in Switzerland and the men in Kvitfjell. Emotionally spent our athletes will continue to give their all. Toast to them again. Through their dedication they earned us a chance to be joyful.
I think that I am overjoyed.
Safe speed.
Comments
comments