McPhie, Heil, Begg-Smith win moguls World Cup in Deer Valley
Tweet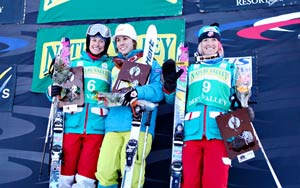 There were three winners at today's (Jan. 14) moguls World Cup in Deer Valley, Utah. The Visa Freestyle International, held on the 2002 Olympic moguls and aerials hills, kicked off in record fashion as a tie resulted in American Heather McPhie and Canadian Jennifer Heil sharing the victory. Former Canadian skier, Dale Begg-Smith, who now represents Australia, took the men's win.
The victory was Park City local McPhie's first career World Cup podium.
"I've believed in myself for a long time, but you never know – there are so many variables. I just wanted to give it everything I had and I did," an emotional McPhie said after the competition. "My parents are here to see my first podium, and my family and friends. I have so much support."
Heil, who won an Olympic gold medal in Torino gold, tallied her 24th career win and didn't mind sharing the honors. "In my 10 years, I've definitely never seen anybody share the podium, but Heather obviously had a fantastic run," she said.
American Shannon Bahrke finished behind the two winners in third on the same hill she won her Olympic silver medal in 2002. Bahrke grabbed her 23rd career World Cup podium, as she and McPhie took huge strides towards Olympic berths with two World Cup competitions remaining before the final team is selected in late January.
"We love coming to Deer Valley, it's the best event we have all year on tour," said U.S. moguls coach Scott Rawles. "To see our guys step up the way they did makes me super psyched. Especially in Heather's case, she's been chipping away at this for a long time, she really worked hard this summer and it's awesome to see her step up to the top of the podium."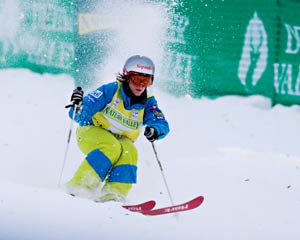 The podium finish was huge for Bahrke, who after 12 years with the team, is contemplating retirement after this season.
"Until today I was one of the last in line, so for me to be on the podium is just incredible, I'm really excited," Bahrke said. "I really hope I'm going to be there [Olympics] too. I'm going just keep plugging away and try to get a win like Heather."
Austria's Margarita, 35, Marbler landed fourth.
Heil, the World Cup overall leader, came into Deer Valley hot off of two wins in Calgary and now stands 129 points ahead of McPhie in second and Canadian Kristi Richards (18th today) in third.
Last season's World Cup champion, American Hannah Kearney landed eighth today, continuing a World Cup slump since winning the U.S. Olympic Trails Dec. 23, which guaranteed her a spot on the Olympic Team. Kearney won at the World Cup opener in Suomu, Finland then again at the Olympic Trials, but has gone 11, 36, 8 at the following World Cup competitions.
"What's on my mind is pushing it and unfortunately I've been skiing below my ability," Kearney said. "I've got a couple more weeks. I have what it takes, I just have to summon it up and bring it."
I total, five U.S. women cracked the top ten as Michelle Roark finished sixth and Shelly Robertson took seventh.
"This is so exciting! We're at Deer Valley, and with six U.S. girls in the top 12, to end up on top is unreal," McPhie said. "I hope and can't wait to walk into Opening Ceremonies representing my country. There are still so many days and so much more training before that."
Begg-Smith is red hot lately, winning the last three World Cup competitions. French Guilbaut Colas, who won here in both of last year's competitions, finished second ahead of Kazakhstani skier Dmitriy Reiherd in third.
World champion and U.S. Olympic Trials winner Patrick Deneen (fourth today) led the group of seven U.S. men that made today's finals.
"Everybody skied hard to today, some of our young guys stepped up too and it was good to see Pat [Deneen] back on his game," said Rawles. "It was a great result for Jeremy Cota (sixth) in his first World Cup."
"Fourth place isn't bad. I can think of 56 other guys that would love that place. I'm really happy with my run right now and I want to keep doing it," Deneen said.
Begg-Smith, who won a gold medal at the 2006 Torino Games, leads in the overall standings, 69 points ahead of Sweden's Jesper Bjoernlund (fifth today) in second. Canadian Alexandre Bilodeau (39th today) 190 points behind Begg-Smith.
The moguls skiers will be back at it Saturday with another singles competition. The World Cup aerialists will compete tomorrow at Deer Valley in a night competition. -Eric Williams
Images by Julie Shipman
Men's Results

Women's Results

Comments
comments