Moan wins back to back in Germany
Tweet
Norway's Magnus-Hovdal Moan went back to back at Oberwiesenthal, Germany to close out the Nordic combined Grand Prix Saturday (Aug 14). He took the final race over Johannes Rydzek of Germany with Czech Miroslav Dvorak in third. Moan also won Friday's event over Rydzek with Eric Frenzel, a German, in third.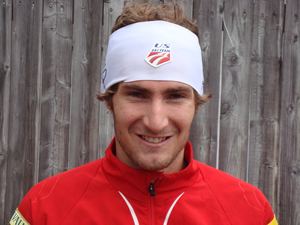 U.S. stars were notably absent, but the next generation of U.S. combined skiers made their presence known. On Friday Olympian Taylor Fletcher crossed the line with a career best finish in 14th as the first finisher for the U.S.
Saturday it was Brett Camerota in 16th.
Fletcher skied the fastest cross country laps on Friday providing a huge boost for the young squad.
"We are psyched," said U.S. Nordic Combined Head Coach Dave Jarrett. "We look to continue getting our next generation moving up in the world."
Taylor Fletcher – SRphoto
Place
Oberwiesenthal
(GER)
Discipline
Gundersen NH HS106/10.0 K
Date
13.08.2010
Category
Grand Prix
Race codex
4019
Gender
M
TD Name
Lamb Joe (USA)



Rank
Bib
FIS Code
Name
Year
Nation
Result
1
12
973
MOAN Magnus-H.
1983
NOR
28:30.0
2
7
590
RYDZEK Johannes
1991
GER
28:39.2
3
3
1050
FRENZEL Eric
1988
GER
28:42.2
4
18
1003
DVORAK Miroslav
1987
CZE
28:57.7
5
27
1149
KOKSLIEN Mikko
1985
NOR
29:07.5
6
29
349
HURSCHLER Seppi
1983
SUI
29:08.8
7
22
1650
SCHMID Jan
1983
NOR
29:25.3
8
17
1015
PICHLMAYER Marco
1987
AUT
29:26.7
9
6
768
MINATO Yusuke
1985
JPN
29:29.8
10
1
606
BRAUD Francois
1986
FRA
29:33.1
11
42
676
TEPEL Steffen
1985
GER
29:39.4
12
45
1660
WENDEL Ole Christian
1992
NOR
29:41.7
13
5
1029
PITTIN Alessandro
1990
ITA
29:45.4
14
48
1439
FLETCHER Taylor
1990
USA
29:54.7
15
13
1152
RYYNAENEN Janne
1988
FIN
29:55.8
16
30
416
SLAVIK Tomas
1981
CZE
29:58.2
17
19
1067
FLETCHER Bryan
1986
USA
30:06.6
18
24
419
KLEMETSEN Haavard
1979
NOR
30:11.7
19
34
203
HEER Ronny
1981
SUI
30:13.5
20
9
1669
STORLIEN Gudmund
1990
NOR
30:16.0
21
8
623
HUG Tim
1987
SUI
30:20.7
22
37
643
MICHIELLI Giuseppe
1985
ITA
30:27.9
23
23
609
LAHEURTE Maxime
1985
FRA
30:36.8
24
36
656
FOERSTER Markus
1988
GER
30:38.5
25
2
1485
NURMSALU Kaarel
1991
EST
30:39.9
26
41
1418
BERLOT Gasper
1990
SLO
30:43.9
27
33
1737
MORWEISER Janis
1991
GER
30:48.8
28
4
1461
SLOWIOK Pawel
1992
POL
30:54.1
29
11
1600
FAISST Manuel
1993
GER
30:58.6
30
14
683
RIAN Espen
1981
NOR
31:14.7
31
40
1527
GUY Samuel
1990
FRA
31:24.5
32
10
1671
SEIDL Mario
1992
AUT
31:26.4
33
16
1215
WEISS Johannes
1989
AUT
31:26.4
34
21
1444
SCHMID Tommy
1988
SUI
31:29.2
35
46
1210
KAMMERLANDER Carlos
1989
AUT
31:30.4
36
38
1434
JELENKO Marjan
1991
SLO
31:39.7
37
35
215
CHURAVY Pavel
1977
CZE
31:39.9
38
52
1649
HENDRICKSON Nick
1991
USA
31:42.1
39
15
216
TAKAHASHI Daito
1980
JPN
31:51.6
40
28
1010
HAUSER Robert
1988
AUT
31:59.7
41
51
347
BEETZ Christian
1984
GER
32:03.1
42
43
677
TUSS Stefan
1988
GER
32:12.8
43
39
449
PFEIFFER Benjamin
1989
GER
32:21.1
44
47
670
SCHLOTT Mark
1985
GER
32:29.0
45
50
694
VODSEDALEK Ales
1985
CZE
32:33.6
46
44
1482
VAEHAESOEYRINKI Eetu
1990
FIN
32:36.7
47
57
722
TRACHUK Volodymyr
1985
UKR
32:37.3
48
56
594
KREINER Benjamin
1985
AUT
32:39.1
49
26
1404
DIER Dominik
1989
AUT
32:43.7
50
54
1410
BAUER Armin
1990
ITA
33:17.4
51
55
164
SAVILL Wesley
1989
CAN
33:40.2
52
32
1168
KARJALAINEN Joni
1987
FIN
Disqualified
53
1228
LEETOJA Aldo
1988
EST
19
1540
PARKHOMCHUK Andriy
1988
UKR
Did not start
49
1164
FELISAZ Jonathan
1985
FRA
25
1059
REUSCHEL Sebastian
1988
GER
Did not finish
31
1147
POCHWALA Tomasz
1983
POL
20
989
CAMEROTA Brett
1985
USA
Place
Oberwiesenthal
(GER)
Discipline
Gundersen NH HS106/10.0 K
Date
14.08.2010
Category
Grand Prix
Race codex
4020
Gender
M
TD Name
Lamb Joe (USA)



Rank
Bib
FIS Code
Name
Year
Nation
Result
1
15
973
MOAN Magnus-H.
1983
NOR
26:05.3
2
1
590
RYDZEK Johannes
1991
GER
26:11.4
3
18
1003
DVORAK Miroslav
1987
CZE
26:42.0
4
4
1050
FRENZEL Eric
1988
GER
26:55.3
5
16
203
HEER Ronny
1981
SUI
27:01.8
6
5
1152
RYYNAENEN Janne
1988
FIN
27:08.3
7
32
768
MINATO Yusuke
1985
JPN
27:30.2
8
24
643
MICHIELLI Giuseppe
1985
ITA
27:32.7
9
13
1059
REUSCHEL Sebastian
1988
GER
27:34.6
10
33
1149
KOKSLIEN Mikko
1985
NOR
27:35.7
11
3
609
LAHEURTE Maxime
1985
FRA
27:36.8
12
34
1015
PICHLMAYER Marco
1987
AUT
27:37.1
13
6
1650
SCHMID Jan
1983
NOR
27:40.5
14
11
215
CHURAVY Pavel
1977
CZE
27:40.9
15
7
1215
WEISS Johannes
1989
AUT
27:48.5
16
17
989
CAMEROTA Brett
1985
USA
27:48.8
17
10
623
HUG Tim
1987
SUI
27:50.2
18
12
1600
FAISST Manuel
1993
GER
27:51.7
19
30
1660
WENDEL Ole Christian
1992
NOR
27:57.1
20
19
1434
JELENKO Marjan
1991
SLO
28:02.2
21
35
1649
HENDRICKSON Nick
1991
USA
28:04.6
22
23
416
SLAVIK Tomas
1981
CZE
28:09.8
23
8
606
BRAUD Francois
1986
FRA
28:12.5
24
21
1067
FLETCHER Bryan
1986
USA
28:16.2
25
49
1439
FLETCHER Taylor
1990
USA
28:24.2
26
29
656
FOERSTER Markus
1988
GER
28:24.9
27
27
1164
FELISAZ Jonathan
1985
FRA
28:36.2
28
31
1527
GUY Samuel
1990
FRA
28:41.3
29
20
347
BEETZ Christian
1984
GER
28:44.6
30
26
1147
POCHWALA Tomasz
1983
POL
28:44.9
31
9
1010
HAUSER Robert
1988
AUT
28:46.3
32
40
349
HURSCHLER Seppi
1983
SUI
28:54.5
33
45
722
TRACHUK Volodymyr
1985
UKR
28:56.9
34
46
1418
BERLOT Gasper
1990
SLO
28:58.7
35
36
419
KLEMETSEN Haavard
1979
NOR
28:59.7
36
38
670
SCHLOTT Mark
1985
GER
29:09.7
37
28
1669
STORLIEN Gudmund
1990
NOR
29:12.4
38
48
594
KREINER Benjamin
1985
AUT
29:13.8
39
37
1210
KAMMERLANDER Carlos
1989
AUT
29:15.4
40
43
164
SAVILL Wesley
1989
CAN
29:22.6
41
53
1796
JOHANSEN Truls Soenstehagen
1991
NOR
29:44.7
42
14
1404
DIER Dominik
1989
AUT
29:51.1
43
55
694
VODSEDALEK Ales
1985
CZE
29:55.3
44
25
1737
MORWEISER Janis
1991
GER
29:59.2
45
58
1486
PIHO Kail
1991
EST
30:02.9
46
2
1444
SCHMID Tommy
1988
SUI
30:04.4
47
42
449
PFEIFFER Benjamin
1989
GER
48
39
1488
TIIRMAA Karl-August
1989
EST
49
52
1671
SEIDL Mario
1992
AUT
Did not start
57
216
TAKAHASHI Daito
1980
JPN
51
676
TEPEL Steffen
1985
GER
50
1461
SLOWIOK Pawel
1992
POL
44
677
TUSS Stefan
1988
GER
22
1029
PITTIN Alessandro
1990
ITA
Did not finish
56
1540
PARKHOMCHUK Andriy
1988
UKR
54
1410
BAUER Armin
1990
ITA
47
1482
VAEHAESOEYRINKI Eetu
1990
FIN
41
1168
KARJALAINEN Joni
1987
FIN
Comments
comments