Moguls: Kearney wins again; Bahrke, Deneen back on podium
Tweet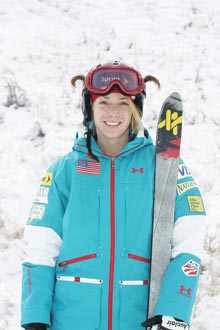 American Olympic gold medal-winning moguls skier, Hannah Kearney won her second World Cup competition in as many days today (March 13) in a duals event at Are, Sweden. U.S. teammates Shannon Bahrke (third yesterday) and Patrick Deneen (second yesterday) were back on the podium as well, finishing second and third, respectively.
"I feel fantastic. With it being the first dual, that's always a different ballgame. To win that as well as being able to win singles is really satisfying," Kearney said.
The win moved Kearney, the defending overall World Cup champion, into second place overall this season behind today's third-place finisher, Canadian Jennifer Heil. With only one contest remaining on this year's calendar, Heil (Vancouver Games silver medalist) has secured the overall title with 725 points to Kearney's 566.
"Duals is a tough thing to win because you have to ski five races in a day and that's a tribute to my consistency," said Kearney. "I did have some mistakes, but I competed through them and that's what makes it duals."
Bahrke, who has announced she will retire after this season, is ending her 12-year career on the U.S. Ski Team very strong. After collecting her second Olympic medal at the Vancouver Games (silver 2002, bronze 2010) the 29-year-old has gone on to podium at each of the following three World Cup competitions.
"I had a great day. I had some tough skiers that I had to go up against and I really skied the best that I have," said Bahrke who faced Kearney in the final . "I blew out against Hannah, which is kind of a bummer, but I skied well and I'm really happy with second."
Fellow U.S. bumper Eliza Outtrim finished fourth today to tie her career high, set at Deer Valley last season.
Canadian Chloe Dufour-Lapointe matched her result of yesterday in fifth place followed by American Heather McPhie in sixth.
Heil will collect her fifth crystal globe at season's end, tying American moguls legend Donna Weinbrecht's record.
"I would have to say this is one of the sweetest," said Heil who claimed the overall title every year from 2004 through 2007. "It's definitely a challenge to stay on top. To tie Donna for the all-time record is definitely nothing I had imagined when I started the sport. She had the best quality of turns and she really dominated the sport in her time, so to be in that same category is really special."
French skier Guilbaut Colas took the men's duals event for his third World Cup victory of the season. Canadian Maxime Gingras (third yesterday) was right behind in second for the 25-year-old's career best finish in a World Cup. Deneen, who marked his own career high in second yesterday, earned his sixth career World Cup podium in third today.
"It feels really good to get back on the podium for a second day," Deneen said. "I was really happy with the way I skied today and with it being the first dual event of the season it's nice to be on the podium and put down five solid runs."
World Cup rookie, Canadian Mikael Kingsbury, 17, also made great strides today with a career-high, fourth-place finish.
Olympic bronze medalist, American Bryon Wilson finished fifth to continue his best season ever.
World Cup leader and Vancouver Games silver medalist, Australian Dale Begg-Smith, who hadn't missed the top five all season until yesterday's eighth-place result, continued his slump with a tenth-place result. Begg-Smith retains his lead in the overall standings with 613 points. Sweden's Jesper Bjoernlund (ninth today) stands second with 541 points ahead of Colas with 515. Wilson is the highest-ranking American in fifth with 291 points.

The World Cup moguls season will wrap up next week with a final competition in Sierra Nevada, Spain.
Image if Kearney by USSA
Women's Results


Men's Results

Comments
comments