Moguls: Kearney wins in Are; Bahrke, Deneen podium
Tweet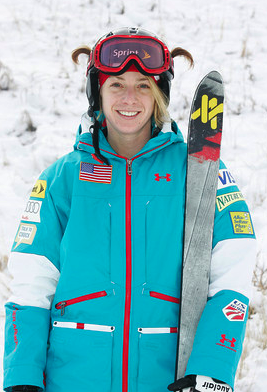 Though she took last week off following her Olympic victory, American moguls skier Hannah Kearney showed no signs of rust as she won her third World Cup contest of the season today (March 12) in Are, Sweden. It was a good day for the U.S. as two-time Olympic medalist Shannon Bahrke (third) and defending world champion Patrick Deneen (second) also landed on the podium.
The women's podium was an exact replica of the Olympic medals stand a month ago, with Kearney and Bahrke in first and third, sandwiching Canadian Jennifer Heil in second. Kearney also won on the same hill last season.
"I was in first place after qualifying, but Jen Heil had a much better second run. She stayed in first place as my other teammates, Heather and Shannon, went down," said Kearney who was the last competitor down the course. "I knew I needed to ski a good run, a similar situation to the Olympics."
North American women felt right at home in Europe today, filling the top eight spots. Americans Heather McPhie, Laurel Shanley and Eliza Outtrim finished 4,6,7. It was Shanley's best result in five years since finishing fifth in Voss, Norway in 2005 and Outtrim's season high. Canadian sisters Chloe and Maxime Dufou-Lapointe took fifth and eighth, respectively while teammate Kristi Richards took the final top-ten spot.
Bahrke, who has announced she will retire after this season, is ending her 12-year career on the U.S. Ski Team with a bang. The 29-year-old Olympic silver (2002) and bronze (2010) medalist has podiumed in five of her last six competitions.
With two contests remaining on the World Cup calendar, Heil controls the World Cup overall standings with 665 points to second-ranked McPhie's 516. Kearney, the defending champion, stands third with 466 points after some mid-season low results knocked her off course.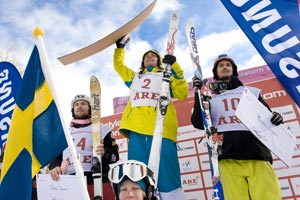 Sweden's Jesper Bjoernlund won the men's event in front of the home crowd for his third career World Cup victory (all coming this season).
With his second-place finish, Dennen marked a career high on the World Cup. Though he won last year's World Championships, the 22-year-old, Cle Elum, Wash. Native had never finished better than third in a World Cup competition until today.
Canadian Maxime Gingras finished third to claim his third career World Cup podium (all third-place finishes). Teammates Cedric Rochon was just off the podium in fourth place (a career high) while Vincent Marquis took seventh.
American men packed the bottom of the top 15 as Jeremy Cota, Michael Morse, David DeGravio and Joe Discoe finished 11,12,13,14. Vancouver Games bronze medalist Bryon Wilson finished 25th.
"Patrick skied a fast, aggressive run for his first podium of the year," said U.S. Ski Team Moguls Coach Todd Schirman."We are very proud of the U.S. Team today having 11 athletes in the finals."
World Cup overall leader and Vancouver Games silver medalist, Australian Dale Begg-Smith had his worst result of the season in eighth place.
Begg-Smith leads in the overall standings with 587 points, 75 points ahead of Bjoernlund in second. French skier Guilbaut Colas (fifth today) stands third with 415 points. Wilson and Morse stand in fourth and fifth with 246 and 238 points, respectively.
World Cup competition continues in Are tomorrow with men's and women's dual moguls competitions.
Photo of men's podium by
Daniel Rönnbäck

Kearney photo by USSA
Women's Results

Men's Results

Comments
comments