Moguls skier Holt Haga retires from U.S. Team
Tweet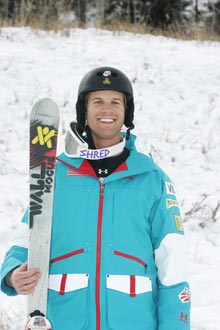 Park City, UT (July 8) – After two consecutive seasons plagued with sidelining injuries, Holt Haga (Boise, ID) announced his retirement with the U.S. Freestyle Ski Team. Haga competed on the Team for five years, winning the moguls at 2007 U.S. Freestyle Ski Championship.
"The biggest things that I've taken away from the Team are tools for life, like stress management tools and managing and setting goals, but more just the experience," said Haga. "I would never change being a part of the U.S. Ski Team and traveling with my friends while sharing experiences that not a lot of people get to share."
Haga first hit the bumps competitively in his early teens with Idaho's Bogus Basin program. He harvested his skills in Idaho through his teen years, before making the decision to move to Park City in his 20′s for the training environment at Utah Olympic Park. Wasting no time, Haga quickly racked up a national title at the age of 23.
"The best memory, personally is for me within the realm of skiing, was when I won the U.S.Championships. I had just made the U.S. Ski Team before that happened, so that month where I qualified for the Team and went out and won the U.S. Championships was definitely the coolest experience," said Haga. "All my friends were on the Team already and had made it. I was the one who hadn't quite broken through. I felt like I had finally accomplished that next step and that experience in itself was just really cool."
Haga, although faced with nagging injuries, put forth an admirable career, competing on the World Cup and NorAm Cup circuits and in FIS races. His most notable World Cup results came in 2008 when he scored two seventh place finishes at Lake Placid, NY and Mont Gabriel, Quebec. He also became a top NorAm Cup competitor standing on the podium several times.
"It is not a linear timeline. Progression doesn't happen in equal steps and segments," explained Haga. "A lot of it is just rolling the dice and eventually you play the odds if you can continue to perform."
Haga has already turned the page, starting a new chapter. He is currently enrolled at Westminster College, piling on the credits with hopes of graduating within the year. Haga has focused his academic career in the world of finance, double majoring in Economics and Finance. Upon graduation, Holt hopes to move to a city where he can climb the career ladder.
"I look back at my memories and the things I've been able to experience on the team," said Haga. "It's really like the little credit card commercials, it's priceless."
Image by Brian Robb/ USSA
Comments
comments