NCAA Championships: CU's Pletcher makes history; Buffs lead big
Tweet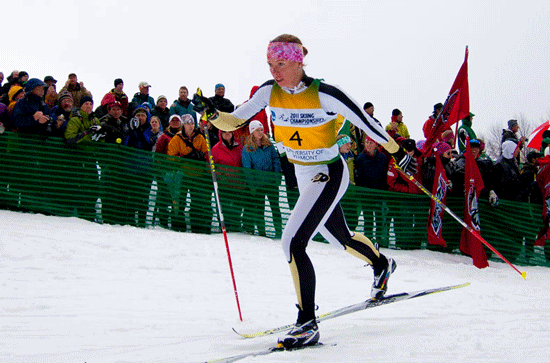 March 11, 2011
By Bryce Hubner
Colorado skier Reid Pletcher, hailing from Sun Valley, Idaho, made history today by becoming just the third American-born racer to win an NCAA Skiing Championships classical race, thrillingly pulling away from the mass start field over the final kilometer to capture the men's title in a 20K dogfight.
Though the 2011 champs kicked off with sublime weather and tracks on Wednesday, Pletcher and the rest of the field battled rain-soaked conditions at the Trapp Family Lodge nordic venue this morning. It was nevertheless a day of redemption for Pletcher, whose victory came on the heels of a disappointing start to the championships.
"I've had a great season, and I had a really hard time with Wednesday's result because I felt good but ended up 23rd," said Pletcher. "I've barely slept the past couple days trying to figure out what happened … But whatever went wrong on Wednesday all went right today."
Pinpointing what went right probably starts with a look at Pletcher's careful strategy.
Just after the halfway point, Utah's Miles Havlick, who finished third in the 10K free to open the championships, led a breakaway group of 16 competitors. But Havlick then crashed on a descent, gassed himself trying to get back in contact with the leaders, and settled for sixth place.
"It was a bummer to see Miles go down," said Pletcher, who added that he suspected crashes might be a factor given the conditions. "In the past I've gone out way too hard in the first 10K, so for the first half today, honestly, my strategy was just to maintain touch with the front and not crash."
Pletcher's circumspection, of course, proved invaluable. The pack of 16 whittled to seven by the final 8K, and Pletcher was perfectly happy being on the tail end of that group.
"My skis were really fast and I was just sitting in behind those top-six guys, not working that hard, and being patient," said Pletcher. "I made the move with exactly 1 kilometer to go, got a 10-second gap right away and maintained it all the way to the finish."
The final group of seven included Pletcher's Colorado teammate, Vegard Kjoelhamar, who was second in the 10K free two days ago. On this occasion, Kjoelhamar's team-minded effort helped Pletcher stay out.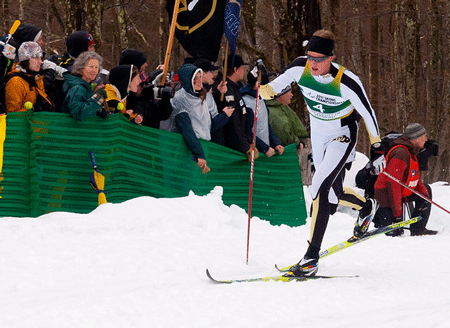 "We were all together until that final 1K climb to the finish," said Kjoelhamar. "Didrick Smith from Utah and Tor-Hakon Hellebostad from New Mexico were in front, then Reid jumped in front of them and they couldn't [respond in time]. Of course, I didn't want to go too because I might have pulled one of them up."
As Pletcher looked over his shoulder in the last 100 meters and saw that he was free, Kjoelhamar battled the others for second place. Another of the day's patient skiers, Erik Bjornsen form the University of Alaska-Anchorage, then capitalized on the fight and managed to cross the line second in a time of 1:05:31.4, 4.3 seconds behind Pletcher and 1.3 seconds ahead of Kjoelhamar in third. Hellebostad and Smith finished fourth and fifth, respectively.
Pletcher is known as a good sprinter, and when asked if he would have liked his chances in a tight sprint to the finish, he didn't hesitate.
"Oh no, I was happy to maintain the lead after I made the move," Pletcher said, equal parts relieved and elated. "I'm a good sprinter, but in long races I tend to get worn out before the finish: I was pretty tired at the end today — that was the longest kilometer of my life!"
Pletcher's was not the only victory for Colorado this morning. Two hours before he crossed the line, teammate Eliska Hajkova bested Utah rival Maria Graefnings in the women's mass start 15K classic after the pair comfortably led most of the race.
Graefnings and Hajkova distanced themselves from the pack by 15 seconds in the early stages, with Graefnings setting the pace in the opening third. After that, it was all Hajkova.
"Maria and I have totally different styles," said Hajkova after her win. "She has shorter steps than me, and so I don't like it so much when I follow her. When I realized I was feeling strong and could lead, I passed her and just made my tempo — doing what I wanted when I wanted."
Graefnings seemed content, though, as she tucked in behind Hajkova. There was little doubt one of the two leaders would win, but the question of who'd be strongest in the final kilometer lingered: was Graefnings simply drafting and conserving energy for a sprint, or was Hajkova truly dictating the pace as Grafenings worked hard to maintain contact?
That question was answered with 300 meters remaining. Graefinings looked strong and poised to take the lead as she doubled down the home stretch, but in the end, she proved no match for Hajkova's powerful sprint.
According to coach Cranmer, Hakova's win today was especially gratifying because she's been chasing Graefnings for most of the season, which includes having finished second to Graefnings here in the 5K free on Wednseday.
"Even though Eljska won both races at the regional championships a couple weeks ago, she gets very frustrated by Maria beating her," said Cranmer. "Eliska was stronger today and I'm very happy for her and for the rest of our team."
Alaska-Anchorage's Jaime Bronga skied a tremendous race, racing from bib 32 to cross the line in third with a time of 54:09.6, roughly a half-minute behind behind Hajkova at 53:33.3 and Graefnings at 53:37.5. Utah's Zoe Roy and Buff Joanne Reid finished fourth and fifth.
"I kept waiting for her to attack," said Hajkova. "When she did, I just had more strength and I was able to [open up the gap a bit] and lead into the finish."
Skis were undoubtedly a factor today and, amazingly, both the men's and women's race winners used the exact same pair.
"We spent a lot of time here early this morning, testing and waxing skis," said Colorado's head nordic coach, Bruce Cranmer. "On a wet day like this, there are so many combinations of klister and wax that it can be a little nerve racking."
Cranmer said the team allowed all if its members to choose which setup they employed, and because the diminutive Pletcher is almost the same size as Hajkova, he happily jumped on her skis — a no, or "zero," wax setup — after she won.
"Yeah, I had great skis — the same skis Eliska won on this morning, the zeros," said Pletcher. "The coaches did a great job getting [our skis dialed in]."
All six Colorado skiers finished in the top ten, which helped the Buffs extend their lead to a massive 84.5 points with a total of 647.0. The largest come-from-behind victory in NCAA skiing history was Vermont's erasure of a 36-point deficit in 1994.
Rounding out the top five are Utah (562.5), Dartmouth (500), New Mexico (492), and Vermont (451.5).
Just two events remain — tomorrow's men's and women's slaloms — and schools leading at the same point have won 14 of the last 16 NCAA Skiing Championships.
For complete results, please click here.
Photos:
– CU's Pletcher crosses the line and becomes one of only three American-born classical winners at NCAA Champs. Credit: Mark Collier
– CU's Hajkova en route to win in ladies' 15K classic. Credit: Mark Collier
– CU's Kjoelhamar climbing to second podium in three days. Credit: Mark Collier
Comments
comments