NCAA Championships, Day 1: Colorado charges to big lead
Tweet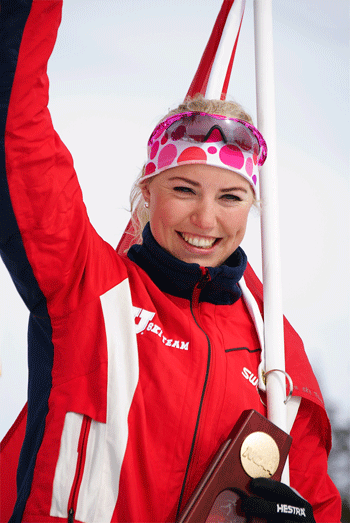 Colorado charges to big lead; Graefnings, Tarling, Dillingoen, and Stiegler win individual titles
March 10, 2011
By Bryce Hubner
The 2011 NCAA Skiing Championships kicked off March 9 with the University of Colorado Buffaloes charging to a huge lead on a day that featured four races at two separate venues in Stowe, Vermont.
The threat of an impending storm prompted race organizers to move the Stowe Mountain Resort men's and women's giant slaloms, previously scheduled for March 10, up a day, which meant that alpine races ran concurrently with the originally scheduled men's and women's cross country events at Trapp Family Lodge.
"It was a very busy day for everyone," said Richard Rokos, head coach at the University of Colorado. "And we are very happy with how we performed in all four races: we combined great podium results from our nordic skiers with all six of our alpine skiers finishing both runs, and that's a recipe for success at this event."
When the points were tallied in the early evening, Colorado — ranked second in Ski Racing magazine's Power Rankings — had garnered an impressive 408 points, followed by No. 5 Dartmouth College (362), No. 3 University of Utah (353.5), No. 1 University of Vermont (349.5), and No. 4 University of New Mexico (305).
Given the busy schedule on Wednesday, the 2011 NCAA Skiing Championships are technically 50 percent complete.
Since 2005, teams leading at the halfway-point have gone on to win five of six championships. In other words, Colorado's huge lead has all but made it a tightly contested race for second place. Here's how the Buffaloes — seeking an 18th national crown — launched an assault on the rest of the country:
Women's 5K Freestyle&Men's 10K freestyle
A clean, clear blue sky punctuated the palpable excitement that pervaded the crowd of spectators at Trapp Family Lodge. The conditions were idyllic, too — firm, dry snow — and at the end of the women's 5K freestyle event, Utah's Maria Graefnings bested all comers with a time of 13:51.9.
It was no surprise.
Graefnings was the most dominant skier — nordic or alpine, male or female — in the Rocky Mountain Intercollegiate Ski Association (RMISA) this year, winning seven of 10 regular-season races. Today, her stellar form was on display for the entire country to see.
"A lot of people were talking about Maria's technique on the climb to the finish," said Utah nordic coach Abbi Holt after the race. "She was the only racer who skied V2 [a double pole-plant technique] the entire way up the final climb — showing, I think, that she simply had more speed and confidence than any other skier in the field."
Despite the incredible aerobic effort and having been part of one of several teams that battled rugged travel delays en route to Vermont (a 40 hour trip, in Utah's case), Graefnings looked as though she hadn't sweat a drop after her win.
"I was just so exited to race," said Graefnings. "Despite the long travel, I felt great all day and I just tried to be quick and strong and still have lots of power left for the last 1.5K and the final climb. It worked pretty well."
On the individual front, the day belonged to Graefnings, but Colorado proved the strongest team, thanks largely to Eliska Hajkova and Joanne Reid, who finished second and third with times of 14:01.7 and 14:32.0, respectively. Teammate Alexa Turzian was also strong, finishing ninth, just 17 seconds off the podium.
"Obviously, with Eliska second, Joanne third, and Alexa ninth, it was a great day for the ladies — all in the top 10 with two on the podium," said Colorado nordic coach Bruce Cranmer.
Dartmouth skiers Erika Flowers and Rosie Brennan rounded out the ladies' best by finishing fourth and fifth with nearly identical times — 14:37.6 and 14:37.9 — and set the tone for Big Green's men, who dominated the 10K free.
Sam Tarling set the winning pace at 26:05.7 as teammates Nils Coons and Erik Packer finished fourth and fifth, 10 and 14 seconds behind. Utah's Miles Havlick, winner of the same event at RMISA Championships two weeks ago, finished third, only 6.1 seconds behind Tarling and 2.5 seconds behind second-place finisher Vegard Kjoelhamar of Colorado.
The 20-year-old Tarling, a sophomore at Dartmouth, won both nordic races at the 100th Dartmouth College Carnival in February, which he described as the highlight of his season. Until today.
"This is just amazing, I'm sorry I can't explain it better," said the soft spoken Tarling, who was searching for both air and words. "I just want to thank our coaches, who nailed the wax, and especially my mom and dad."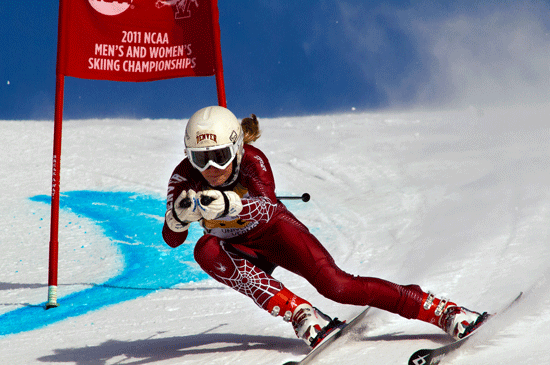 Men's and Women's Giant Slalom
After a monster snowstorm rolled through northern Vermont on Sunday and Monday, athletes and coaches alike feared roller coaster conditions on the Mainstreet track at Stowe Mountain's Spruce Peak. But, by all accounts, the race crew's phenomenal efforts — which included blading the new snow from the trail — made for a hard surface and fair race.
For three-time defending champion Denver, the day was bittersweet: Denver skiers Seppi Stiegler and Ida Dillingoen both came from behind in their second runs to win individual titles, but the team failed to make an impact on the overall chase for a crown.
In Dillingoen's case, it was a massive come-from-behind win, as the native of Oslo, Norway, erased a 1.08-second first-run deficit to claim a .53-second overall victory in a time of 2:05.98. Colorado's Sara Hjertman, who had the fastest time in run one, finished second in 2:06.51, and the University of Alaska's Alex Parker was third in 2:06:81.
It was the first collegiate victory of any kind for Dillingoen.
"It feels really good, and I'm really surprised," Dillingoen confessed after the race. "I love the hill, the terrain, and I liked the [grippy-but-firm] snow, which was good for me."
Dillingoen said that it was a mistake-laden first run that had her sitting in 11th-place, and from that position she felt she had nothing to lose in run two, "leaving nothing back and putting it all down the hill."
Dillingoen's all-or-nothing victory inspired Denver coach Andy LeRoy to look past some of the day's negatives.
"I'm obviously bummed that some of our other athletes who've worked hard didn't have things come together today, but I'm also so happy for Ida," said LeRoy. "It's three years of work paying off on the biggest stage. She really deserves it — an amazing come-from-behind victory."
While Dillingoen's win surprised, teammate Seppi Stiegler's win in the men's giant slalom did not. On Feb 6., Stiegler captured the 2011 Winter World University Games slalom in Erzurum, Turkey, asserting himself as one of the best collegiate ski racers in the world. He proved that again today by nailing down two second-place runs that combined for a large .79-second overall victory.
"It's a gratifying win," said Stiegler, a senior who's finishing his collegiate racing career at these NCAA Champs. "I was surprised by how hard the snow was, but it was still grippy. [The organizers] did a really good job getting it in shape."
Stie
gler finished with a time of 2:01.90, followed by Vermont's Kevin Drury at 2:02.69 and Utah's Ryan Wilson at 2:02.95.
Though Colorado's only alpine podium of the day was Sara Hjertma's silver, the Buffs — as coach Rokos noted — managed six solid, crash-free finishes by six skiers, winning the women's giant slalom as a team and finishing second in the men's giant slalom as a team.
Given the incoming weather, no events are scheduled for Tursday, March 10. Races will resume with the men's and women's 15K and 20K mass start classic races on March 11. In the meantime, according to coach Rokos, the event-leading Buffaloes will rest and support one another.
"I don't think the lead changes the way we'll approach the rest of the week," said Rokos. "We'll rest and the alpine skiers will cheer on the nordics at the mass start cross country races on Friday. After that, we'll reevaluate."
For complete results, click here. Please also note that athletes who finish in the top five are named first-team All-Americans, while places six through ten earn second-team All-America honors.
Photos:
– Colorado's Hajkova (2nd) and Reid (3rd) flank Utah's Maria Graefnings (1st) on the podium. Credit: Bryce Hubner
– Utah's Maria Graefnings celebrates 5K free win on Wednesday. Credit: Bryce Hubner
– DU's Ida Dillingoen en route to the 2011 NCAA GS title. Credit: Mark Collier
Comments
comments