NCAA Championships: Denver Three-peats!
Tweet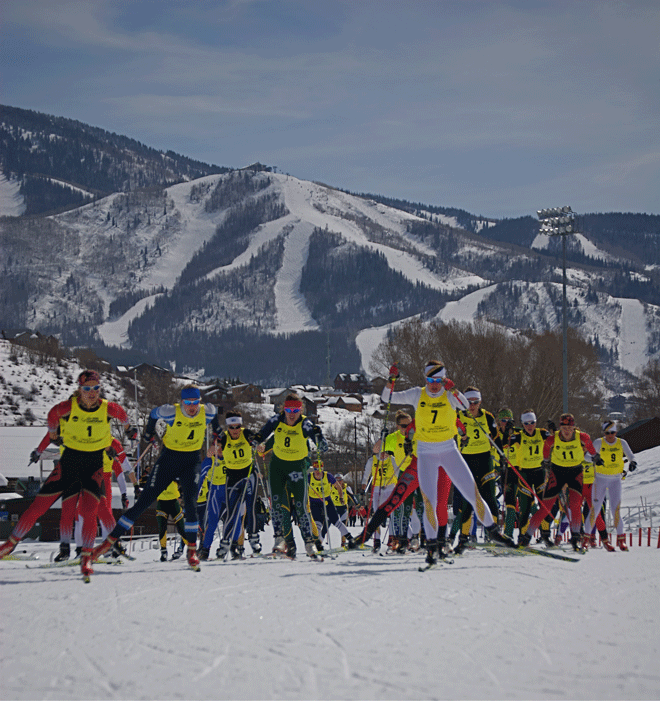 NCAA Championships: Denver Three-peats!
March 14, 2010
It's official. The University of Denver Pioneers cemented their third consecutive NCAA National Championship this morning in Steamboat Springs — their 21st win in all and their seventh since the year 2000.
DU opened inordinately strong on the first day of racing and never looked back, winning the title with a total of 785.5 points, 71.5 points better than runner up Colorado and 108.5 more points than third-place finishers New Mexico.
"Three championships in a row — it's unbelievable, to be honest," said Dave Stewart, DU's nordic coach. "I'm in shock."
Though Denver didn't need much on this final day of racing, its cross country ladies had another epic outing in the mass start 15K free, putting an exclamation point on the team's impressive overall title. Antje Maempel won again — her fourth NCAA individual championship win in as many tries, an accomplishment only achieved by one other female skier in NCAA history (Laura Wilson). Mari Elden followed up on her fourth-place finish two days ago by finishing eighth, and Kate Dolan rounded out the team's scoring with another strong finish in 11th.
"We put a lot of emphasis on getting better throughout the year — as individuals and as a team — and I think we've shown exactly that," Stewart said. "We've got skiers like Antje who came in at a very high level and continues to build on that, as well as skiers like Kate Dolan who arrived from the junior ranks and is growing into one of the best skiers in the country."
Stewart said Maempel isn't merely the fastest skier in the land, but an exceptional model for his team and all of NCAA skiing. "What she's done is incredible, of course," Stewart said. "But she's also an amazing person, a great student, and just a model of maturity for everyone around. She brings confidence to the entire team: she's so good and our other athletes look at her and think, 'Okay, that's what we can do, that's what we can be.'"
Denver didn't win a single RMISA carnival this year, but Stewart said it's no accident that the team comes together during championship season — they've got dynamics that can't be matched.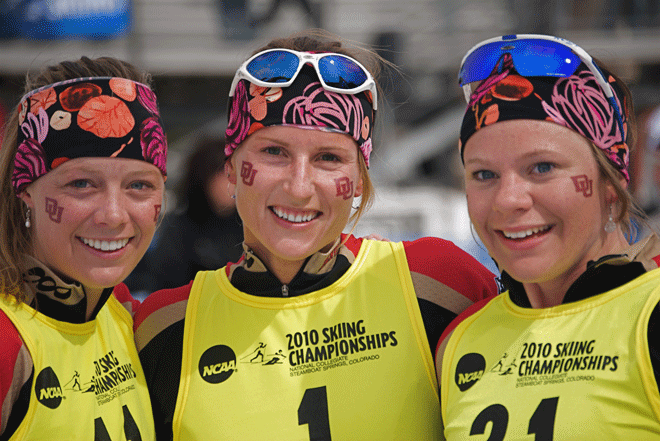 "I know it sounds corny," Stewart said, "but our skiers come into the championships every year with team being the emphasis. Our alpine skiers could have gone for personal glory last night, but they didn't, and to watch every one of them come to the finish line and score points so that we could win as a team today — you just don't see that [degree of selflessness] at any other place."
Also in the ladies' race, Buffaloes Alexa Turzian and Eliska Hajkova nailed down the second and third positions. The only skiers who were even close to Maempel, Turzian and Hajkova's performances helped Colorado climb into the runner-up position — where they've now finished three straight years behind DU.
The men's mass start 20K free kicked the final day into high gear at 9 a.m., featuring a half dozen lead changes that set the stage for a thrilling descent into Howelsen Hill's famous 'Steamboat Slingshot' finish line.
The pace was unrelenting from the first lap on. CU's Matt Gelso, New Mexico's Martin Kass, DU's Harald Loevenskiold, and UVM's Franz Bernstein refused to lose touch with one another throughout. A few breakaway attempts along the way gave a group consisting of those skiers — plus a few others — space as they reached the top of the final climb, grabbing aerodynamic positions for the two-kilometer downhill to the end.
Bernstein passed several skiers in his tuck, then sprinted at a super-human pace to steal victory from Martin Kaas. Winner two days ago in the 10K classic, Gelso rounded out a superb week by collecting bronze.
"I was nervous because I've been racing better classic most of the season," said Bernstein. "But a little ways into the race, I realized the coaches had set us up with awesome skis, awesome wax. From there my strategy was just to stay in touch with the leaders and hope I could get myself into a position to sprint at the end."
Make sure you look for complete coverage of the 2010 NCAA Championships — replete with further interviews from coaches and athletes — in the next issue of Ski Racing magazine.
In the meantime, the top five schools at this year's event:
University of Denver: 785.5
Colorado: 714
New Mexico: 677
Utah: 595
Dartmouth: 523
For complete results and team standings, click here.
– Bryce Hubner
Photos: women's mass start; men's mass start; DU's cross country ladies; DU 2010 champs.
Credit: Bryce Hubner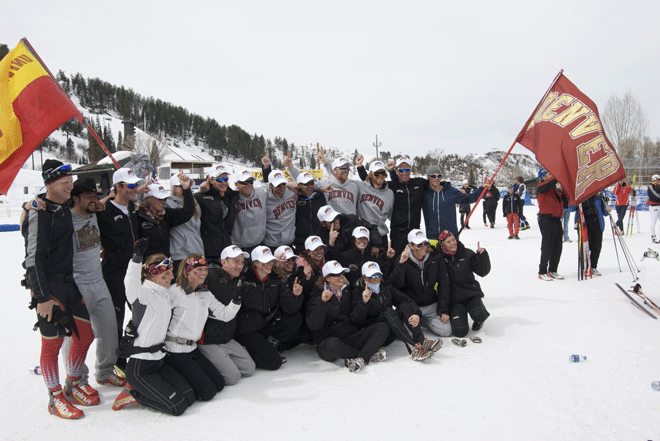 Comments
comments