NCAA Champs: Maempel, Gelso win; DU rolls
Tweet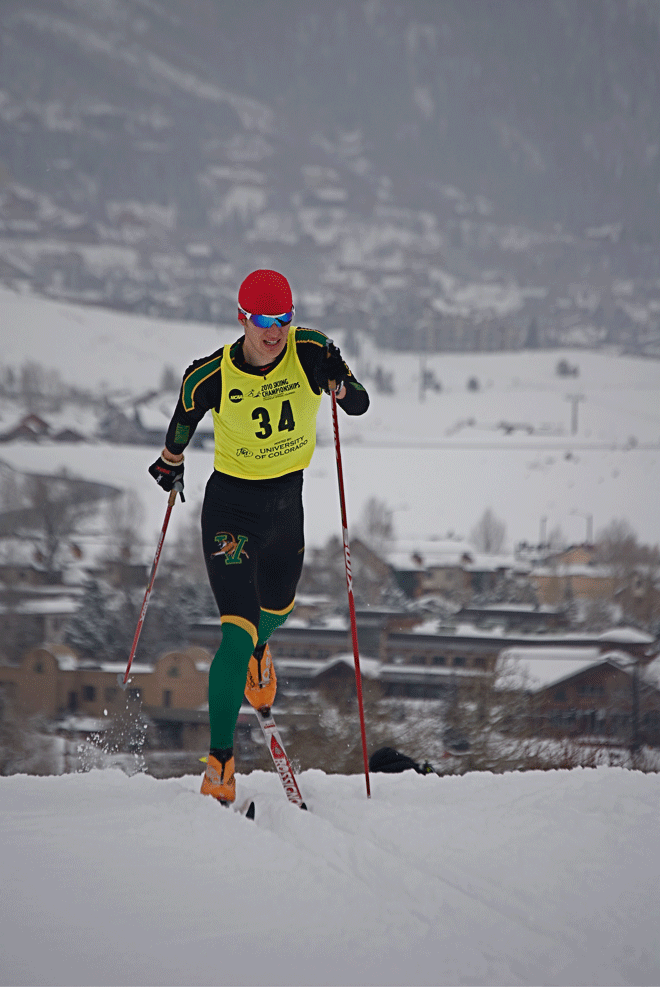 NCAA Champs, Day 2: Maempel, Gelso win; DU rolls
March 11, 2010
The University of Denver's Antje Maempel picked up where her alpine teammates left off yesterday, outclassing an exceptional field of skiers by almost 50 seconds en route to defending her NCAA title from a year ago.
The 5K loop at Howelsen Hill in downtown Steamboat Springs is brutally straightforward — three consecutive kilometers of grueling climb from the start, followed by a two-kilometer descent to the finish. Maempel skied the course in 16:03.4, and teammates Mari Elden and Kate Dolan piled on still more points for the Pioneers by finishing third and 13th, respectively.
"I didn't feel that great this morning, but we had really good skis," said Maempel. "I also knew this course really well because we've raced and trained here a lot. I went out very hard and just tried to stick with it and it worked out."
Maempel said DU's mastery of the field was a direct result of the team's having perfected their periodized training. "Our training is set up so that we peak right now, and it's worked very well the last couple years. Mari had her best race of the season today and though I know that Kate wasn't feeling great, she still finished 13th. It was a very good day for us."
Dartmouth's Rosie Brennan was all that stood between Maempel and Elden finishing one-two, having put down one of her best results of the season on a PCL-injured knee that will be surgically repaired next week. Though pain has been a burden since she incurred the injury in a mountain biking accident last fall, Brennan said it felt fairly strong today. "It felt pretty good," Brennan said. "It usually hurts more when we have tricky conditions or when I'm slipping a lot because I don't have good kick wax, but I had really good kick today, so it worked out pretty well."
Brennan was understandably glowing after the race, saying her second-place result was especially sweet because it was unexpected.
"I didn't really have high expectations because this season has been a little bit of a bummer with my knee," Brennan said. "I just wanted to go out as hard as I could to try to have one last hurrah and end the season on a high note." Mission accomplished.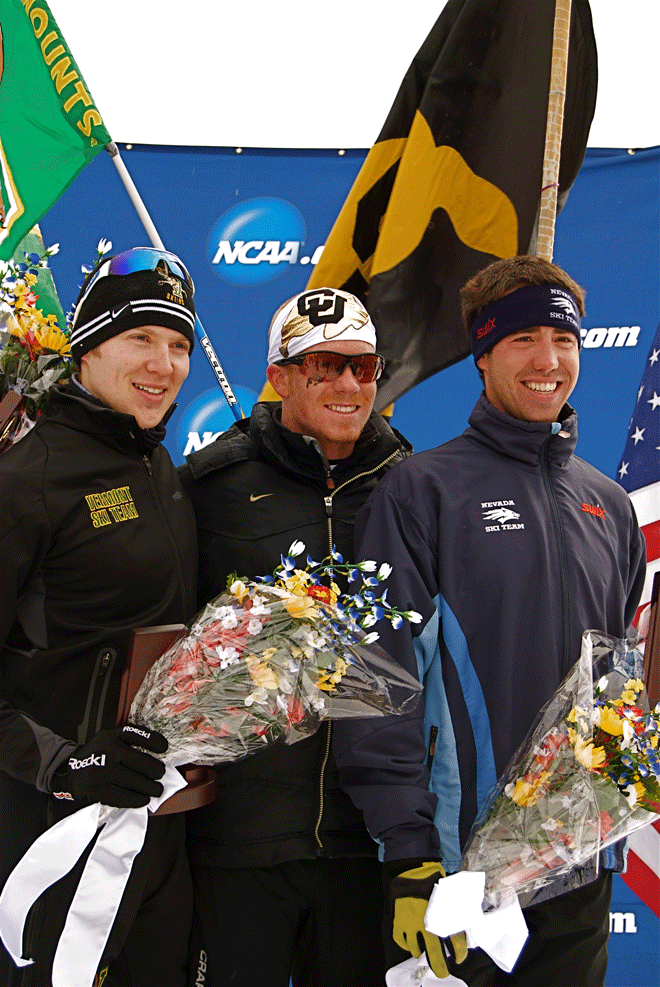 The hosting Buffs finally claimed their first major hardware of the NCAAs in the men's 10K classic. CU's Matt Gelso, who won both RMISA Championships races at this venue two weeks ago, raced to victory in a time of 29:25.5.
"I was a little worried this morning because I was feeling tired, but that's happened the last few races and I've still skied really well," Gelso said after his victory. "My strategy was to simply go out hard and hang in there — it seemed to work."
Gelso — along with many in the field — said the toughest part of the track may have been a battle between the ears, as conditions made for doubts about the waxing.
"I warmed up on skis that had the same setup as our race wax," Gelso said. "I thought it was marginal at best and, to be honest, I was nervous about it. But, I calmed myself down and realized that everyone else in the field was probably struggling with the same thing. Our coach — Bruce Cranmer — is a great wax coach and he really ended up nailing it. I think I had great kick for probably 85 percent of the race, which on a day like today is a miracle."
Vermont's Franz Bernstein claimed second while Nevada's Charlie Smith rounded out the podium in third. After the race, Bernstein echoed Gelso's comments about how the the conditions were difficult to navigate.
"It was snowing pretty hard when we first started," Bernstein said. "But it stopped as the race went on and it was a little bit hard to find the right kick. Other than that, I felt great. We arrived more than a week ago and had time to get used to the altitude, which I think was very helpful."
So the altitude wasn't a problem?
"It definitely burns more — I wish I had an oxygen tank at the top of the hill," Bernstein said. "But as long as you start out a little slower here than you might at sea level in the East, it can work out just fine."
Thanks largely to the stellar performance of its nordic ladies, DU increased it's sizable lead today. At the halfway mark, the 2010 NCAA Championships team standings:
University of Denver: 420
Colorado: 351
New Mexico: 319
Utah: 300.5
Vermont: 287.5
For complete results, click here.
– Bryce Hubner
Photos: Women's 5K classic podium; UVM's Franz Bernstein en route to second; men's 10K classic podium.
Credit: Bryce Hubner
Comments
comments