NCAA Skier Spotlight: Ida Sargent
Tweet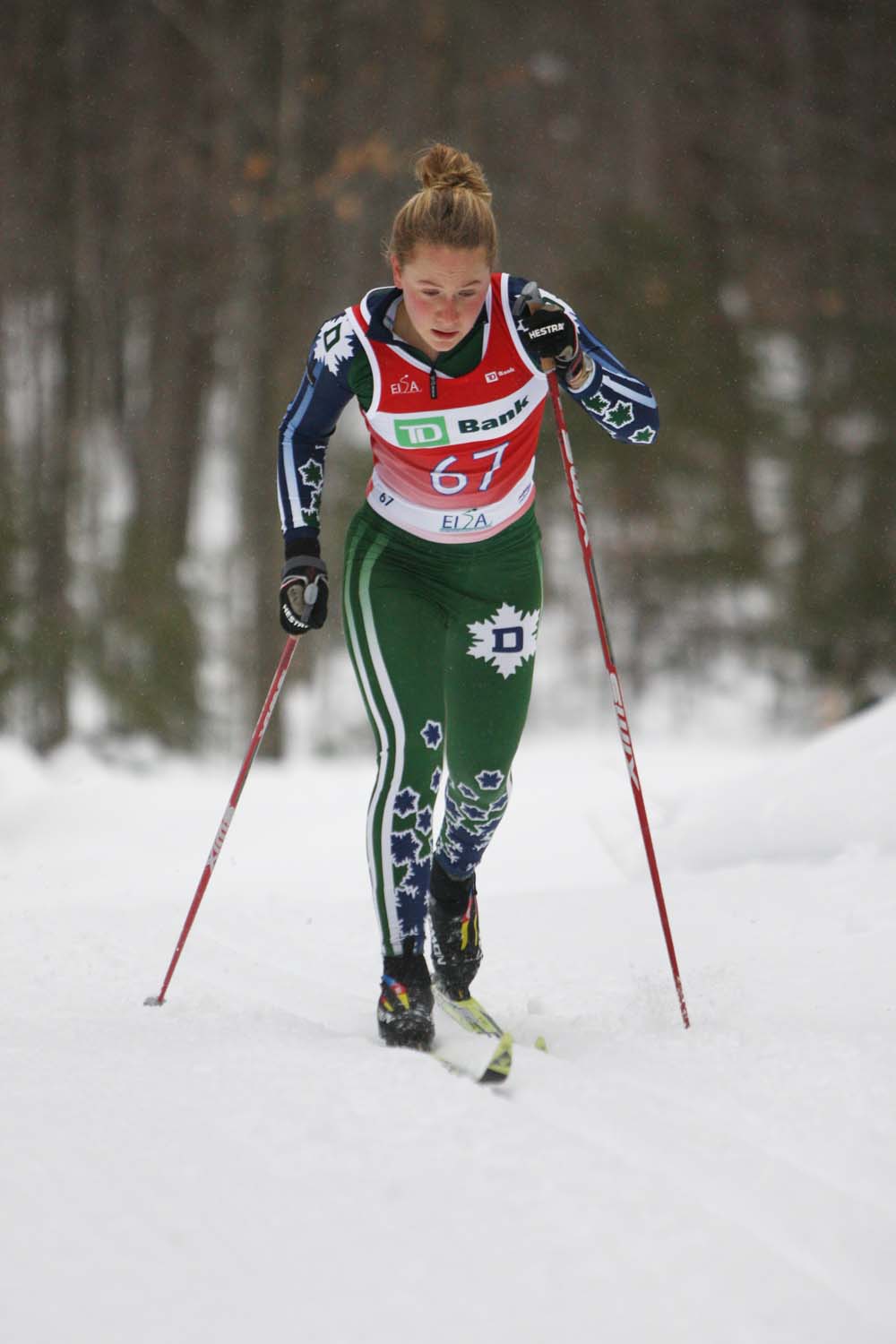 by Bryce Hubner
January 20, 2010
"I'm just having a lot of fun racing right now and I think it's made a huge difference."
Ida Sargent, 21, a Vermont native and Dartmouth College junior, has already had tremendous success over the years as a young talent in the U.S. cross country ranks, but she's off to the best start of her career in 2010.
At the ConocoPhillips U.S. Cross Country Championships in Anchorage, Alaska, earlier this month, the intrepid Sargent skied well across the board and scored her first senior champs podium in the women's classic sprint, finishing just behind Kikkan Randall and Laura Valaas. Sargent's week-long results earned her a spot representing the U.S. at the U23 World Championships, which commence later this month in Hinterzarten, Germany.
Sargent followed her Alaska success with a commanding performance during EISA's opening weekend at the St. Lawrence University carnival on January 15 and 16, winning both races and leading Dartmouth's team to overall victory.
Ski Racing briefly caught up with the modest Ivy-Leaguer right before she jumped on a plane to Germany for U23′s:
Between U.S. Cross Country Championships and the opening carnival at St. Lawrence, you're clearly on a roll. What's made the difference in your skiing and your confidence lately?

Its been a great start to the season and I just want to keep things going right now. I had a rough season last year, but I've made a few changes and relaxed and things have come together. I took classes at Dartmouth and trained with the team for the summer, which was awesome and lots of fun. Then this fall I was able to take the term off from school to focus on skiing, which has made a huge difference. I trained and raced with the Craftsbury Green Racing Project in Craftsbury, VT. It allowed me to race in all the early season SuperTours and NorAms which has helped my season get off to a strong start. I had some great early results which built my confidence. Nationals went really well — making the podium for the first time ever was unbelievable and gave my season even more momentum. Now, I'm back with the Dartmouth team and we're all pretty excited the carnival season has started. I'm just having a lot of fun racing right now and I think it's made a huge difference.
What helped you and the rest of your Dartmouth team ski so fast at SLU — especially when you ladies claimed spots one through five in the classic race on Friday?
The conditions were really tricky this weekend, but I think it was an advantage for our team. We're tough. We rarely have superb skiing conditions at Oak Hill (our home course) but its made us strong as a team. On Friday, it was raining and snowing so the waxing was tricky. [Our coaches] Cami and Ruff always stay calm and relaxed in those situations, which helps our team do the same. The snow varied a lot all over the course — from ice to cold powder — so the wax worked great in some places, stuck and iced in some places, and slipped in others. You just had to put your head down and tough it out — that's what we did. It doesn't get much better than sweeping the top-five in the first race of the season.
Photo: Ida Sargent races to victory at SLU
Credit: Lincoln Benedict / EISA
Comments
comments