New Utah Concussion Law Affects Young Snow Athletes Nationwide
Tweet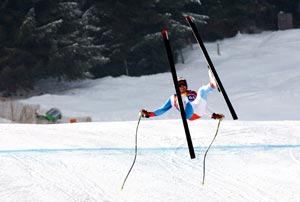 During its latest session, the Utah legislature handed down a new law that will reach far beyond state borders as all U.S. Ski and Snowboard Association (USSA) coaches and officials now have the legal responsibility to remove young athletes with suspected head injuries from competition and training.
The new law (Utah House Bill 204), requires coaches and officials working with under-18 athletes in all sports to adhere to its strict guidelines. Since the USSA is headquartered in Park City, Utah, all of the organization's 450 clubs across the country are also required to comply as of May 20.
"It's a legislation designed to protect youth athletics, particularly high school athletes form returning from a head injury too soon, which could lead to other ramifications down the line," said USSA medical director Kyle Wilkens. "Anything we can do to protect the kids is going to be better for them in the long run."
Concussions were a hot topic during the 2011 ski racing season. Between Olympic gold medalist Lindsey Vonn's well publicized head injury complications at the 2011 World Championships and World Cup winner Marco Sullivan's season-ending concussion at the end of December, head injures and the protocols that dictate when athletes should return to activity took the center ring of the White Circus and has sparked concern down to the junior level.
The law was introduced and explained to a collection of coaches and club directors at the 2011 USSA Excellence Conference for Clubs in mid-May by Wilkens and the organization's legal counsel. The law requires the USSA to adopt and enforce a strict head injury policy, inform parents of the policy and collect their signatures. The thrust of the policy requires that any coach or official that has reason to believe an athlete has sustained a head injury, remove the injured athlete from all competition and training activities until they are cleared by a certified medical professional who has been trained and certified in the last three years.
"Most of the responsibility falls on the coaches and TDs (technical delegate) in the case of ski racing, to be educated on the recognition of a concussion as well as the ramifications of training and competing with symptoms of a concussion before they are fully resolved." said Wilkens. "We are going to see more of these laws across the country to where there is going to be legislation adopted by many other states to protect kids from having coaches push them back into competition too early."
The administration of the USSA will create an online registration process to collect parent signatures, collect information on injured athletes and ensure that injured athletes remain out of competition until cleared to return.
Wilkens and the USSA are directing all parents and coaches to gain further education on head injures to the Center for Disease Control's Heads Up: Concussion in Youth Sports website.
Comments
comments