Nine sites make bids for FIS World Championships
Tweet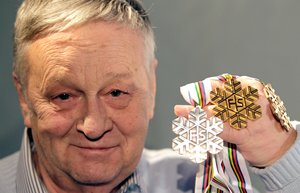 Nine applications to host World Championships have been received by the FIS (International Ski Federation) for title meets in 2016 and 2017 ahead of the May 1, 2011 deadline.
Two of the championships bids are uncontested: Kulm, Austria for the 2016 Ski Flying Championships, and Sierra Nevada, Spain for the 2017 Freestyle and Snowboard Championships.
Four sites have submitted bids for the 2017 Nordic World Championships: Lahti Finland, Oberstdorf Germany, Plancia Slovenia and Zakopane Poland.
Three sites have submitted applications for the 2017 Alpine World Championships, Are Sweden has joined with Cortina d'Ampezzo Italy and St Moritz Switzerland. Cortina and St Moritz had also bid for the 2015 championships won by Vail.
"Just weeks after the successful 2011 editions, FIS is happy to witness the continuing interest for the organization of the FIS World Championships. This high number of applications by several nations and the world's premium resorts underlines their importance in the global sports calendar," commented FIS President Gian Franco Kasper.
The FIS Council will elect the organizers of the 2016/2017 FIS World Championships during the 2012 Congress week in Gangwon Province (KOR) on May 31, 2012. Prior to that, each Candidate, together with its National Ski Association, will prepare its detailed concept by September 1, 2011 based on a specific FIS Questionnaire, containing details such as plans for sports organization, accommodation, transportation, logistics, security, media, communications, marketing, ceremonies, the environment, spectator services and fan experience.
The FIS Inspection Group members will review the project in detail together with the Candidate during this phase and meet with them during the FIS Technical Committee Meetings in October 2011. Thereafter each Candidate will finalize its documentation relating to the concept for the project.
During the 48th International Ski Congress week, each Candidate will have a chance to make a final presentation to the FIS Council as well as the respective Technical Committees. They will also be able to present their candidatures to the extended FIS family and discuss their plans at dedicated exhibition stands at the 2012 FIS Congress venue.
Photo of G-F Kasper with FIS medals by Gepa
Comments
comments