Nordic Combined: Austrians sweep the podium in Schonach
Tweet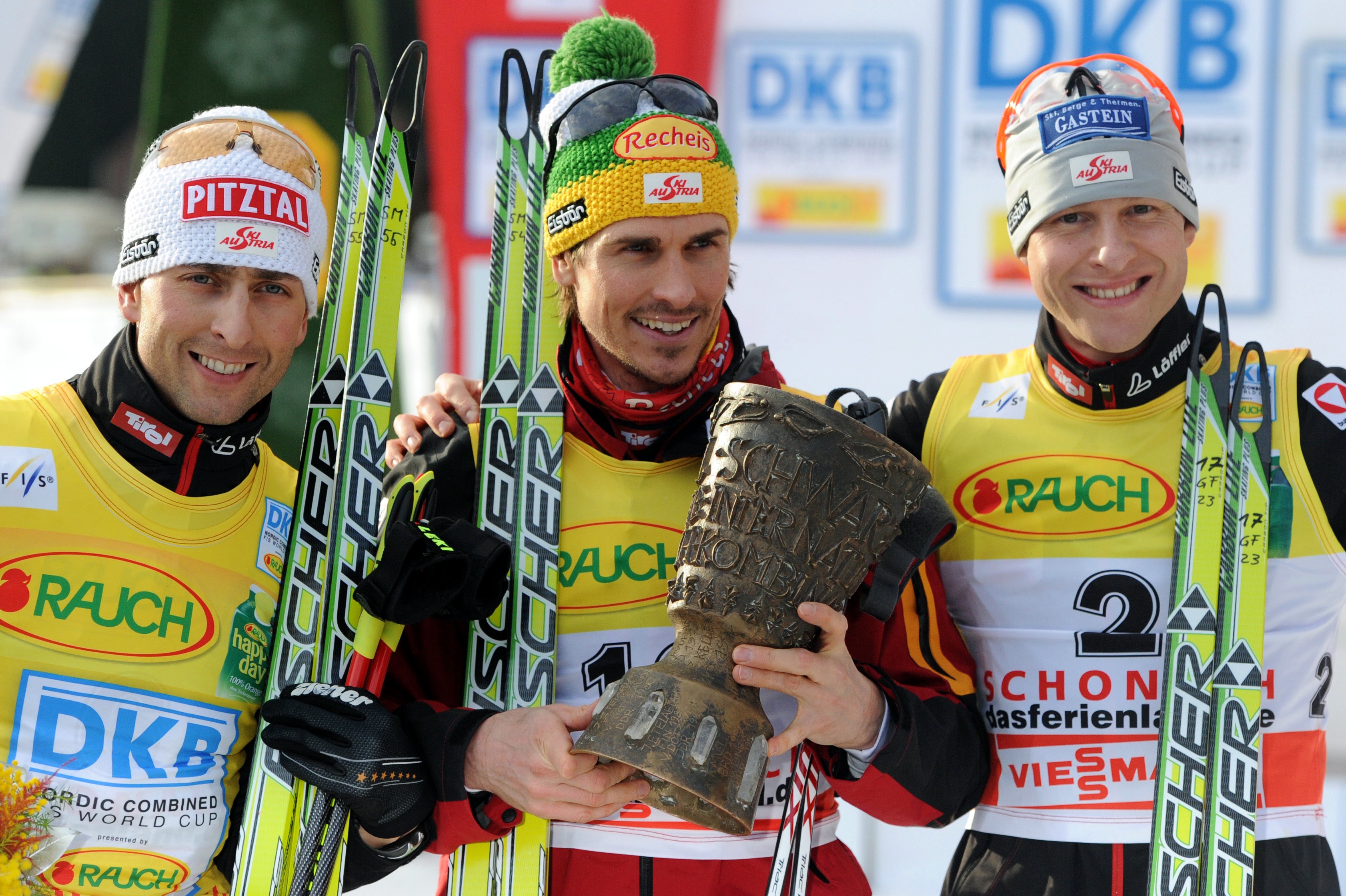 Austria rang in the New Year with a bang today (Dec. 8), making history by completing their first World Cup podium sweep at the Schonach, Germany DKB FIS World Cup. Felix Gottwald took first, with Mario Stecher in second and Gruber Bernhard rounding out the podium in third.
Gottwald's career 23rd victory came only three weeks after a shoulder injury and, with his 35th birthday on January 13th, he also is now the oldest athlete to win a Nordic Combined World Cup. "I was happy that I injured my shoulder and that it was nothing more serious," he said. "Then, I worked hard to come back, I did not follow school medicine ideas, which say do not to move a broken bone. My therapy worked. We can see the result today."
Jason Lamy Chappuis (FRA) won the ski jumping portion of the event, posting a new hill record on the "Langenwaldschanze" and then leading the pack in the cross-country for the more than half the race. Unfortunately, an illness from last week is said to have slowed him down allowing a group of four to take the lead. He was unable to stay with the pack, dropping to 11th place, his worst showing in over a year. However, Lamy Chappuis still remains among the top racers in the field holding on to second place in the overall standings.
Fastest on the track was Mikko Kokslien (NOR) moving up from a 39th place mid-session to a final eighth place.
Mario Stecher now leads the overall standings. "It is a special day for me – being on the podium with two teammates, and holding the yellow bib as the overall World Cup leader. The last time I led the overall was 14 years ago," he said.
The U.S. Ski Team's Bryan Fletcher posted a strong jump in ninth, but dropped back in cross country after breaking a pole to finish 31st and out of the points.
"We had really expected that Bryan would be able to hold his position in cross country," said Nordic Combined Coach Chris Gilbertson. "He just got frustrated with the situation. A big train caught him and passed him and he wasn't able to hang onto them. He lost a lot of enery to that."
The FIS Nordic Combined World Cup will continue with another event in Schonach tomorrow (Dec. 9).
Rank
Bib
FIS Code
Name
Year
Nation
Result
1
13
35
GOTTWALD Felix
1976
AUT
24:38.4
2
6
8
STECHER Mario
1977
AUT
24:54.0
3
2
252
GRUBER Bernhard
1982
AUT
24:54.6
4
7
1650
SCHMID Jan
1983
NOR
25:01.5
5
15
1136
WATABE Akito
1988
JPN
25:09.8
6
11
590
RYDZEK Johannes
1991
GER
25:12.0
7
14
257
KIRCHEISEN Bjoern
1983
GER
25:15.2
8
39
1149
KOKSLIEN Mikko
1985
NOR
25:19.0
9
31
973
MOAN Magnus-H.
1983
NOR
25:20.7
10
36
137
KREINER David
1981
AUT
25:21.2
11
1
610
LAMY CHAPPUIS Jason
1986
FRA
25:25.3
12
23
1003
DVORAK Miroslav
1987
CZE
25:32.3
13
18
1464
RUNGGALDIER Lukas
1987
ITA
25:33.9
14
16
459
LACROIX Sebastien
1983
FRA
25:38.6
15
3
419
KLEMETSEN Haavard
1979
NOR
25:43.9
16
35
1050
FRENZEL Eric
1988
GER
25:44.1
17
19
1152
RYYNAENEN Janne
1988
FIN
25:45.9
18
38
205
KOBAYASHI Norihito
1982
JPN
25:47.6
19
17
683
RIAN Espen
1981
NOR
25:55.1
20
5
727
KATO Taihei
1984
JPN
25:56.7
21
26
715
ORANIC Mitja
1986
SLO
26:06.5
22
21
351
EDELMANN Tino
1985
GER
26:08.1
23
34
1410
BAUER Armin
1990
ITA
26:08.4
24
29
768
MINATO Yusuke
1985
JPN
26:12.5
25
22
347
BEETZ Christian
1984
GER
26:14.4
26
12
1296
BOESL Wolfgang
1989
GER
26:24.3
27
28
606
BRAUD Francois
1986
FRA
26:26.5
28
37
623
HUG Tim
1987
SUI
26:28.0
29
8
1700
WATABE Yoshito
1991
JPN
26:29.2
30
24
1418
BERLOT Gasper
1990
SLO
26:35.6
31
9
1067
FLETCHER Bryan
1986
USA
26:37.4
32
40
1029
PITTIN Alessandro
1990
ITA
26:41.9
33
42
592
KLAPFER Lukas
1985
AUT
26:45.6
34
61
200
HASENEY Sebastian
1978
GER
26:47.9
35
10
1059
REUSCHEL Sebastian
1988
GER
26:53.5
36
49
1164
FELISAZ Jonathan
1985
FRA
26:55.8
37
4
1434
JELENKO Marjan
1991
SLO
26:56.3
38
27
609
LAHEURTE Maxime
1985
FRA
27:08.9
39
56
203
HEER Ronny
1981
SUI
27:12.0
40
54
416
SLAVIK Tomas
1981
CZE
27:16.5
41
55
643
MICHIELLI Giuseppe
1985
ITA
27:16.8
42
60
1192
DRUML Tomaz
1988
AUT
27:20.7
43
62
676
TEPEL Steffen
1985
GER
27:26.8
44
20
1479
PANIN Ivan
1987
RUS
27:27.0
45
57
1486
PIHO Kail
1991
EST
27:33.0
46
30
1462
CIESLAR Adam
1992
POL
27:33.2
47
53
349
HURSCHLER Seppi
1983
SUI
27:36.7
48
32
694
VODSEDALEK Ales
1985
CZE
27:40.4
49
45
294
GUENTER Andreas
1988
GER
27:42.6
50
46
1147
POCHWALA Tomasz
1983
POL
27:44.7
51
63
100002
GRAABAK Joergen
1991
NOR
27:45.0
52
25
1444
SCHMID Tommy
1988
SUI
27:45.3
53
44
1600
FAISST Manuel
1993
GER
27:45.5
54
51
215
CHURAVY Pavel
1977
CZE
27:53.3
55
47
1168
KARJALAINEN Joni
1987
FIN
27:54.8
56
52
1439
FLETCHER Taylor
1990
USA
27:56.4
57
65
467
RIESSLE Fabian
1990
GER
28:13.5
58
67
1538
DENNEY Brett
1990
USA
28:23.8
59
41
1488
TIIRMAA Karl-August
1989
EST
28:36.2
60
33
981
CAMEROTA Eric
1985
USA
28:37.2
61
59
1461
SLOWIOK Pawel
1992
POL
28:49.9
62
48
986
MATVEEV Dimitry
1984
RUS
29:00.9
63
50
1432
PLAZNIK Matic
1990
SLO
29:03.0
64
64
164
SAVILL Wesley
1989
CAN
29:05.6
65
66
1556
ISAYKIN Denis
1988
RUS
29:20.6
Disqualified
33
1669
STORLIEN Gudmund
1990
NOR
Did not start
58
214
DENIFL Wilhelm
1980
AUT
Did not finish
43
1689
NABEEV Niyaz
1989
RUS
Comments
comments