Nordic Combined: Austria's Felix Gottwald wins day two of Kuusamo DKB FIS Nordic Combined World Cup
Tweet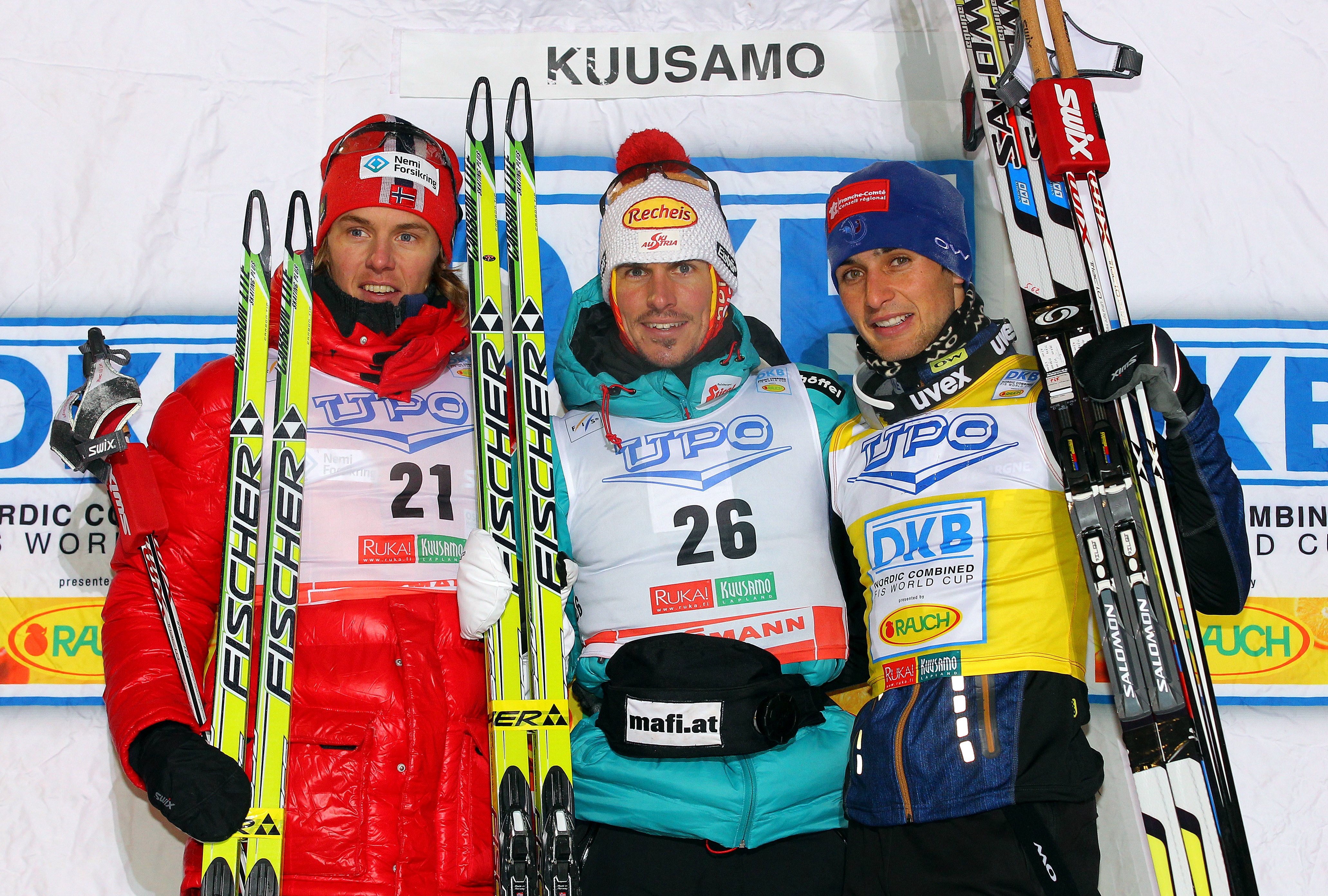 Veteran Felix Gottwald won the second day of the DKB FIS Nordic Combined World Cup in Kuusamo, Finland today followed by Norway's Mikko Kokslien in second and yesterday's winner and overall World Cup leader Jason Lamy Chappuis in third.
"I did not count seconds or think about my chances of winning the competition or finishing on the podium," said Gottwald. "I just wanted to run a good race and enjoy my last appearance as an athlete here in Kuusamo."
Lamy Chappuis won the jumping portion of the competition for the second day in a row, leaving a full two minutes for Gottwald to make up in a challenging sub-zero temperature cross-country race. After hanging behind for the first 2.5 km lap, Gottwald regained precious time in lap two, and broke ahead in the fourth and last uphill, finishing 7.5 seconds ahead of Kokslien and 9.5 seconds ahead of Lamy Chappuis, to repeat as Kuusamo's fastest skier for the second day in a row. "I was satisfied with my ski jumping, but the race was really tough and Felix and Mikko were really fast," said today's jumping winner, Lamy Chappuis. "I tried to follow Felix when he passed me, but I wasn't in a great shape."
Kokslien, who finished second, was pleased with his personal best finish. "This is my best World Cup result after a third place which I achieved in Vikersund in 2008. Therefore, I am very happy," he said.
American Olympian Bryan Fletcher also posted a career best finish. After jumping into 22nd with 127 meters, Fletcher moved forward four places to 18th. His teammate, Olympic champion Billy Demong, struggled once again in the jumping portion of the competition, starting the cross-country 3:19 behind leader Lamy Chappuis, in 38th and finishing 36th just ahead of teammate Taylor Fletcher Fletcher in 39th.
With his victory today, Gottwald trails behind Jason Lamy Chappuis by ten points in the overall (150 to 160), Eric Frenzel, who finished fifth today, is third with 125 points.
The FIS World Cup heads to Lillehammer, Norway for another pair of events next weekend.

Today's top three:
1. Felix Gottwad (AUT) 116.8 points (26)/26:17.5 min (1) 28:17.5
2. Mikko Kokslien (NOR) 127.1 points (21)/27:06.0 min (14) +7.5
3. Jason Lamy Chappuis (FRA) 146.8 points (1)/28:27.0 min (25) +9.5

For full results see attachment below

World Cup Standing:
1. Jason Lamy Chappuis (FRA 160
2. Felix Gottwald (AUT) 150
3. Eric Frenzel (GER) 125
4. Mario Stecher (AUT) 110
5. Mikko Kokslien (NOR) 109
6. Jan Schmid (NOR) 80

For full standing see attachment below
Comments
comments