Nordic Combined: Chappuis wins Ramsau World Cup; Lodwick, Spillane, Demong in top ten
Tweet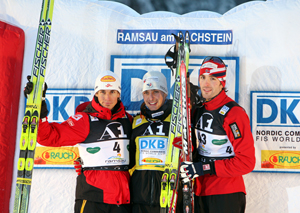 French nordic combined skier Jason Lamy Chappuis grabbed his third World Cup victory of the season today (Dec.18) in Ramsau, Austria. The 23-year-old was in second place coming out of the jumping portion of the event then held on to the lead, finishing 17th in the 10 km cross country race.
"This was maybe not my most difficult victory in this season, but for sure the win which I am most proud of," said Chappuis. "Beating an Olympic Champion like Felix Gottwald is a great deal."
Austrian Felix Gottwald took second place ahead of Norway's Magnus Moan who overcame is 43rd-place jump by winning the cross country race. He was 21 seconds ahead of his nearest competitor.
The American team and a strong showing as two-time world champion Todd Lodwick finished sixth in his first World Cup competition of the season, followed by teammate Johnny Spillane in eighth. Bill Demong, second in the cross country race, finished tenth.
Chappuis now holds a commanding 101 point lead in the World Cup overall standings ahead of German Tino Edelmann. "Leading in the overall World Cup is a nice thing, but the main goal in this season is still an Olympic medal," said Chappuis.

World Cup nordic combined competition continues in Ramsau tomorrow Dec. 19 and Sunday Dec. 20.
Image by Gepa
Comments
comments