Nordic Combined: Demong, Lodwick go one, two in World Cup
Tweet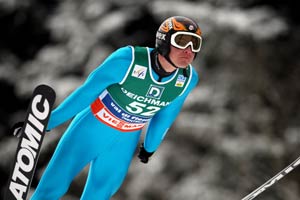 American world champion nordic combined skiers Bill Demong and Todd Lodwick finished first and second in a World Cup competition today (Jan. 10) in Val di Fiemme, Italy.
"This was a different kind of race for everybody," said Demong. "It was important to keep the motivation high. It is my first victory in this season, but 200 meters before the finish line I did not believe in it."
Both skiers finished in the top-ten of yesterday's competition and capitalized on the momentum to finish at the top today.
Demong had the day's seventh-best jump and third-fastest cross country race time to earn his ninth career World Cup victory. Lodwick took fifth in the jump and seventh in the cross country race to secure his 27th career World Cup podium.
"The success is very important for my self confidence, I wanted to go as fast and hard as possible and hoped to see the finish line," said Demong. "Every race is a test in view of the Olympic Games, and it seems that we are getting fit. We have to keep this momentum now."
Germany's Eric Frenzel finished third.
Yesterday's winner Felix Gottwald of Austria was fastest on the track yet again and finished fourth.
Due to bad weather, the competition jump was cancelled today and the athletes started with the result of Friday's Provisional Competition Round result with Anssi Koivuranta from Finland in the lead.
"It was not my easiest race but being on the podium here is fantastic. This is a big day for us," said Lodwick.
Fellow American Johnny Spillane, who was in third place coming out of the jump, twice broke his poles and slipped to 22nd on the day a week after winning his first World Cup event.
World Cup overall leader Frenchman Jason Lamy Chappuis finished seventh today.
To view the complete results sheet click the attachment at the bottom of the page.
Image by Gepa
Comments
comments