Nordic Combined: France's Lamy Chappuis takes the win in Seefeld
Tweet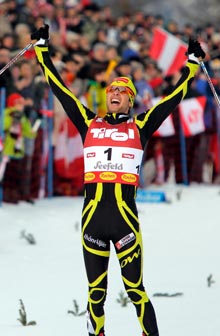 With the World Cup's current leader, Austrian Mario Stecher sidelined due to injury, Olympic Champion and defending overall World Cup title holder Jason Lamy Chappuis of France won a DKB FIS Nordic Combined World Cup competition in Seefeld, Austria today (Jan. 15) to take back the overall lead. He was joined on the podium by Norwegian teammates Magnus Moan and Mikko Kokslien in second and third, respectively.
"Today's competition jump was maybe my best ever," said Lamy Chappuis. "It was just outstanding and the basis for my victory."

Lamy Chappuis took the lead early in jumping portion, setting a new hill record of 113.0 m (139.5 points); runner up on the jump hill was his compatriot Maxime Laheurte (105.5 m/123.4 points) followed by Japan's Yoshito Watabe (103.5 m/122.4).

With a one minute, four-second advantage going into the afternoon 10k cross country race, Lamy Chappuis held on to win by 29.3 seconds to reclaim the overall lead with a 93-point lead on Stecher. "One of my goals was to get back the yellow jersey of the World Cup leader because I want to show it to my fans on my home event in one weeks time," said Lamy Chappuis.

Behind the Lamy Chappuis, there was battle for second and third place. Kokslien had an initial disadvantage of 1:26 minutes, Moan was 1:53 minutes behind. At half-time, Kokslien and Moan were 52 and 57 seconds behind the leader, after the third of the four 2.5 km laps the disadvantage of the two Scandinavians was around 40 seconds. Moan notched the day's fastest cross country leg with a time of 24:09.5.
"I did not think that I could catch Jason Lamy Chappuis," said Moan. "Before the race and from my point of view, the places one and two were already awarded to Chappuis and Kokslien. But I am in good shape and had great ski. I made a perfect race!"
Austria's David Kreiner just missed the podium in fourth place after jumping into eighth and taking the 11th-fastest cross country time.

Italy's Lukas Runggaldier cracked the top 10 for the fist time ever in sixth place. Austrian Felix Gottwald skied from 46th after the jumping portion to 8th overall.
American Olympic silver medalist Todd Lodwick returned to the World Cup today to lead his team in 23rd. Bryan Fletcher led the way again in jumping, standing 14th with a 101.5 meter jump. Fletcher finished 28th overall. It was the fourth time in the points this season for Fletcher, who has also cracked the top 10 earlier in the year. Taylor Fletcher had another good cross country outing – 24th fastest – to finish 34th, just out of the points. Johnny Spillane was 45th in his return to action after six months out with a knee injury.
Action will resume in Seefeld Sunday with another individual event before the circuit heads to France. Olympic champion Billy Demong, a proud new father of son Liam, will join the action action for a pair of World Cups in Chaux-Neuve.

World Cup Standings: 1. Jason Lamy Chappuis (FRA) 559, 2. Mario Stecher (AUT) 466, 3. Mikko Kokslien (NOR) 447, 4. Felix Gottwald (AUT) 392, 5. Eric Frenzel (GER) 322, 6. Bjoern Kircheisen 284.
Rank
Bib
FIS Code
Name
Year
Nation
Result
1
1
610
LAMY CHAPPUIS Jason
1986
FRA
25:33.2
2
25
973
MOAN Magnus-H.
1983
NOR
26:02.5
3
8
1149
KOKSLIEN Mikko
1985
NOR
26:06.1
4
7
137
KREINER David
1981
AUT
26:35.7
5
17
1650
SCHMID Jan
1983
NOR
26:41.6
6
15
1464
RUNGGALDIER Lukas
1987
ITA
26:51.5
7
6
606
BRAUD Francois
1986
FRA
26:51.8
8
46
35
GOTTWALD Felix
1976
AUT
26:56.7
9
35
257
KIRCHEISEN Bjoern
1983
GER
26:59.2
10
20
347
BEETZ Christian
1984
GER
26:59.8
11
19
459
LACROIX Sebastien
1983
FRA
27:00.0
12
27
1410
BAUER Armin
1990
ITA
27:00.0
13
21
590
RYDZEK Johannes
1991
GER
27:00.6
14
33
351
EDELMANN Tino
1985
GER
27:07.7
15
2
609
LAHEURTE Maxime
1985
FRA
27:12.4
16
45
1029
PITTIN Alessandro
1990
ITA
27:18.4
17
9
416
SLAVIK Tomas
1981
CZE
27:20.5
18
37
1050
FRENZEL Eric
1988
GER
27:21.5
19
11
683
RIAN Espen
1981
NOR
27:22.4
20
24
252
GRUBER Bernhard
1982
AUT
27:23.2
21
29
1136
WATABE Akito
1988
JPN
27:26.9
22
16
1669
STORLIEN Gudmund
1990
NOR
27:27.9
23
18
27
LODWICK Todd
1976
USA
27:30.4
24
5
111
BIELER Christoph
1977
AUT
27:34.2
25
31
1003
DVORAK Miroslav
1987
CZE
27:39.7
26
4
419
KLEMETSEN Haavard
1979
NOR
27:46.3
27
22
623
HUG Tim
1987
SUI
27:50.4
28
14
1067
FLETCHER Bryan
1986
USA
27:51.6
29
13
1296
BOESL Wolfgang
1989
GER
27:56.1
30
38
768
MINATO Yusuke
1985
JPN
27:56.1
31
36
591
KAMMERLANDER Tobias
1986
AUT
27:56.9
32
53
1192
DRUML Tomaz
1988
AUT
28:02.8
33
40
715
ORANIC Mitja
1986
SLO
28:07.7
34
47
1439
FLETCHER Taylor
1990
USA
28:10.2
35
51
592
KLAPFER Lukas
1985
AUT
28:20.0
36
28
1418
BERLOT Gasper
1990
SLO
28:20.4
37
42
205
KOBAYASHI Norihito
1982
JPN
28:22.9
38
23
727
KATO Taihei
1984
JPN
28:23.5
39
52
594
KREINER Benjamin
1985
AUT
28:25.6
40
44
203
HEER Ronny
1981
SUI
28:31.7
41
49
100002
GRAABAK Joergen
1991
NOR
28:55.4
42
48
349
HURSCHLER Seppi
1983
SUI
28:57.2
43
3
1700
WATABE Yoshito
1991
JPN
29:00.7
44
30
215
CHURAVY Pavel
1977
CZE
29:02.7
45
54
247
SPILLANE Johnny
1980
USA
29:04.0
46
26
1059
REUSCHEL Sebastian
1988
GER
29:11.7
47
56
643
MICHIELLI Giuseppe
1985
ITA
29:37.0
47
39
294
GUENTER Andreas
1988
GER
29:37.0
49
43
1444
SCHMID Tommy
1988
SUI
30:08.5
50
57
1528
LAFARGE Geoffrey
1989
FRA
32:24.0
Did not start
58
8
STECHER Mario
1977
AUT
41
19
MANNINEN Hannu
1978
FIN
34
1689
NABEEV Niyaz
1989
RUS
32
960
MASLENNIKOV Sergej
1982
RUS
12
1152
RYYNAENEN Janne
1988
FIN
Did not finish
55
1015
PICHLMAYER Marco
1987
AUT
50
1168
KARJALAINEN Joni
1987
FIN
10
214
DENIFL Wilhelm
1980
AUT
Comments
comments