Nordic Combined-Kircheisen Celebrates Lahti Victory, Lamy-Chappuis Defends Overall World Cup Title
Tweet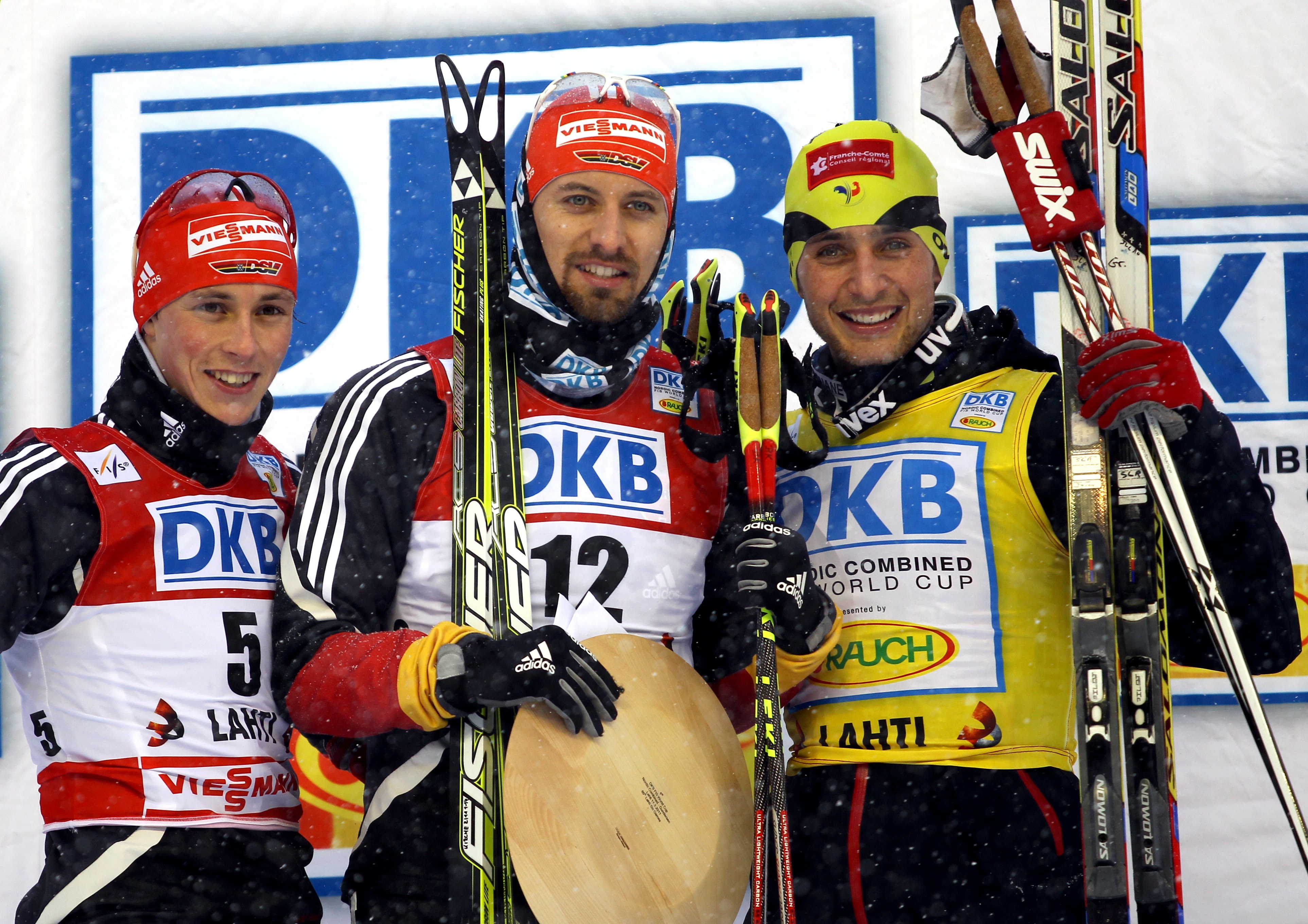 German teammates Bjorn Kircheisen and Eric Frenzel took the first two spots on the FIS World Cup nordic combined podium today (March 11) in Lahti, Finland while France's Olympic and World Champion Jason Lamy Chappuis finished third to assure himself the World Cup title. Olympic Champion Billy Demong led the U.S. in 29th.
Norway's Haavard Klemetsen led the ski jumping portion in Lahti, with a 127.5 meter, 130.3-point jump. In second was Wilhelm Denifl (AUT/126.0 m/129.5 points) with Kaarel Nurmsalu (EST/130.5 m/129.2 points) in third. Lamy Chappuis jumped to fourth place, just 20 seconds behind Klemetsen with the winner, Kircheisen in 12th position, a full 62 seconds back.

As the Cross-Country race developed, Lamy Chappuis quickly closed the gap between himself and the three leaders: Klemetsen, Denifl and Nurmsalu. The second lap saw the Frenchman break away with Denifl, securing only a narrow 7.5-second lead ahead of Kircheisen, Frenzel and others. In lap three the gap was once again narrowed, leaving a five-man group ahead to lead the race into the final lap, and in the fourth, Kircheisen sprinted ahead for the victory.
"I did not start that fast because of the slow track," said Kircheisen, "but attacked at the right moment during the last lap. I'm happy about my fourth World Cup victory here in Lahti."
At the finish line, Kircheisen had an advantage of 5.4 seconds on Frenzel and 13.2 seconds on Lamy Chappuis.
Wilhelm Denifl finished in fourth and equaled his best World Cup results. Mikko Kokslien (NOR) improved from 20th rank to final eight and Felix Gottwald (AUT) delivered the fastest Cross-Country time in 23:57.0 minutes.
This victory marked Kircheisen's 15th World Cup win of 165 appearances and with two Germans on top, displayed strength and a repeat of last week's World Championship success for the team. "It is nice to see that it becomes some kind of habit having always two Germans on the podium," said Frenzel.
Continuing to struggle with the jumping portion of the nordic combined, Demong sat in 36th heading into the cross country race, two minutes forty seconds back. Needing to make up a lot of ground in the 10k, Demong had trouble finding his stride posting the 18th fastest time to place 29th. Bryan Fletcher (Steamboat Springs, CO) finished just outside the points in 33rd. World Champions Todd Lodwick and Johnny Spillane (Steamboat Springs, CO) returned home after World Championships.
This World Cup in Lahti marks the final stop of the tour. Competition continues Saturday with another large hill event to conclude the 2010-11 season.
Place
Lahti (FIN)
Discipline
Gundersen LH HS130/10.0 K
Date
11.03.2011
Category
World Cup
Race codex
4012
Gender
M
TD Name
Sween Arne-Olaf (NOR)
Rank
Bib
FIS Code
Name
Year
Nation
Result
1
12
257
KIRCHEISEN Bjoern
1983
GER
25:28.6
2
5
1050
FRENZEL Eric
1988
GER
25:34.0
3
4
610
LAMY CHAPPUIS Jason
1986
FRA
25:41.8
4
2
214
DENIFL Wilhelm
1980
AUT
25:53.0
5
1
419
KLEMETSEN Haavard
1979
NOR
25:54.2
6
10
1650
SCHMID Jan
1983
NOR
25:55.7
7
13
1136
WATABE Akito
1988
JPN
26:00.9
8
20
1149
KOKSLIEN Mikko
1985
NOR
26:07.7
9
17
590
RYDZEK Johannes
1991
GER
26:12.5
10
7
1152
RYYNAENEN Janne
1988
FIN
26:17.8
11
11
727
KATO Taihei
1984
JPN
26:33.9
12
35
35
GOTTWALD Felix
1976
AUT
26:36.0
13
14
252
GRUBER Bernhard
1982
AUT
26:39.3
14
8
606
BRAUD Francois
1986
FRA
26:47.6
15
6
1669
STORLIEN Gudmund
1990
NOR
26:50.6
16
21
8
STECHER Mario
1977
AUT
26:52.2
17
26
137
KREINER David
1981
AUT
26:58.9
18
27
1413
KROG Magnus
1987
NOR
27:06.0
19
31
768
MINATO Yusuke
1985
JPN
27:12.1
20
38
205
KOBAYASHI Norihito
1982
JPN
27:14.3
21
15
416
SLAVIK Tomas
1981
CZE
27:21.9
22
9
609
LAHEURTE Maxime
1985
FRA
27:27.5
23
32
19
MANNINEN Hannu
1978
FIN
27:31.0
24
25
347
BEETZ Christian
1984
GER
27:38.3
25
16
1418
BERLOT Gasper
1990
SLO
27:40.5
26
22
1410
BAUER Armin
1990
ITA
27:45.4
27
19
459
LACROIX Sebastien
1983
FRA
27:56.1
28
33
1003
DVORAK Miroslav
1987
CZE
28:04.2
29
36
222
DEMONG Bill
1980
USA
28:05.9
30
39
592
KLAPFER Lukas
1985
AUT
28:06.9
31
24
1168
KARJALAINEN Joni
1987
FIN
28:27.8
32
41
715
ORANIC Mitja
1986
SLO
28:33.4
33
43
1067
FLETCHER Bryan
1986
USA
28:35.8
34
3
1485
NURMSALU Kaarel
1991
EST
28:47.7
35
49
1029
PITTIN Alessandro
1990
ITA
28:52.8
36
28
1296
BOESL Wolfgang
1989
GER
28:57.1
37
29
1434
JELENKO Marjan
1991
SLO
28:58.1
38
45
100002
GRAABAK Joergen
1991
NOR
28:59.8
39
40
349
HURSCHLER Seppi
1983
SUI
29:02.2
40
30
215
CHURAVY Pavel
1977
CZE
29:26.9
41
50
1796
JOHANSEN Truls Soenstehagen
1991
NOR
29:38.8
42
46
1439
FLETCHER Taylor
1990
USA
29:42.5
43
34
623
HUG Tim
1987
SUI
29:47.6
44
48
705
KAEHKOENEN Ville
1984
FIN
29:52.2
45
42
1027
PESELJ Felix
1990
ITA
29:56.1
46
52
1486
PIHO Kail
1991
EST
30:21.8
47
23
1552
JAEAESKELAEINEN Jesse
1990
FIN
30:39.4
48
51
591
KAMMERLANDER Tobias
1986
AUT
30:39.7
49
54
1649
HENDRICKSON Nick
1991
USA
30:41.9
50
18
1689
NABEEV Niyaz
1989
RUS
31:11.6
51
44
1687
LEINONEN Mikke
1992
FIN
31:28.1
52
47
1482
VAEHAESOEYRINKI Eetu
1990
FIN
31:37.3
53
53
100043
PELTOLA Jani
1994
FIN
32:44.3
Did not start
56
1464
RUNGGALDIER Lukas
1987
ITA
55
203
HEER Ronny
1981
SUI
37
1059
REUSCHEL Sebastian
1988
GER
30
216
TAKAHASHI Daito
1980
JPN
24
1192
DRUML Tomaz
1988
AUT
Comments
comments