Nordic Combined: Krog grabs first win in World Cup opener
Tweet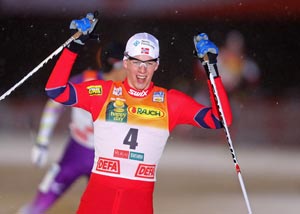 The 2012 World Cup nordic combined season kicked off today in Kuusamo, Finland. Norwegian Magus Krog picked up his first World Cup win ahead of Japan's Akito Watabe in second and Tino Edelmann of Germany in third.
Bryan Fletcher led the U.S. Ski Team finishing 18th. Fletcher jumped to 11th but dropped back seven spots in cross country. Olympic champion Billy Demong, meanwhile, moved up nine spots from 29th in the jump to take 20th overall.
Action continues Saturday at the Ruka nordic venue.
Rank
Bib
FIS Code
Name
Year
Nation
Result
1
4
1413
KROG Magnus
1987
NOR
27:41.0
2
6
1136
WATABE Akito
1988
JPN
27:43.5
3
1
351
EDELMANN Tino
1985
GER
27:48.1
4
5
8
STECHER Mario
1977
AUT
27:55.2
5
3
1152
RYYNAENEN Janne
1988
FIN
28:21.5
6
16
973
MOAN Magnus-H.
1983
NOR
28:22.5
7
13
257
KIRCHEISEN Bjoern
1983
GER
28:23.7
8
15
1149
KOKSLIEN Mikko
1985
NOR
28:25.1
9
8
459
LACROIX Sebastien
1983
FRA
28:32.6
10
2
214
DENIFL Wilhelm
1980
AUT
28:37.0
11
23
1029
PITTIN Alessandro
1990
ITA
29:02.5
12
20
1464
RUNGGALDIER Lukas
1987
ITA
29:06.4
13
10
419
KLEMETSEN Haavard
1979
NOR
29:12.3
14
9
111
BIELER Christoph
1977
AUT
29:27.7
15
12
252
GRUBER Bernhard
1982
AUT
29:28.4
16
21
610
LAMY CHAPPUIS Jason
1986
FRA
29:34.2
17
14
137
KREINER David
1981
AUT
29:43.6
18
11
1067
FLETCHER Bryan
1986
USA
29:49.7
19
24
768
MINATO Yusuke
1985
JPN
29:53.8
20
30
222
DEMONG Bill
1980
USA
30:06.6
21
26
1650
SCHMID Jan
1983
NOR
30:07.4
22
17
1700
WATABE Yoshito
1991
JPN
30:08.4
23
25
590
RYDZEK Johannes
1991
GER
30:14.1
24
22
609
LAHEURTE Maxime
1985
FRA
30:16.8
25
29
727
KATO Taihei
1984
JPN
30:17.8
26
19
694
VODSEDALEK Ales
1985
CZE
30:28.0
27
38
1192
DRUML Tomaz
1988
AUT
30:38.5
28
31
416
SLAVIK Tomas
1981
CZE
30:40.1
29
28
1167
KJELBOTN Thomas
1986
NOR
30:44.3
30
35
467
RIESSLE Fabian
1990
GER
30:45.7
31
33
623
HUG Tim
1987
SUI
30:47.1
32
27
1465
CAILLEAU Wilfried
1989
FRA
31:09.4
33
44
1439
FLETCHER Taylor
1990
USA
31:21.4
34
36
1548
HAERTULL Jim
1990
FIN
31:27.7
35
41
606
BRAUD Francois
1986
FRA
31:28.6
36
18
215
CHURAVY Pavel
1977
CZE
31:31.8
37
32
1418
BERLOT Gasper
1990
SLO
32:01.0
38
42
592
KLAPFER Lukas
1985
AUT
32:02.8
39
7
1552
JAEAESKELAEINEN Jesse
1990
FIN
32:05.8
40
34
1434
JELENKO Marjan
1991
SLO
32:11.0
41
37
1600
FAISST Manuel
1993
GER
32:50.4
42
48
591
KAMMERLANDER Tobias
1986
AUT
32:58.2
43
39
1737
MORWEISER Janis
1991
GER
33:07.8
44
47
349
HURSCHLER Seppi
1983
SUI
33:24.6
45
45
1687
LEINONEN Mikke
1992
FIN
33:39.4
46
40
216
TAKAHASHI Daito
1980
JPN
34:10.2
47
51
1486
PIHO Kail
1991
EST
34:29.9
48
49
1488
TIIRMAA Karl-August
1989
EST
34:34.5
49
46
1482
VAEHAESOEYRINKI Eetu
1990
FIN
34:47.8
50
50
1479
PANIN Ivan
1987
RUS
34:48.9
Did not start
43
1050
FRENZEL Eric
1988
GER
Comments
comments